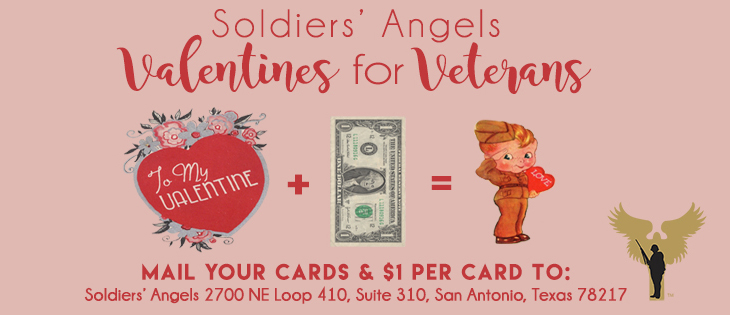 Every year we receive thousands of Valentine's Day cards addressed to service members and veterans. Sadly, since the cost to distribute these cards is so high, we are not able to provide enough funding to get these cards to our military and veteran heroes so they can feel the love. 
But now you can help us spread the love!
All you need to do is include $1 per Valentine you send! This will help us cover the cost of packing & mailing boxes of Valentine's Day cards to deployed troops overseas and VA Hospitals!
Mail your cards and $1 per card to: 
Soldiers' Angels
2700 NE Loop 410, Suite 310
San Antonio, Texas 78217
Need some inspiration to help you get started on your Valentines? Check out our Valentines for Veterans blogs for tips, inspiration, and photos of previous cards we received!
- 2018 Valentines for Veterans Blog
- 2019 Valentines for Veterans Blog
More questions about Soldiers' Angels Valentines for Veterans campaign? See our FAQ section below or email us here.
Help us spread the word! Share the below image on your social channels and encourage your friends to share the love with our troops and veterans this Valentine's Day!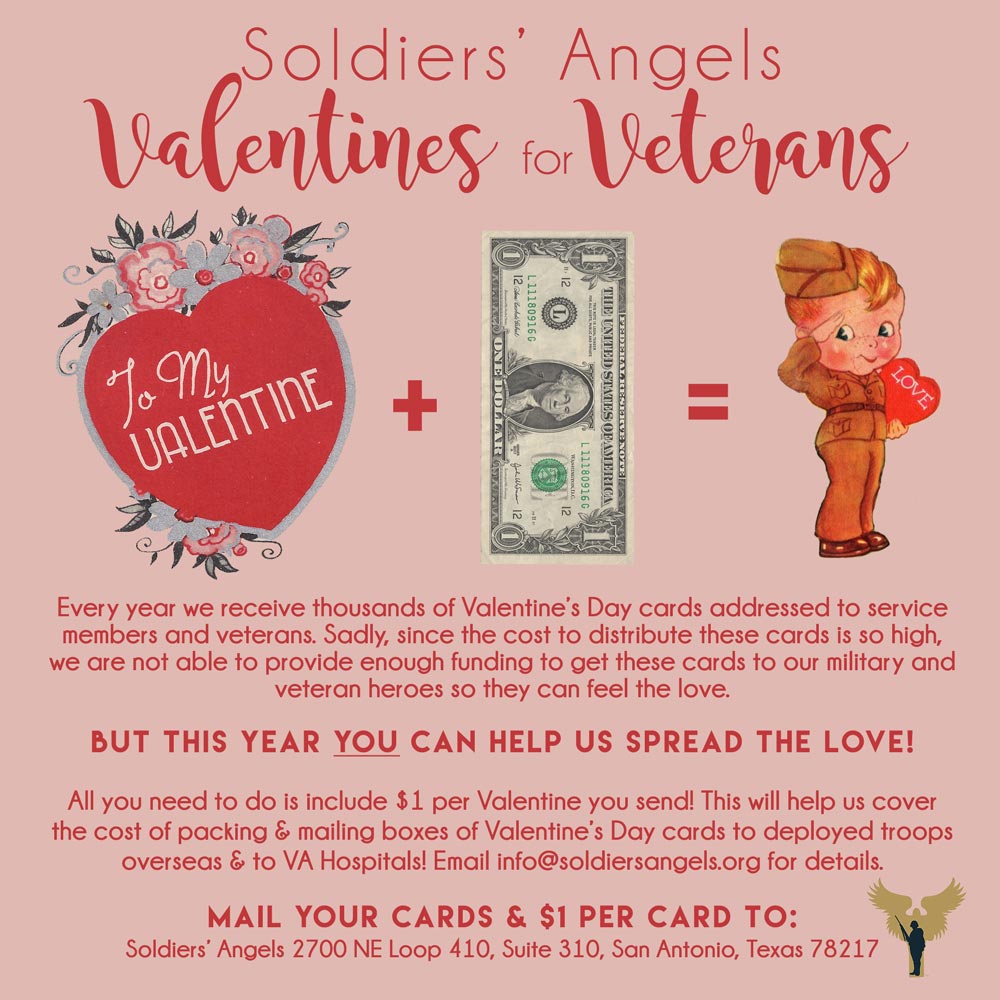 Soldiers' Angels Valentines for Veterans FAQ:
Q: How many valentines can I send to Valentine's for Veterans? 
A: As many as you want! Please just make sure to include a monetary donation with your valentines for the same number of cards as you send: 1 card = $1, 10 cards = $10, etc.
 Q: Where do the Valentine's Day cards go? 
A: After we receive your donation of cards to our Headquarters in San Antonio, we will distribute cards to troops and veterans around the world. We will package boxes of cards and ship them to deployed service members we support. We will also ship boxes of cards to our VA Representatives across the country. The representatives will hand out the cards in person to veterans patients they visit. Many VA's even have Valentine's Day dinners or celebrations and our Representatives and volunteers will be in attendance at many of these events to spread the love to attending veterans.
 Q: What is the deadline to send cards?
         A: We will accept cards through Valentine's Day, February 14th. There are many events at various VA Hospitals that happen either on Valentine's Day or in the days following Valentine's Day-- so as long as the cards reach our               headquarters by February 14th, we will be able to get the cards out to troops and veterans! 
 Q: Do they need to be store bought cards? 
A: They can be store bought cards, but they can also be handmade crafty cards of any skill level. The handmade cards we receive from school children of every age are often the most touching. So get out the construction paper, markers and, doilies and get crafting!
 Q: What should I write in the cards? 
A: Our best suggestion is to keep it general. "Thank you for your service" is a great sentiment to share with service members and veterans no matter what time of year. We just ask that you do not include any political or religious statements. Please remember, we want to share our love with these heroes and sheroes, not our opinions.
Also, please keep in mind, we do not have the resources at our headquarters to sort the cards based on who they are addressed to— deployed troops or veterans OR male/female. With that in mind, it's best to create your cards with the thought that they could either go to a deployed service member OR a veteran. Our suggestion is to address your message with a term like "Dear Hero" that could be applicable to any service member, past or present, male or female.
 Q: Can we include candy with our cards? 
A: Sure! You definitely don't have to include candy, but if you would like to, we are sure the recipients would love the extra special touch. Best suggestions for candy would be a single lollipop or a small package of candy hearts. We just ask that you attach the candy to each card so we can ship the card and candy together. Please do not include chocolate of any kind or any other type of candy that would melt easily. Please do not send large bags/boxes of candy or loose candy. All candy must be attached to a card for ease of repacking and distribution.
Q: Should I include cash or a check?  
A: Either is fine, as long as your donation amount matches the number of cards you send. If you prefer to send a check, please make the check payable to: Soldiers' Angels. A money order would also be acceptable.