Urgent Help Needed for Texas Veterans
February 25, 2021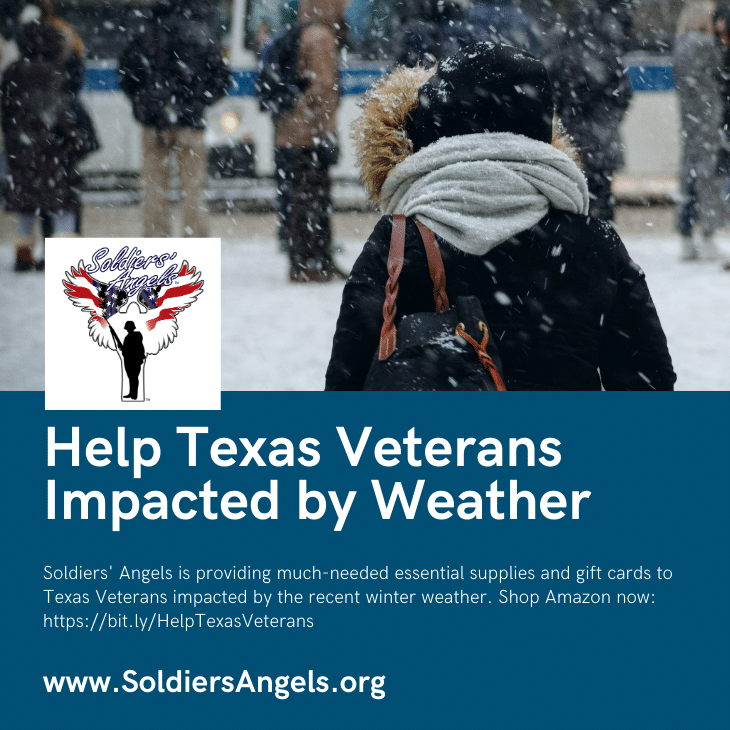 The recent weather event in Texas left millions of Texans without power for hours, if not days. In some locations, water pumping stations lost power which affected access to clean drinking water and required cities to be placed on boil orders. As if the loss of power and water wasn't enough, the prolonged freezing temperatures are wreaking havoc on Texas structures that are not built to withstand the cold. Pipes have already begun bursting and will continue to burst in the coming days and weeks.
All Texans, including the nearly 1.5 million Veterans and 123,000+ active duty service members, have been affected, in one way or another, by this weather crisis.
Soldiers' Angels, a national nonprofit that provides aid, comfort, and resources to the military, veterans, and their families, is headquartered in San Antonio, Texas. We provide a variety of services including food support and transportation assistance to veterans across the country. During this time of critical need in Texas, we will be offering additional needed support to Texas Veterans who have been impacted by this winter weather. But we need your support in order to help Texas Veterans.
Identified Needs
The biggest need we have identified at this time will be the financial assistance to help veterans make repairs to their damaged homes or replace items lost due to that damage. Damages we are hearing range from burst pipes to roof and ceilings collapsing from the weight of the ice and snow. In some extreme and desperate situations, we've heard reports of individuals tearing down their wood fences to burn the wood for heat. Until Texas thaws from these freezing temperatures, the full scope of structural damage to homes and buildings may remain unknown.
Access to clean drinking water and food has also become a challenge. Grocery stores were picked over or lost power. Although Soldiers' Angels does not have the logistical capability to get perishable food items to veterans throughout the state during the coming weeks of recovery, we are preparing to create care packages that will contain non-perishable food items, water, socks, and blankets.
Although the cold temperatures and wintery weather will be gone for most of Texas by the time you read this post, the road to recovery to repair damages, restock grocery stores, refill gas stations, and more will last for several weeks, if not months. We are hoping we can assist Veterans across the state during this recovery window with access to essential items and gift cards that will help to offset the unexpected expenses from repairing their homes or replacing damaged personal belongings.
How You Can Help
We have a variety of ways that you can help support Texas veterans through this disaster, including donating online, donating through Facebook, sending e-gift cards, or shopping for items from our Amazon Wishlist. Click a button to get started now or keep reading for more details.
If you are willing and able to help Soldiers' Angels help Texas Veterans these are the items needed most urgently:
Visa gift cards of any amount which will be provided to veterans to offset the cost of necessary home repairs
Retail gift cards from stores that can provide essential food items, help with repairs, or replace damaged home items: H-E-B, WalMart, Target, Home Depot, Lowe's, Amazon
Monetary donations to help Soldiers' Angels purchase items for the care packages
Blankets
Socks
Non-Perishable Snack Items that will ship easily:

Canned soups, beans, easy-to-make "camping" canned meals

Granola Bars and Protein Bars
If you are an Amazon user, we have created an Amazon Gift Registry containing some of our most needed items. You can order from this list and the items will be shipped directly to the Soldiers' Angels warehouse in Texas*. From there, we will disperse the items to representatives and VA's across the state to provide to Veterans in need. Visit the list here: http://bit.ly/HelpTexasVeterans
*If the Soldiers' Angels address does not automatically populate when ordering from the Gift Registry, please ship to the address listed below.
Items can be sent to:
Soldiers' Angels – Support for Texas
2895 NE Loop 410, Suite 107
San Antonio, Texas 78218
Physical gift cards can be sent to the address above. E-Gift cards can be sent to [email protected].
Monetary donations can be sent by check to the address above and made out to Soldiers' Angels or you can donate online at the Soldiers' Angels website: https://soldiersangels.org/donate/online/
Thank you in advance for your help assisting Texas veterans during this unprecedented weather crisis.
---