Technical Difficulties: How One Injured Hero Started An Entire Program
March 1, 2018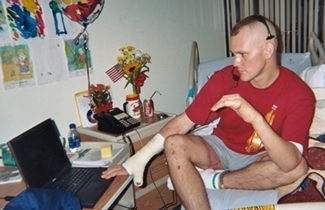 What if you were injured and no longer had the ability to use your computer – or text from your phone? Think about how much we use technology in everyday life to communicate with others and make life easier. Oh the horror to be without!
Back in 2005, Captain Charles "Chuck" Ziegenfuss found himself in that situation. He was wounded by an IED while serving as commander of a tank company in Iraq, and was unable to use his hands. What's worse – Chuck was a blogger who had been blogging to connect with others and share his stories. WIthout his computer or use of his hands, he was without those connections he had grown to love.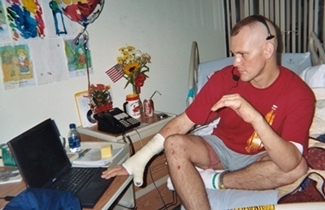 While Chuck was recovering in the U.S. Army Combat Support Hospital in Landstuhl, our founder, Patti Patton-Bader got in touch with him to ask if there was anything he needed.
"The first time we talked I was on morphine," Chuck said. "I told her I'd really like a laptop to continue blogging and emailing my guys."
To which Patti replied, "Ok! Let me figure out how!"
A few days later, Patti had approval from the board to purchase a $300 laptop on eBay.
Finally, Chuck had a laptop he could use while he was in the hospital. There was just one problem… he could only type with one finger.
"I have a laptop but don't have a way to functionally use it."
So Chuck found a temporary work around – he had Carren, his wife, type for him. But the content of Chuck's blog was sometimes hard for her to hear and type. After hearing about a program called Dragon Natural Speak, Chuck put a call out to his network and asked if anyone would like to donate money towards buying it. Within a couple of hours, he had a gift card to purchase the software.
"I started using it and was like holy cow this is amazing! I talked, it formatted, it typed what I wanted it to … all through my voice."
He was so excited about the software he told Patti all about it.
"Hey this is phenomenal! Can we do this for others who can't use their hands or see?"
To which Patti replied, "Yes! Let me figure out how!"
And the Valor IT program was born. Patti came up with the name, and Chuck was the poster boy. To raise money, they got a group of bloggers together in a friendly fundraising competition between the branches of service. They ended up raising $50,000 – all of which went to wounded service members. The program has raised close to $1 Million and donated thousands of laptops thanks to sponsors and donors. Learn more about the Valor IT program and how it works here.
Chuck has since regained use of his hands and works with Hero Labradors breeding labradors that go on to become service dogs.
---