Teambuilding activity for a cause
August 16, 2014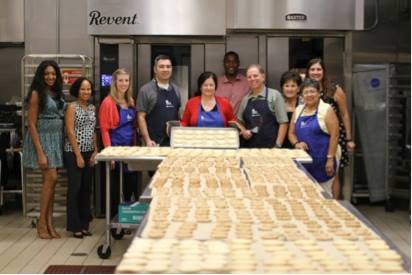 Each month, Melisa Marks, Supervisor of the Energy Resource Center's Food Service Equipment Center, has one of her employees organize a fun, teambuilding activity. For July, Sheila Hartley, Vendor Outreach Consultant, hosted an afternoon of baking as part of the "Angel Bakers" program. This activity was also a part of Melisa's annual "Bake and Share Memories", where goodies are baked in memory of her son, Alex Marks, and to raise awareness about those who have passed and those who are struggling with addiction.
About Angel Bakers
Soldiers' Angels provides aid and comfort to the brave men and women of the United States Army, Marines, Navy, Air Force, Coast Guard, and their families. The "Angel Bakers" is a subgroup of Soldiers' Angels who show their appreciation for our soldiers overseas by sending them homemade treats each month. The soldiers who receive these care packages may have been through an especially difficult experience during their deployment, living in extremely difficult conditions, or in need of a boost in morale.
Baking for Our Adopted Soldiers
After completing the necessary paperwork, Melisa was approved as a verified Angel and allowed to "adopt" thirty soldiers in Afghanistan. Twenty-two SoCalGas employees, listed below, came together to bake homemade cookies and rice krispy treats. The participants also created motivation cards and personalized thank you notes which were included in each care package. A few of our Angels who were once soldiers themselves mentioned that these packages can provide some much needed comfort while abroad.
Event Participants
Larry Bennett, Jessica De La Vara, Mark Drake, Victoria Drake, Andrew Gibson (veteran, US army), Sheila Hartley, AJ Hernandez, Mugi Lukito, Amanda Marey, Melisa Marks, Yanet Nava, Carmen Oliver, Christian Ordaz, Nicole O'Rourke, Michele Ortega, Anna Ramos, Mark Reyna (veteran, US army), Roberto Rodriguez, Jennifer Sanchez, David Snell (veteran, US Army), Mikki Turk, and Sheila Williamson.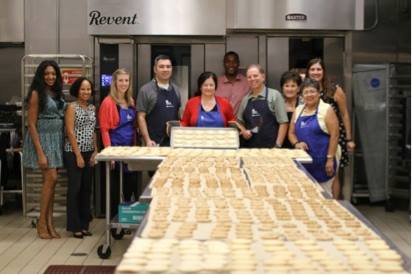 ---