Supporting Generations of Service Members
This is what Soldiers' Angels is all about.
October 10, 2019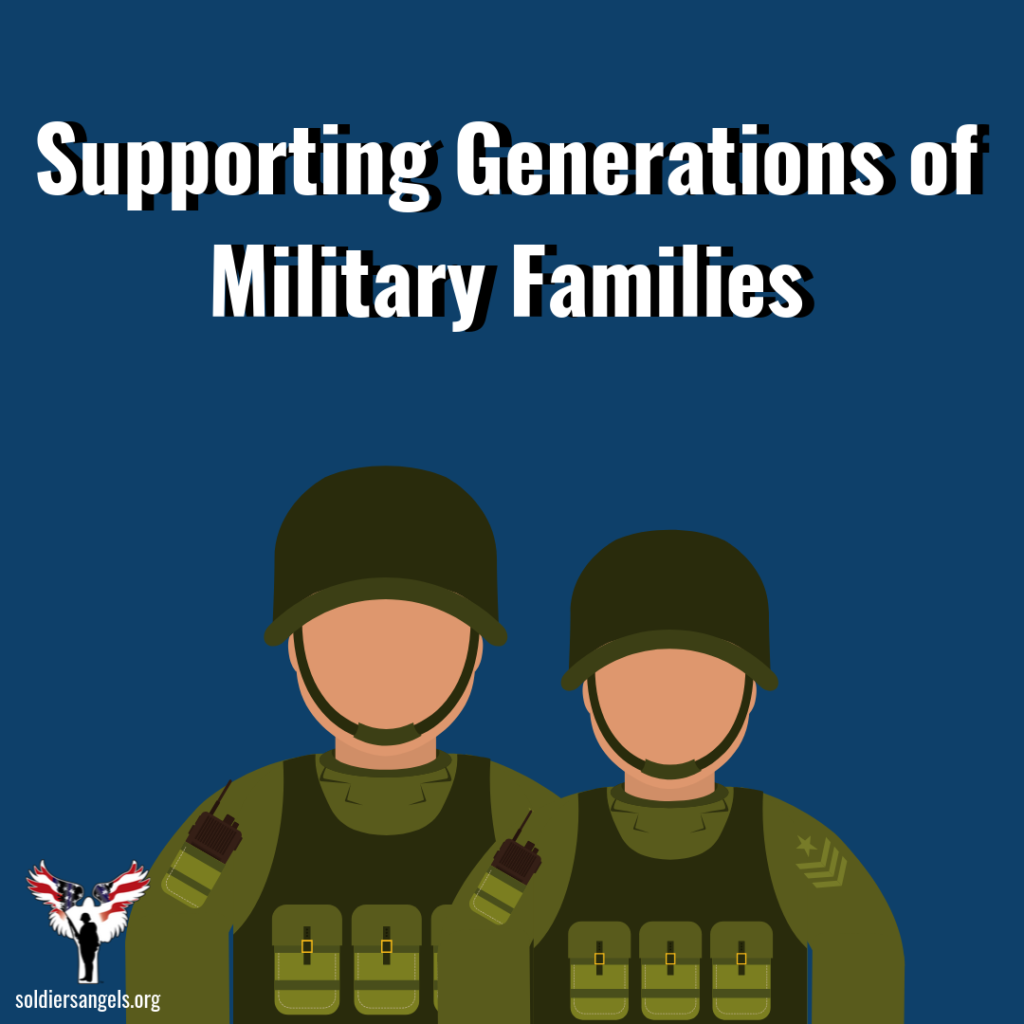 We love receiving thank you messages on Facebook and our website. The messages vary from simple thank yous to longer sentiments about what the support meant to them. Every once in a while though, we hear stories that touch us deeply and we just have to know more. This recent one we just HAD to share!
"I'm currently deployed in the Middle East for 9 months and eat MRE for most of the time. I'm in the Army Airborne Infantry and have been in the Army for almost 2 years. My dad is a retired US Navy and served for 26 years. You guys supported him too when he deployed to Afghanistan. Thank you for all your support."
We were so excited to hear from Jerik and learn that not only are we providing support for him but we supported his father while he was deployed! How cool is that!?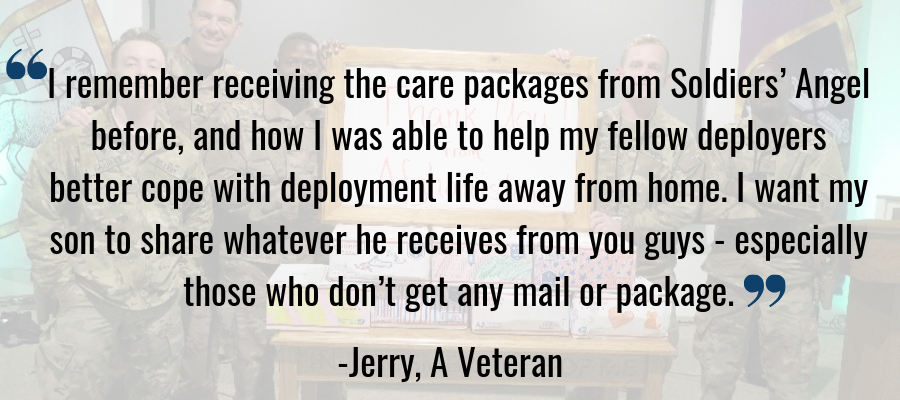 Jerik's father Jerry was kind enough to share his story, and how we supported him during his deployment.
"When I was active duty Navy Corpsman, I deployed in 2009-2010 with the 7th marine regiment from Twenty Nine Palms, CA. We were part of the Marine Expeditionary Brigade (MEB) that was in Camp Dwyer. We had a clinic that provided medical support to our Marines and our coalition forces. Soldiers' Angels supported me with care packages and letters. I was the main point of contact (POC) for all care packages in my medical team. I was able to receive tons of packages with individual backpacks for our patients that were stuck in our camp or anyone that doesn't have temporary clothing. I requested backpacks that contained: towels, boxer shorts, shirts, sweatpants/shirts, flipflops, socks, and some toiletries. It was such a great help for all of us and it boosted our morale. Please send my appreciation to all the sponsors and volunteers for Soldiers' Angels." – Jerry Juan
Our support meant so much to him, that he made sure his son signed up as well.
"It was important for him [Jerik] to register because the support that deployed service members receive from you boosts the morale of each recipient. I remember receiving the care packages from Soldiers' Angels before, and how I was able to help my fellow deployers better cope with deployment life away from home. I want my son to share whatever he receives from you guys – especially with those who don't get any mail or packages." writes Jerry.
This kind of giving spirit is how Soldiers' Angels got started in the first place. Soldiers' Angels founder, Patti Patton-Bader's son started sharing the supplies she was sending because the rest of the base needed the supplies and morality boost. It just warms our hearts to hear how selfless our service members are – to sign up for support so that they can help boost the morale of your entire base!? That's what being a Soldiers' Angel is all about.
You can read our origin story about how Patti Patton-Bader founded an entire National organization after she learned our troops needed support:
Who Knew a Deployed Son and One Care Package Could Impact So Many?
---