Soldiers' Angels Stand Down at Richmond McGuire VA
November 21, 2014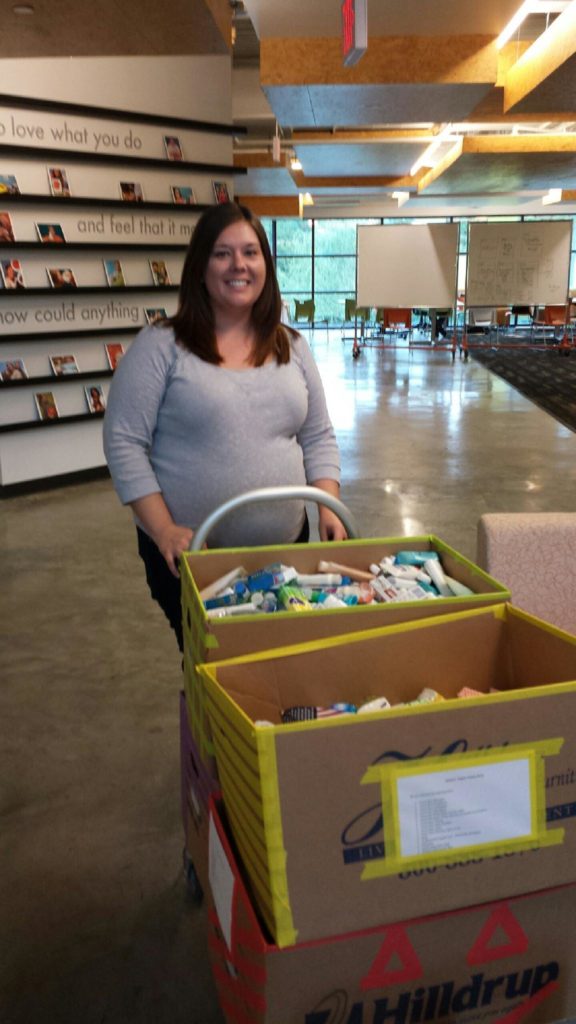 Last Friday we got the chance to participate in our first Stand Down for Homeless Veterans at the Richmond McGuire VA Hospital. Thanks to Renee Cheatham, the ladies of Kappa Epsilon Psi (a Military Sorority), and Snag-a-Job, we were able to distribute 144 hygiene bags to the homeless vets who were in attendance.
The hygiene items came from Kristen Cheadle and the staff at Snag-a-Job. They collected the supplies we needed. These items were sorted and put into hygiene kits by Renee and the ladies of Kappa Epsilon Psi. We were also able to hand out some handmade scarves, hats, and gloves thanks to Renee and our Sewing and Crafting Team.
What is a Stand Down?
Stand Downs are run by Veterans' Affairs in an effort to provide services to homeless vets. Yep, there are veterans out there who sadly are homeless. A Stand Down is a way to get them together, get them supplies they need like hygiene kits, warm clothes, mats, boots, food, etc. They also provide services like haircuts, health screenings, VA and Social Security benefits counseling, and referrals to a variety of other necessary services.
Soldiers' Angels DC Metro/VA has been supporting McGuire since June of this year. At this time we are providing patient comfort items like catheter bag covers, tote bags, Mary Kay items for caregivers, Chemo caps and shawls to the ladies, and handmade blankets.
We are so thankful to have Renee in the Richmond area and are excited about future support we can provide to Richmond McGuire VA. Renee has been volunteering with us since February of this year and is also the team leader of our sewing and crafting team.
We are hoping to increase the visibility of Soldiers' Angels in the Richmond area during the coming year and make inroads into the Petersburg, VA area.
---