Remembering President Bush
February 22, 2019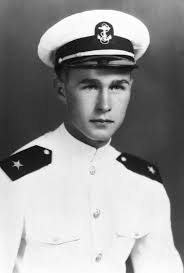 As we join together remembering President Bush, one of the most remarkable things about George H.W.'s experiences is not his dedication to public service, nor the historical mark he left on America as our 41st president. It's the fact that his life story has so much in common with the veterans and service members of today: what led him to a life of service, the challenges he faced both after serving in the war and as he aged, and the solutions that he found – that can also work for the larger veteran community.
Born in Milton, Massachusetts, on June 12, 1942, the importance of family bonds and civil service that are so apparent in his own adult life were already evident in his early family years. He would go on to become the youngest Navy pilot in World War II, earn dozens of awards and accolades, marry the beloved Barbara Pierce, and father six children (George, Robin, Jeb, Neil, Marvin, and Dorothy) before pursuing his political career.
Bush enlisted in the U.S. Navy on his 18th birthday, where he trained as a combat pilot and subsequently flew in 58 missions. During one of these missions in September 1944, he narrowly avoided death when his plane was shot. Bush continued to fly the plane as the wings blazed with flames until his objective to bomb a radio station was complete. Once he succeeded, he had to jump out of the burning plane into the waters of the Pacific Ocean. He was later rescued by a submarine outside the island of Chichi Jima, which lies halfway between Guam and Tokyo.
President Bush's good nature was well known. He called himself a "sock man" and had quite a penchant for colorful, themed socks. He had special pairs of socks for all sorts of occasions, such as World Down Syndrome Day and Election Day. He had Superman socks forhis 89th birthday, he even wore socks with his face on them! On his 80th birthday, he celebrated by strapping on a parachute to go skydiving. When one of his Secret Service agents had a 2-year-old son undergoing chemotherapy for leukemia (the same disease his daughter Robin died of when she was 3), President Bush shaved his head in solidarity with the boy because "It was the right thing to do."
As the former president aged, his health began to decline. He was diagnosed with Graves Disease and vascular parkinsonism, a form of Parkinson's Disease that kept him confined to a wheelchair or motorized scooter. Despite several hospitalizations, he always sprang back to his usual self and managed to keep his humor throughout it all. In fact, when his son George W. Bush delivered the eulogy at his father's memorial in November 2018, he noted, "He loved to laugh, especially at himself."
Shortly after his wife Barbara died in April 2018, President Bush introduced the world to his new service dog: Sully H.W. Bush. The dog's first name comes from Chesley Sullenberger III, the pilot who heroically made a successful emergency landing of a commercial plane in the Hudson River in 2009. Sully, a yellow Labrador retriever trained by America's VetDogs, can complete two pages of caregiving commands, including answering telephones, picking up dropped items as small as a dime, pulling a wheelchair, and calling for help when needed. Mr. Bush needed Sully's assistance with routine daily tasks that he had difficulty doing on his own from his wheelchair.
Mr. Bush's openness about Sully's addition to the family has brought a new awareness (and dare we say love affair) with these amazing dogs and the service they provide for all veterans. He even introduced the two-year-old puppy in a tweet, saying, "A great joy to welcome home the newest member of our family, 'Sully,' a beautiful – and beautifully trained – lab from @AmericasVetDogs. Could not be more grateful, especially for their commitment to our veterans." Sully even has his own Instagram page (@sullyhwbush)!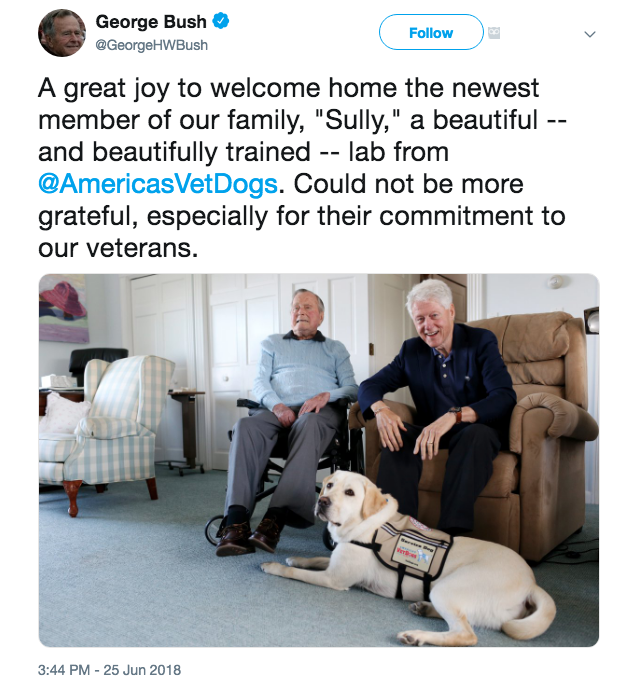 President Bush served the U.S. in many ways – first in the war, then as a Congressman, an ambassador and CIA director, and then as President of the United States. However, in many ways, he's no different from countless other veterans who share a passion for our country and for their families and friends. Many veterans who have served also need assistance – more so than President Bush did. Perhaps they need the help of a service dog like Sully. Perhaps they need food or simple necessities, or just a little support and appreciation.
All veterans deserve to live their best lives after they've given so much of themselves in service for our country. And just as President Bush proved, veterans still have so much to give after their military service is over. That's why Soldiers' Angels works hard to support veterans in countless ways. And who knows? When you support our work with veterans, you could be supporting the next president…
---