Who We Are and What We Do
Soldiers' Angels Baby Brigade provides virtual baby showers for expectant families of the military community, including: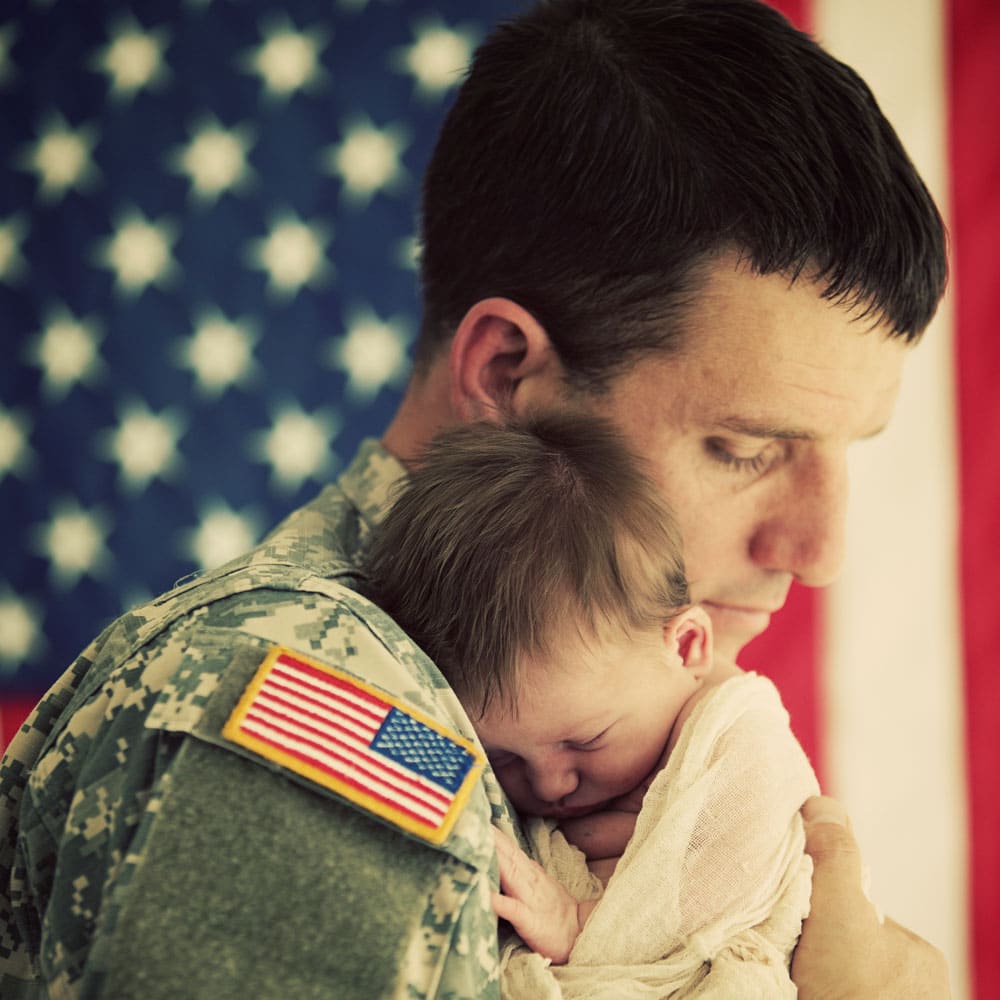 Spouses of deployed service members 
Spouses of post-9/11 wounded, ill, or injured service members and veterans
Expectant post-9/11 wounded, ill, or injured service members and veterans
Expectant mothers will receive virtual baby showers from Angel volunteers across the country. Our dedicated volunteers not only shop for baby items to help the military family prepare for their new little bundle of joy but many also put their personal sewing and crafting talents to use and lovingly create handmade baby gifts, including blankets and booties. In addition, mothers will receive a special gift basket from Soldiers' Angels.
"Just wanted to let you know Brittany has started to receive blessings in the mail! You guys are amazing!!! Thank you again so so much!" – Staci
Information for Military/Veteran Families
To be eligible for this program, the expectant mother must be the spouse of a deployed service member or the spouse of a post-9/11 wounded, ill, or injured service member or veteran, or an expectant post-9/11 wounded, ill, or injured veteran.
Expectant families can register at any time and will receive support within 90 days of their estimated due date and must not have already given birth.
Those interested in receiving this support will also need to provide the below documentation:
Families with a deployed service member must submit military ID, deployment orders and verification of pregnancy from a doctor to be considered for the Baby Brigade program.
Families of post-9/11 wounded, ill, or injured service members or veterans OR female veterans that classify as post-9/11 wounded, ill, or injured must submit DD-214 Member 4 Copy (if veteran) with an Honorable Discharge, verification of pregnancy from a doctor, and a proof of wound, illness or injury (line of duty determination, Purple Heart, or VA Disability rating findings) at least 10% disability rating, or Military ID (if currently service on active duty, guard or reserves).
To register to be supported by Soldiers' Angels Baby Brigade:
Click the button below to begin the registration
You will be redirected to a registration form. Complete your information form on the first page.
On the second page, under Baby Brigade, click the box "Join this team"
On the final page, you will enter details about your registry and the items you wish to receive. You will also need to upload your paperwork. Please note, you cannot complete the registration without uploading your paperwork!
After you submit your registration, a Soldiers' Angels representative will contact you regarding next steps.
Information for Volunteers
Get Involved! To join Soldiers' Angels and participate in the Baby Brigade Team click here to get started! If you're already an Angel, log in to your Angel account and join the team.
If you need more information, please use the contact form on this page.
Impact
"Perfect gift !! Thank you sooo much Very grateful!" – OTK recipient mom
"I would like to say thank you for the wonderful gifts that we received for our baby girl, and also for the congratulation cards. My family is so thankful for the blessings you gave us." – OTK recipient mom Joan