Paylocity Pays It Forward this Holiday Season
We're excited to introduce a new Holiday Community Partner who is giving back in a big way.
November 21, 2019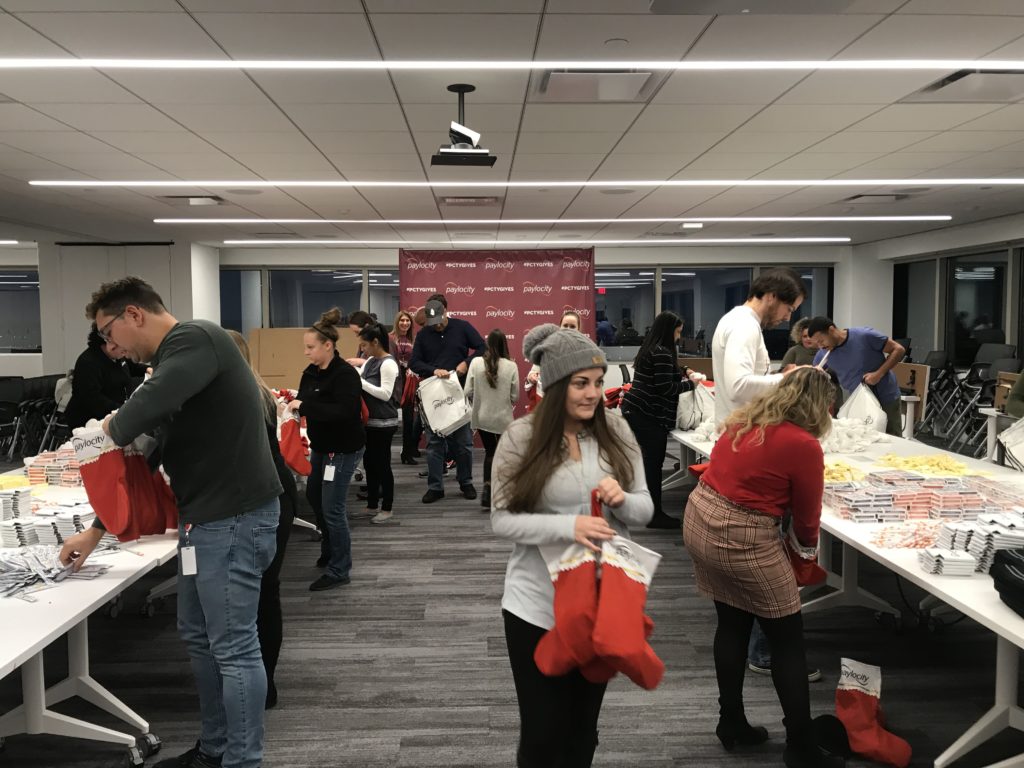 Have you pledged stockings for this year's Stocking Drive? We love seeing groups and companies come together each year in support of troops and veterans through our Annual Holiday Community Partner Program. Each year we are overwhelmed with holiday cheer by the sheer volume of stockings we get – especially from larger companies. This year, we're highlighting Paylocity, who has pledged 2,000 stockings for our 2019 campaign!
Paylocity offers businesses of all sizes cloud-based HR and payroll solutions. This is Paylocity's first year participating in our Holiday Community Partner program but they've supported other military efforts over their 20+ years in business. Paylocity prides itself on its giving culture – which Jamie Grasso, Director of Corporate Social Responsibility at Paylocity says was "very apparent" from the moment she started working with them.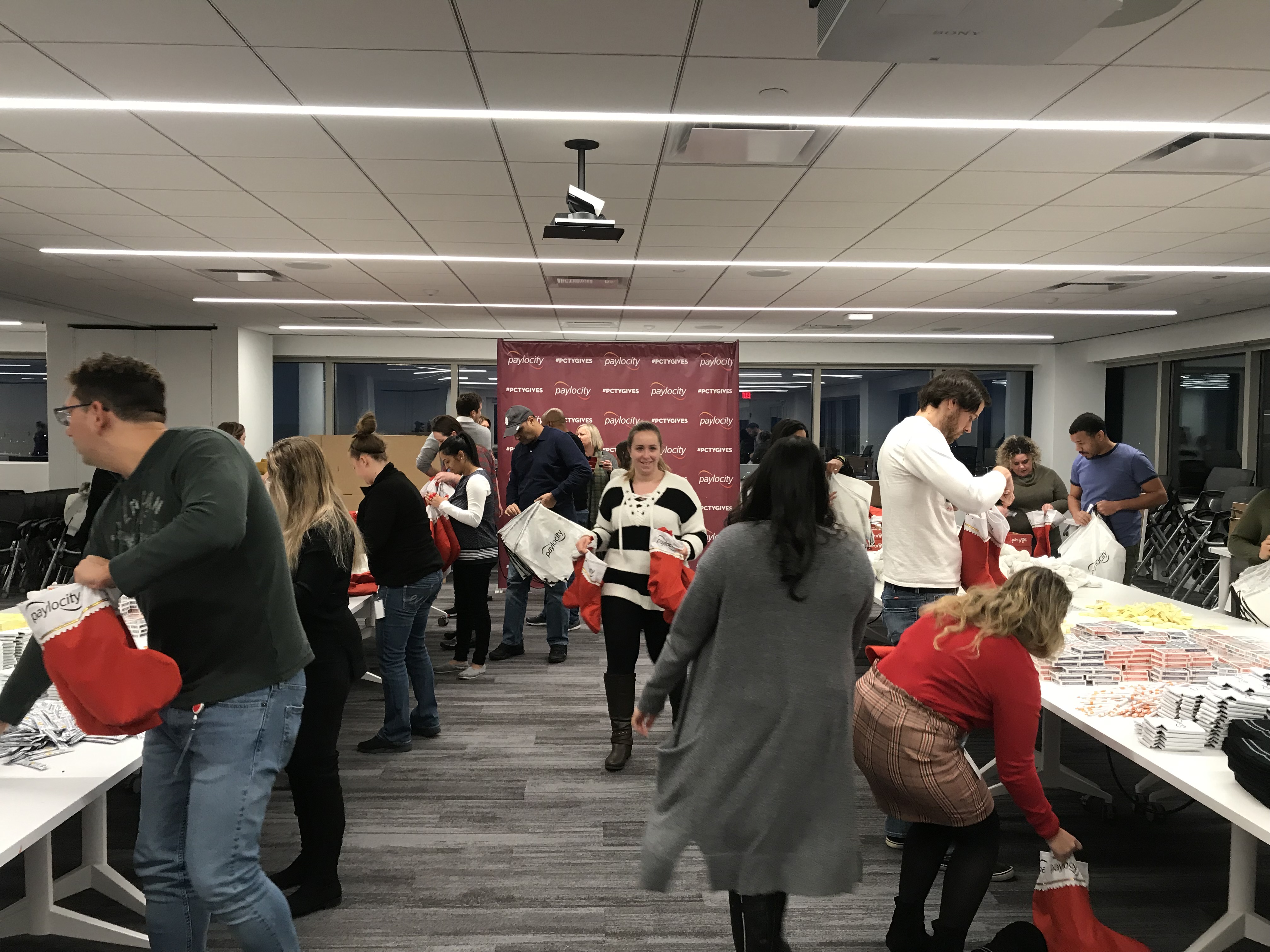 Jamie and the team at Paylocity have spent the last year designing, building, and implementing a corporate social responsibility platform.
"We've been working to understand where we can have the most impact in the most meaningful ways within our communities. No giving is bad giving ever but we realized if we could bring our efforts together in a more organized and strategic way, using our expertise and skill sets, we'll be able to move the needle forward more efficiently in critical areas of need," according to Jamie.
Paylocity has over 3,000 employees across the country, with over 40% who work remotely.
"We really have the unique opportunity to connect people all over the country with their communities and to really mobilize people. My job is to provide opportunities for them and to give them the opportunity to reach out to organizations within their area."
This month is "PCTY Gives Back Month," celebrating the rollout of their social responsibility platform, "PCTY Gives." They were looking for something all of their locations could participate in while also having something consistent and unifying. They wanted to be able to come together across the U.S. and rally behind one organization. When looking for that organizational fit, Jamie really made sure to look at credibility, reach, and scope.
"One of the things I loved [about Soldiers' Angels] was the story of your founder. I come from a military family and so I understand what it's like to have a deployed family member. My brother was lucky enough to get packages because of my mom or my aunts or me but hearing some of the stories of soldiers that didn't really resonated with me. Also your ratings with all the watchdog groups, your financial standings… all of that really shows the work you're doing and that the giveback goes directly to the people who need it and not lost in operations and back office work. I appreciate an organization that is well run."
Paylocity's Stocking Drive
When Paylocity reached out to us, they wanted to make sure they were able to participate while also being sensitive to religious backgrounds. They wanted to ensure that they were not alienating anyone on their staff or service members who don't celebrate the Christmas season.
"You were very flexible with that, in giving us opportunities to provide some Paylocity branded drawstring bags and backpacks for those who are not comfortable packing or receiving a stocking."
They hosted an event called "Corks, Kegs, and Giving" in Schaumburg, IL where their headquarters are located. During the festivities they got together to pack their stockings or bags – with a fun incentive.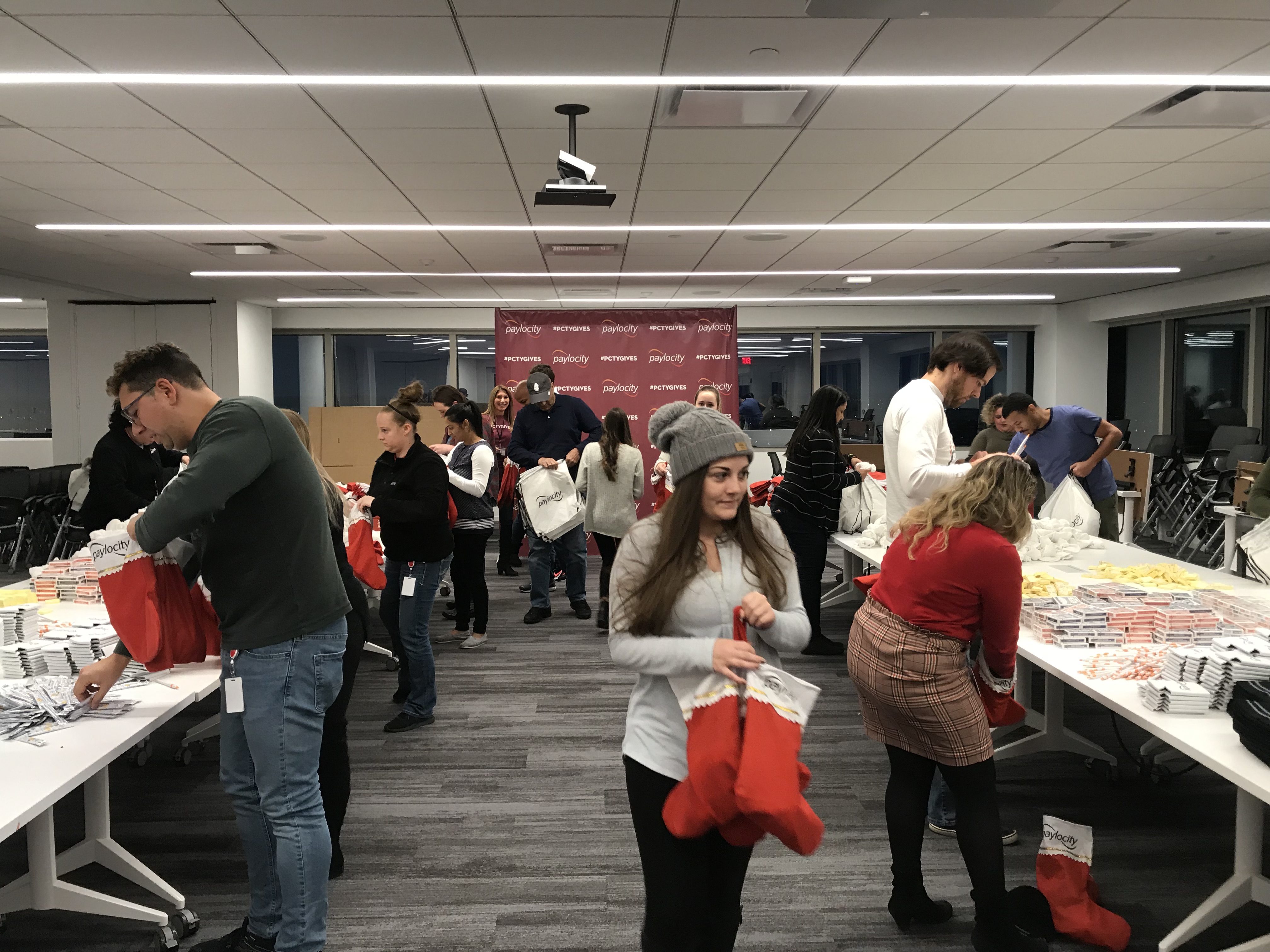 "Every person who packed 20 or more stockings got a "PCTY Gives" t-shirt – which are the first PCTY Gives shirts we've ever had since we went live officially during that week. There's a lot of cool stuff happening this month and this was part of our "PCTY Gives Back Month."
In addition to their corporate headquarters event, other locations are doing similar things. For example, their Rochester location is doing a luncheon and other offices are packing during their regular Game Night events.
"We're excited to partner with Soldiers' Angels. Serving veterans and deployed service members is a very important mission, close to the heart of a lot of Paylocity employees and Paylocity as an organization."
---