Patti Patton-Bader, Soldiers' Angels, and How 9/11 Influenced it All
September 1, 2016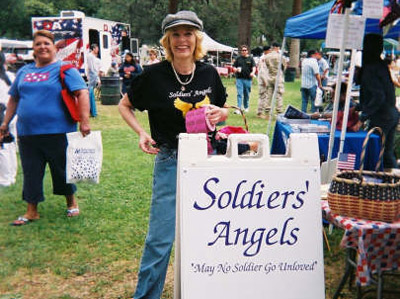 The 9/11 tragedy affected every American in a different way. Some lost family members and friends, some lost their lives, some were dispatched to provide rescue, medical services and support to victims, and some were deployed to Afghanistan to go to war.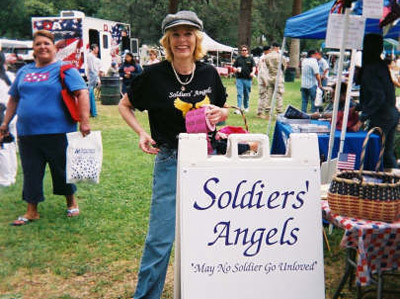 Patti Patton-Bader, founder of Soldiers' Angels, was about to experience what it's like to have a son go off to war. Her son Brandon enlisted in the Army in August of 2001 – a mere 2 weeks before 9/11 happened.
"When 9/11 happened, we knew immediately that he would be going to war."
A year and a half later, Brandon was called and said he was being deployed to Iraq.
"My heart sank and I just sat down and started to think. What kind of Mom did I want to be. A Pearl Harbor Mom or a Vietnam Mom? My dad was deployed to Vietnam twice and I remember him coming home one time. We were at the airport waiting and when he got off the plane people spit at him. I could not understand that. I knew what kind of Mom I wanted to be."
Patti called her Dad and told him the news; that Brandon was going to war.
"It's ok honey, he will be alright," her dad said.
"But Dad," Patti replied, "he is so small and they are shooting guns!" Patti's son was only 20 at the time.
"Don't worry, he will run under the bullets," her dad said.
"Oy vey," Patti responded.
Patti's dad told her that she was going to have to get busy. He told her that Brandon was going to need care packages. He gave her instructions for what supplies to send and how to send them. Patti's husband went out and bought every single thing on the list – enough for 40 shoe boxes! They sent one every day for 6 weeks.
Unfortunately, they received no word from Brandon.
"The news was telling us chemical weapons were involved, I could not take the pressure. I called the base, the chaplain, the American Red Cross, the General… I kept saying nicely but with determination, 'We have not heard from our heroes and we need to know are they ok.'"
Finally, the first Sgt.'s wife called Patti. She told Patti, "I've been talking to my husband. I will ask him about your son tonight. What's his name?"
She called Patti back that night and told her that she had talked to her husband. When she asked him about Brandon, his reply was "Who? The luckiest man in Iraq?" Brandon had been receiving her care packages and was well known for it! She was told that he would call her that night.
Of course when Brandon called, the first things Patti wanted to know were:
1. Are you ok?
2. Have you been getting the supplies?
3. Do you have enough supplies?
"We're ok mom," Brandon assured her. Yes he had been getting the supplies. No. There were not enough supplies. Brandon explained, "I've been sharing the supplies because nobody is sending supplies except you and a couple of wives."
"Right then and there I knew what to do," Patti said.
"I felt like everything that I had done and learned in my life made me ready for this moment. And I knew what to do. I told my husband we were going to need a lot more money and a lot more help. I got on the internet and set-up a website and people started coming in droves to adopt a soldier."
That's how 9/11 affected Patti Bader. It was a wake up call to America and Patti that Americans were needed. They were needed to support the people fighting for them overseas.
It didn't stop with the care packages though. People started reaching out to Patti about ways to support our heroes. Patti realized there were wounded troops being sent to Germany with basically no clothes or supplies for their hospitalization. She realized that there were Chaplains who needed supplies, injured vets who needed help healing their emotional wounds, and troops who needed Christmas spirit… Soldiers' Angels was born.
Soldiers' Angels is what it is today because Patti wanted to support her son, who was deployed because of 9/11. It started a chain reaction when she realized how many of our service members needed support.
---