The Go Camo Campaign is Back!
March 30, 2022
Soldiers' Angels Launches 'Go Camo' Early to Meet Urgent Needs of NATO-Deployed Service Members
Campaign comes on heels of emergency support effort, resulting in over $1.8M in contributions, item donations 
SAN ANTONIO, TX (March 30, 2022) – As thousands of U.S. troops continue to deploy in response to the invasion of Ukraine, the national non-profit Soldiers' Angels is launching its annual "Go Camo Care Package Collection" drive one month early on April 1 in an effort to respond to the increase in requests for support.
"We've been continuously supporting those in the Middle East and other locations," said Amy Palmer, CEO of Soldiers' Angels. "However, we now need to scale our stock of supplies in order to support these additional deployments to Europe.  Let's make sure our service members know we've got their six. Together we can show these brave men and women that America is behind them, no matter what may come next."
The purpose of Go Camo's early launch is to rapidly ramp up the inventory of care package materials in just 90 days so that the organization can meet demand throughout the year.
The effort also comes on the heels of an emergency request by Soldiers' Angels to support the thousands of U.S. troops deployed to NATO countries in response to the invasion of Ukraine. In just 28 days, Soldiers' Angels has received over $40,000 in monetary contributions as well as nearly $1.8M of in-kind donations that include snacks, hygiene items, and downtime items.
Go Camo is Soldiers' Angels' call-to-action for every American to contribute to a care package that feeds, comforts, and heals our deployed.

The Go Camo Care Package Collection will help Soldiers' Angels collect the top-requested items provided in care packages for the deployed service members registered to receive support as well as Chaplains who request multiple care packages that will support entire units. Soldiers' Angels has also been providing support to Guard and Reserve units across the country.
"With all of the extra support we have been providing," Palmer said,  "our stock of care package supplies is severely depleted and we could really use the help to replenish our supply."  According to Palmer, this campaign also provides supporters the opportunity to help with the increased shipping costs Soldiers' Angels is already experiencing. Sending one care package to one service member costs the non-profit approximately $25.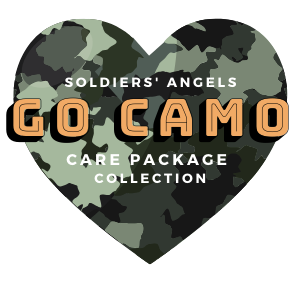 Go Camo will run from April 1 through June 30, 2022.  For a list of the most-requested hygiene and snack items as well as items to avoid, visit: soldiersangels.org/gocamo. Information is also provided for starting a collection drive through a business, organization or school, and marketing materials for posting, sharing and printing may be downloaded from the website.
Purchased items may be sent to Soldiers' Angels headquarters at:
Soldiers' Angels Go Camo
2895 NE Loop 410, Suite 107
San Antonio, Texas 78218
Don't have time to shop? Items may be purchased from the organization's Care Package Amazon** Wish List here  which will then be shipped directly to Soldiers' Angels.
To make an online monetary donation to help with shipping, visit: https://soldiersangels.org/go-camo-donate/
# # #
About Soldiers' Angels: Soldiers' Angels is a national 501(c)(3) nonprofit that provides aid, comfort, and resources to the military, veterans, and their families. Founded in 2003 by the family of General George Patton, hundreds of thousands of Soldiers' Angels "Angel" volunteers assist veterans, wounded and deployed personnel and their families in a variety of unique and effective ways. (Tax ID# 20-0583415). Learn more at soldiersangels.org.
---