National Auto Body Council's Recycled Rides™ Donates Vehicles to Deserving Veterans
July 13, 2017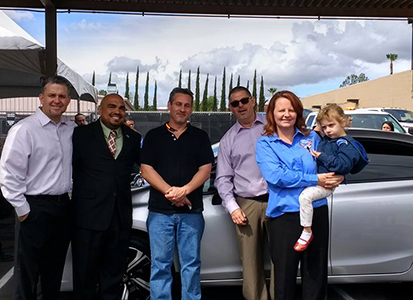 It's amazing what happens when people come together to do things for their community. Members of the National Auto Body Council (NABC) representing companies in the collision repair industry – Insurers, rental car companies, collision repairers, paint suppliers, parts vendors, etc. pool their talents and resources to refurbish and then donate vehicles to individuals or organizations within their community through the  Recycled Rides(™) program.
Could you imagine how difficult life would be without your own means of transportation? Most of us take for granted just how time consuming and difficult everyday tasks like going to the store or taking your child to school would be. Lack of transportation can be a detriment when you are sick or you need employment.
Caliber Collision and Allstate, two National Auto Body Council members, know how important and life changing transportation can be. That's why they do what they do. Soldiers' Angels is excited to have already teamed up with Caliber Collision and Allstate through the  Recycled Rides program on three occasions – with several additional events in the works – to provide deserving veterans with much needed vehicles. Here are some of the previous recipients.
Esther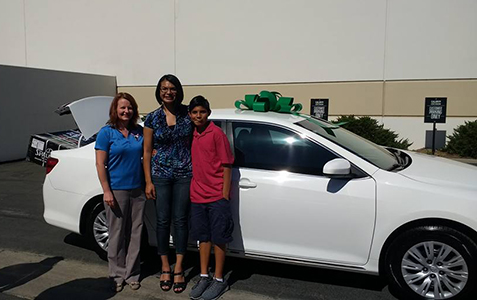 This 100% disabled Army veteran ended up living in her car with her young son while she was waiting on disability. A car that was eventually repossessed. Thanks to Caliber Collision, Allstate and the National Auto Body Council Recycled Rides program, they received a donated/repaired car that was the same model of car they lost, but two years newer! View their story.
Jason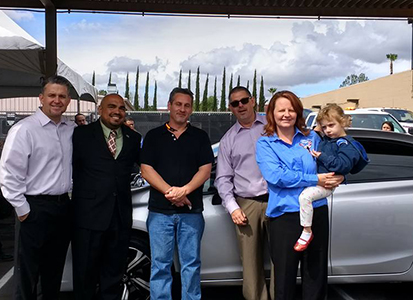 Jason had been taking the bus twice a week for an hour each way to take his four year old daughter to preschool and then again each weekend to drop her off with her mother. He was formerly homeless and is now in the HUD/VASH housing program. Thanks to Caliber Collision and Allstate, he now has transportation.
So you see, transportation really can make a difference. We look forward to partnering with Caliber Collision, Allstate and other members of the National Auto Body Council to help out more veterans through the Recycled Rides program.
---