Honoring Black Excellence in the military
February 24, 2022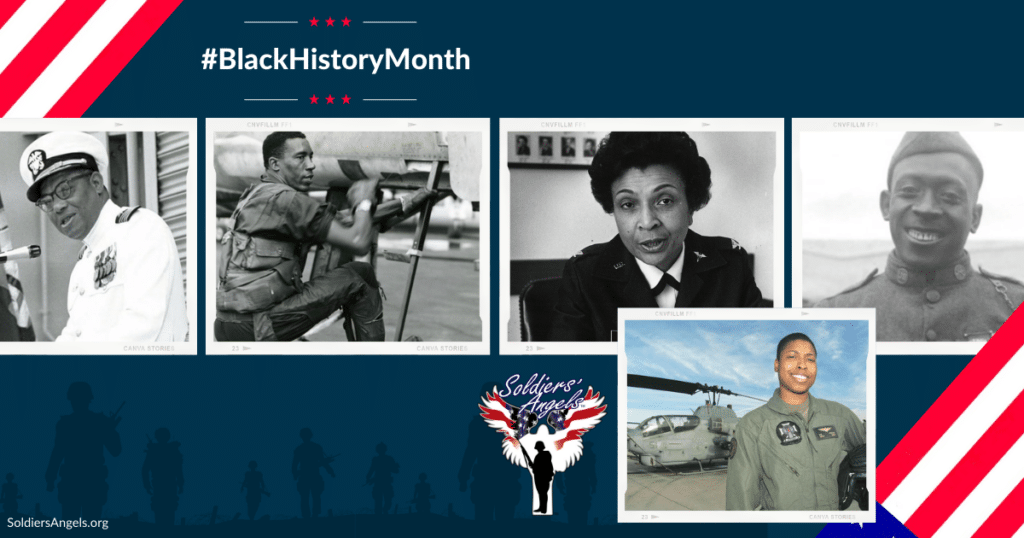 There are so many incredible African Americans in our history who fought, led, and changed the U.S. Military. Each Black History Month it is an honor to spotlight men and women from our history whose stories and accomplishments we may not know. This month, we chose to spotlight one veteran per week on our social media channels who epitomize Black excellence. Here are five stories of Black Americans who have gone above and beyond to serve our country and to achieve excellence.
Samuel L. Gravely, Jr.
Samuel L. Gravely, Jr. was the first African American Admiral in the Navy. In his 38 years career in the U.S. Navy, he had many distinguished accomplishments, including a string of impressive "firsts." He was the first African-American to command a U.S. Navy warship (USS Theodore E. Chandler); the first African-American to command an American warship under combat conditions since the Civil War (USS Taussig); the first African American to command a major naval warship (USS Jouett); the first African American Admiral; the first African American to rise to the rank of Vice-Admiral; and the first African American to command a U.S. Fleet (Commander, 3rd Fleet).
Vernice Armour
Vernice Armour started her career path in 1998, making history as the first African American female to serve as a police officer in Tempe, Arizona. She joined the Marines as an Officer Candidate, went to flight school where she was number one among the last two hundred graduates. After flight school, Armour was assigned to Marine Corps Base Camp Pendleton where she was named 2001 Camp Pendleton Female Athlete of the Year and twice won the Camp's annual Strongest Warrior Competition. She served two wars in Iraq as a Marine and in March 2003, she flew with HMLA-169 during the invasion of Iraq, becoming America's first African-American female combat pilot. After her time in the military, she had a stint as a running back for the San Diego Sunfire women's football team and now she's a successful entrepreneur and business consultant.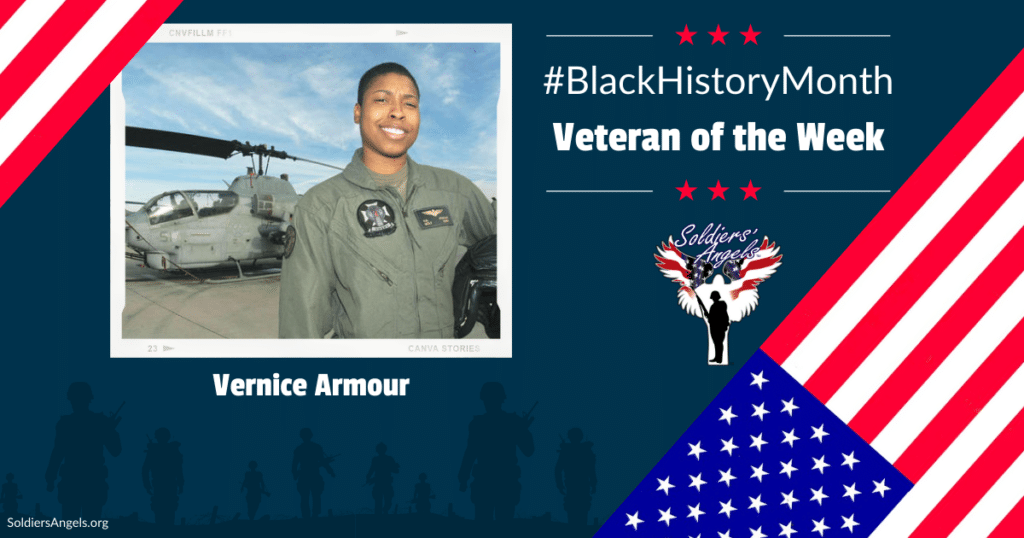 Frank E. Petersen Jr.
Frank E. Petersen Jr. was the first African American Marine Corps Aviator and General. When he retired in 1988, after serving 38 years, he was the first Black three-star general in the USMC and the "Silver Hawk" and "Gray Eagle" senior and ranking aviator in both the USMC and the Navy. He was also awarded a Distinguished Service Medal for his command services at Quantico.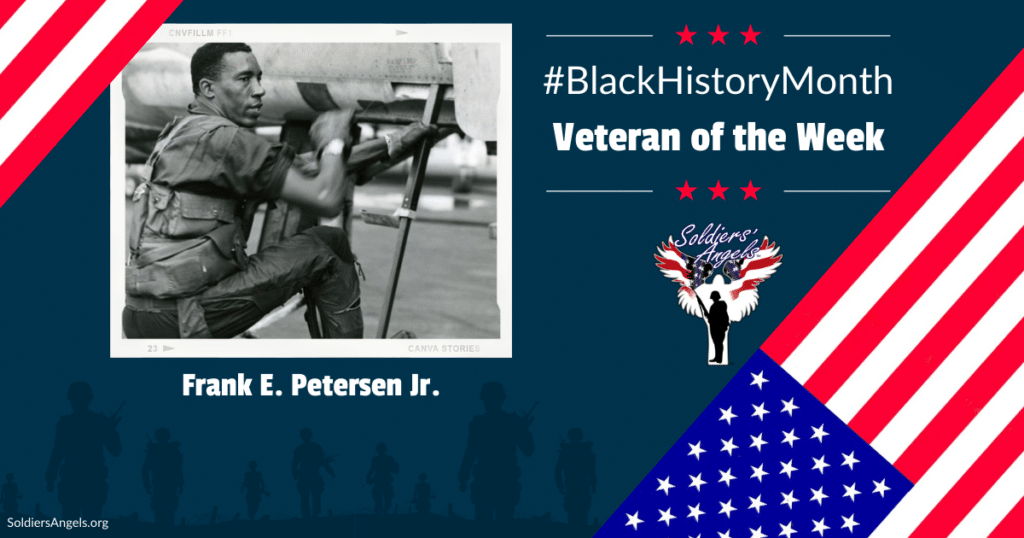 Hazel Johnson-Brown
Hazel Johnson-Brown started her career as a nurse, practicing in the medical cardiovascular ward at the Philadelphia Veterans Administration (VA) Hospital where she became head nurse within three months. She joined the Army in 1955 serving first on the female medical-surgical ward at Walter Reed Army Medical Center. In 1958, she committed to the Army Nurse Corps' Registered Nurse Student Program then went onto Columbia University's Teachers' College where she earned a master's degree in nursing education. In 1979, the Army nominated Johnson to become the 16th chief of the Army Nurse Corps with an accompanying promotion to brigadier general. She trailblazed as the first African-American lady and the first chief with an earned doctorate in the Department of Defense to achieve that distinction. What an incredible woman!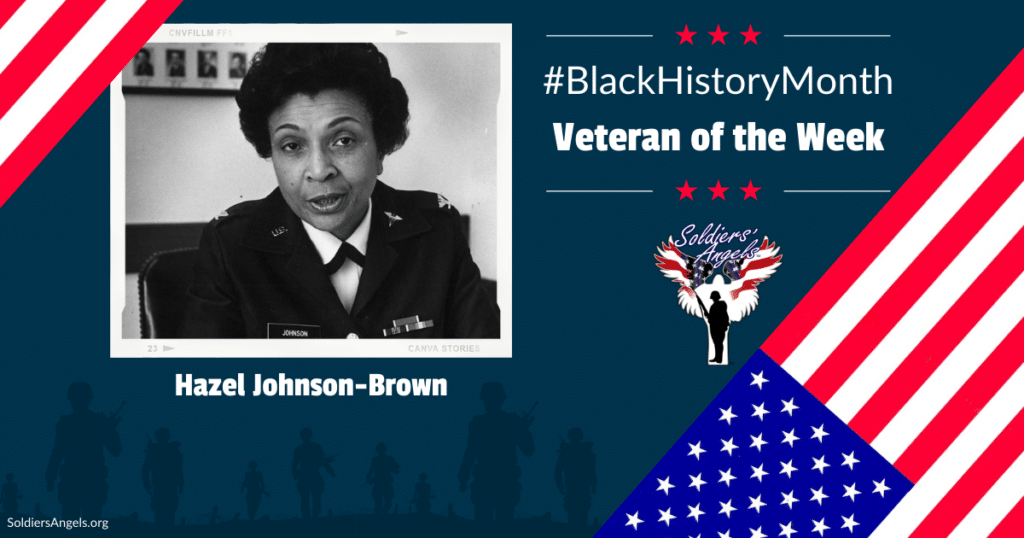 Henry Johnson
Henry Johnson served in the 369th Infantry Regiment in WWI known as the "Harlem Hellfighters". The Harlem Hellfighters saw more combat than all other U.S. outfits. In fact, Johnson's nickname by the German Army was "Black Death." He single-handedly fought off more than 20 Germans and saved a fellow soldier from capture – all while injured and armed only with a bolo knife. President Theodore Roosevelt described Johnson as one of the "five bravest Americans" who served in the war. It wasn't until 2015 that he was awarded the U.S. Medal of Honor by President Barack Obama posthumously.
These are just brief descriptions of the vast accomplishments these men and women had during their time in the service and beyond. We encourage you to follow the links and read more about their incredible lives. Happy Black History Month!
---