Help Homeless Veterans Stay Warm This Winter
July 6, 2023
Winter is coming. While the winter means fun activities, holidays, and bundling up by the fire, it can be devastating for homeless Veterans who do not have access to creature comforts like heat, warm blankets, and winter clothes.
According to the Point-in-Time count done by the U.S. Department of Veterans Affairs, there were 33,129 Veterans who experienced homelessness as of January 2023. Of those Veterans, 13,564 Veterans experienced unsheltered homelessness. Being out in the winter weather can have serious effects, like the threat of hypothermia or frostbite, reduced life expectancy, and increased susceptibility for chronic health conditions.
No Veteran should go without basic necessities, which is why we're excited to expand on our annual Blanket Drive to collect additional winter items—winter coats and gloves. The Blanket Drive will now be called Operation: Warm Winter. The campaign will collect and distribute winter items to homeless Veterans across the country through VA Hospitals we support. The collection drive runs July 1 – September 30—which might seem a strange time to start collecting cold weather gear—but this early date will ensure the VA Hospitals we support are stocked up and ready for winter.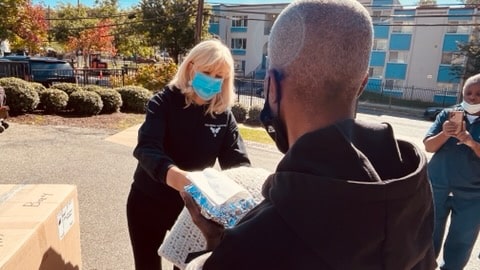 How to get involved
Ready to help ensure homeless Veterans stay warm this winter? Here's how to get involved.
Collect: Start a collection drive at your office, within your organization, or among friends.
Shop: Shop for items and ship them directly to us (shop local, shop our Amazon list, or *NEW* shop our online Walmart & Target list!)
Make: Handmade items are always cherished. Whether you're into sewing, knitting, crocheting, or the No Sew method, make your items and ship them to us
Donate: Your support through a monetary donation will not only help us purchase blankets, coats, and gloves for homeless Veterans— but it will also help us ship donated items to the VAs requesting support
If you're within driving distance of San Antonio, you can drop off your donations at our office during business hours: Monday – Friday, 9 am – 5 pm CT. If you're collecting items or purchasing items locally, you can ship all of your items to our headquarters in San Antonio.
Soldiers' Angels Operation: Warm Winter
2895 NE Loop 410, Suite 107
San Antonio, Texas 78218
Items needed
We're collecting the following NEW items:
Blankets (twin size preferred)
Coats (adults sizes, waterproof a plus)
Gloves (adults sizes, waterproof a plus)
All items collected should be NEW and unused and will be shared directly with homeless Veterans in need. Learn more about our new collection drive, access marketing materials, and more here.
---