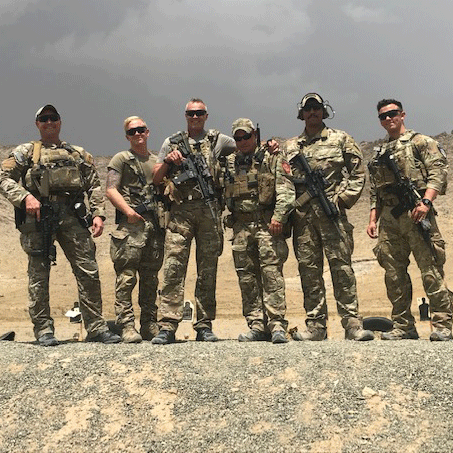 "I got your packages a couple days ago and they were awesome! Everything you sent was a god send. The guys in my platoon and I greatly appreciate the candy (I had to share or all my teeth would rot out!) The shower stuff was great and will definitely get me through most of my time here. Your packages definitely made my day and I am looking forward to any possible further packages. Thanks again and I can't wait for your next e-mail!" – Jason
Who We Are and What We Do
The Special Operations Forces Team (SOFT) is a unique team of amazing Angels designed to serve only Special Forces and Special Operations service members. Due to the nature of their military duties, this team requires an increased level of security and commitment. In order to serve on this team, Angel volunteers must reside in the United States of America and serve on at least one other care package team (Angel Bakers, Deployed Adoption Team, Ladies of Liberty or Women of Valor) for at least six month and be vetted by the Team Leader and/or Program Manager. As part of this team, Angels serve both individual service members and SOF units by sending care packages every 30 days throughout the service member/units deployment.
How You Can Help
Due to the additional security requirements for this team, you must serve on another Soldier's Angels team for at least six months and be recommended for this team by your team leader. If you have served six months and wish to request to join this team, please log in to your Angel account and choose the "request to join" option. The team leader will contact you and interview you for this role. After the interview is complete, the team leader will request the recommendation(s) from your current team leaders.
If you need more information, please use the contact form on this page.
Contact the Special Operations Forces Team
Impact
I got your box of shirts yesterday. it was perfect. I took what i wanted and gave the rest to the other guys, they thought it was pretty cool that you sent all those. Because of what you have done for me, I have two more guys that want to be adopted by one of your Angels. Tthanks again for all the shirts! – Stephen
It is hard serving in the Special Forces role becuase you are gone a lot and often with little notice. Receiving support from Soldier's Angels makes it more bearable for us. Thank you for your support – Anonymous Navy Seal
The Special Forces community is forever indebted to Soldiers' Angels for your support and encouragement. You have often times sent us not just care packages, but much needed supplies to continue our mission. We can't thank you enough! – Jim