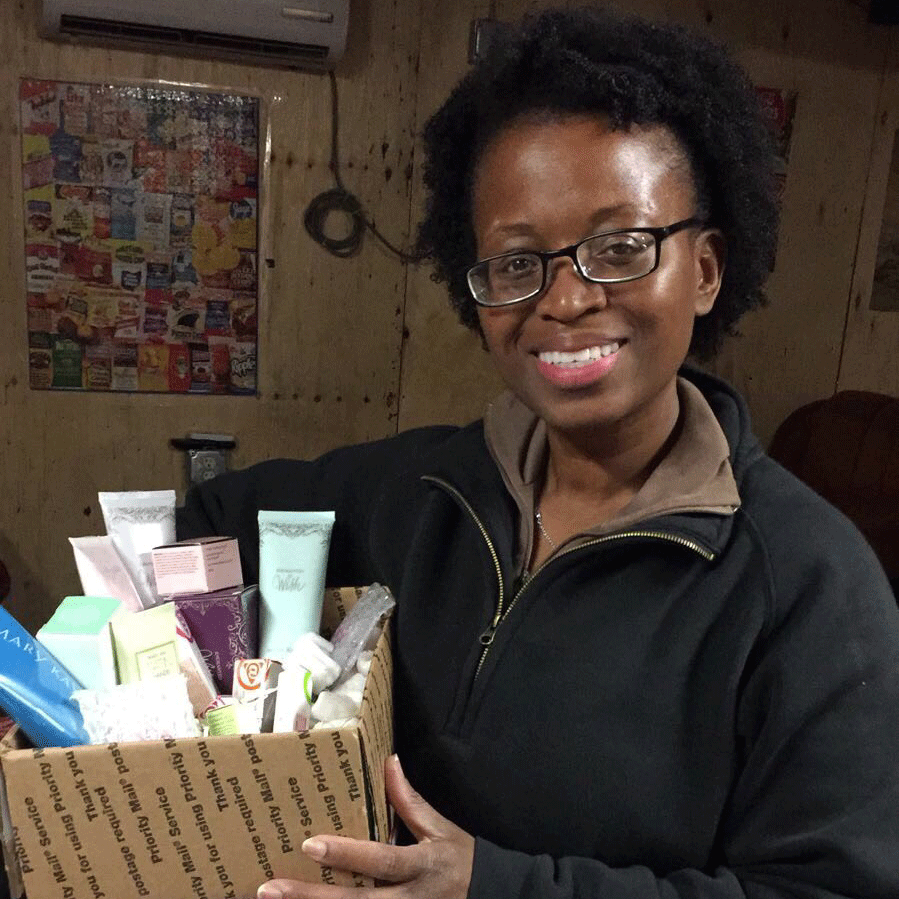 "I have been receiving the most wonderful packages for over a month now from Soldiers' Angels and I just wanna say that it truly is a blessing to open the cards and the letters and all of the boxes. I love the letters. They make me soo happy. I even got birthday cards for my 19th b-day in the mail! It almost brought me to tears." – PVT Cassandra
Who We Are and What We Do
The Ladies of Liberty Team (LoL) is a team of all-female volunteers who are dedicated to supporting the specific needs of deployed female service members. Angels on this team send one care package per month that includes the basic care package items, as well as supplies for a woman's unique health and hygiene needs. Pampering items are also included in these packages to help our "Sheroes" feel appreciated and rejuvenated, even when they are in a combat environment.
We understand that women are instrumental in today's military, as in past eras, and we make special efforts to support and encourage them while demonstrating our great appreciation for their service.
How You Can Help
Join the Ladies of Liberty! To join Soldiers' Angels and participate in the Ladies of Liberty Team, click here to get started! If you're already an Angel, log in to your Angel account and join the team.
Help provide supplies! We need the following kinds of items for our adopted Ladies:

Personal care – feminine hygiene materials, female deodorants, body wash
Pampering – body scrub, lotion, and facial masks
Haircare – hairbands, brushes, shampoo and conditioner
Leisure materials – books, magazines, adult coloring books with colored pencils
If you need more information, please use the contact form on this page.
Impact
"…I am very grateful for everything that Soldier's Angels and the Ladies of Liberty have done for my unit. I do read EVERY letter that is sent to me. I am not always able to respond in a timely manner. But I do love getting them! I also share all the packages with other soldiers…Everyone has sent amazing packages. I say this a lot, but words can't describe how grateful we all are. "– Rochelle
"I cannot thank you enough for the amazing boxes of surprises and multiple letters I've received from your incredible organization. With each letter and box I am so overwhelmed with emotion that someone I don't even know can express such kindness towards me…With profound heartfelt gratitude, Major Bower, U.S. Army"
"Thank you sooo much for the care package. The lotion and Chapstick are amazing; the air is so dry here it is unbelievable! The whole package was amazing. I can use all of it. The BX is all geared around males. When we were working on Ladies of Liberty I knew it was important, but I have a whole new appreciation for it. Being on this side and waiting for the mail to arrive, and receiving the letters from all the Soldiers' Angels is the highlight of my day. It definitely makes a difference. I love every single letter I get! It makes being separated from family and friends a lot less heartbreaking." – Megan