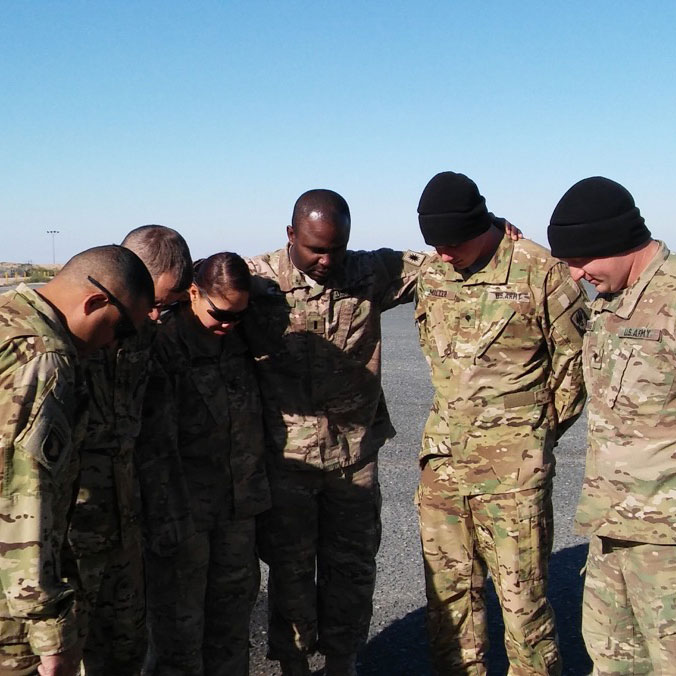 "Without your support, I could not have made a wonderful ministry for our hospital." – Chaplain B.G.
Who We Are and What We Do
The Chaplains Support Team (CST) provides direct support to military chaplains as they bring comfort and assistance to service members throughout their deployment. The chaplains perform most of their duties in a non-denominational capacity, and it is these non-denominational activities that the CST supports.
CST Angels supply Chaplains with requested items related to their mission. These items can include non-denominational letters to distribute to service members, as well as gifts and supplies that can be easily distributed to service members who may be needing extra support and are not currently registered for direct support through our Deployed Adoptions Team. The gifts and supplies shipped can include everything from non-denominational chapel supplies to delicious food items for special group meals, cards for the deployed to send to family members for holidays and birthdays, and things like games, sports equipment, or books for recreation.
Because chaplains travel throughout the war zone, working with them helps Soldiers' Angels reach personnel who may be in remote locations, feeling isolated and lonely, and in need of a morale boost. We also strongly encourage these service members to submit their names for adoption through their chaplain.
How You Can Help
To join Soldiers' Angels and participate in the Chaplain Support Team click here to get started! If you're already an Angel, log in to your Angel account and join the team.
The CST takes great pride in supporting many deployed military service members in need who enjoy knowing that we appreciate their service and incredible sacrifice in protecting our freedom and the freedom of others.
If you need more information, please use the contact form on this page.
Impact
My job is travel throughout the week by land convoy and air to these remote sites providing Chapel Services and counseling to the Soldiers of that particular site…I have already put measures in place to deliver the K-Cups to one of our remote sites. Many of our Soldiers live on very small remote sites away from "home base." …They rely on outside visitors to bring them some of the "lickeys and cheweys" from home. For a lot of these guys, a fresh cup of coffee is the one and only thing that keeps…morale high. Thank you for such. – Chaplain CPT Rice in Afghanistan
The items that you send are sent out to Soldiers who are not assigned to an operating base with access to an Army Air Force Exchange Service [PX]…They have also helped out a great deal during times when the supply lines here in Afghanistan become strained. The local stores sell out of the basic necessities that Soldiers need. We in the Chaplains office are able to provide these items for the Soldiers, thanks to your contributions. – Chaplain Osborn, 86th Expeditionary Signal Battalion
The care packages you have given us in theater are very much appreciated. Many times soldiers have come into our office and come out with what they needed to make the deployment easier. Whether it was snacks, hygiene items, letters or other memories from home; your support has helped us…The Chaplain appreciated the opportunity your packages gave to minister to the soldiers. Your diligent efforts are greatly appreciated – SPC C, Chaplain Assistant in Kuwait