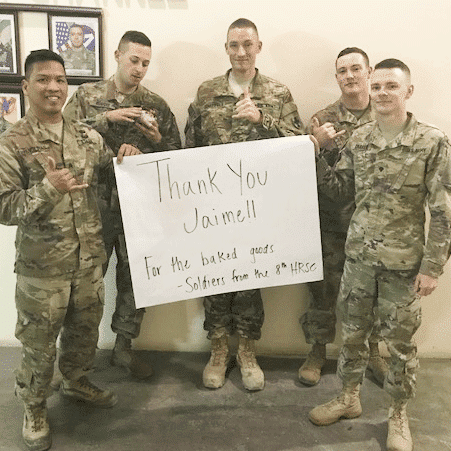 "Thanks so much for the wonderful cookies. Nothing like a little home baked goodness to make the day a little brighter. Me and my fellow Soldiers truly appreciate your time and effort in sending us this little slice of love." — Lieutenant Colonel "Oz"
Who We Are and What We Do
The Angel Bakers Team is a team of highly dedicated Soldiers' Angels volunteers who support our service members by sending a one-time care package, monthly, of home made goodies for our deployed military heroes. Our Angels send cookies, brownies, cakes and other delicious treats. Angels may also supplement their packages with store-bought bakery items or healthy snacks. While we try to bake for everyone who requests home baked goods we try to focus on those who may have been through an especially difficult experience during their deployment, living in especially trying conditions, or in need of a morale boost for a job well done. Our aim is to show our heroes how much people back home appreciate and care about them.
How You Can Help
To join Soldiers' Angels and participate in the Angel Bakers Team click here to get started! If you're already an Angel, log in to your Angel account and join the team. The Angel Bakers Team takes great pride in supporting many deployed military service members in need who enjoy knowing that we appreciate their service and incredible sacrifice in protecting our freedoms and the freedoms of others.
If you need more information, please use the contact form on this page.
Impact
Thank you, Soldiers' Angels, for making my birthday special this year while in Iraq. – SGT Torrentes
To all of you from Soldiers' Angels, thank you all for the baked goods and everything else you have sent to me and my platoon…All the support and love didn't go without a lot of appreciation. It's incredible what you do. – SPC Silva
THANK YOU, THANK YOU, THANK YOU! The generosity you've all shown to me and my Airman has been nothing short of miraculous. Over the past six months we have been pampered by all of our Angels. The gifts, cards, snacks, cookies…don't let me get started on the cookies-cakes-brownies-treats!
I have been an Air Force 1st Sergeant for more than five years and have been all over the world. Our American Airmen have been welcomed and appreciated in every corner of this globe, but I cannot remember when the support from home has been as overwhelming as it has been since Soldiers' Angels and Angel Bakers stepped in. You helped me do my job, taking care of my Airmen, in a way in which I could have NEVER done by myself. I love you for all you've done for me and especially all you've done, and will continue to do, for my Airmen. – SMSgt Mann