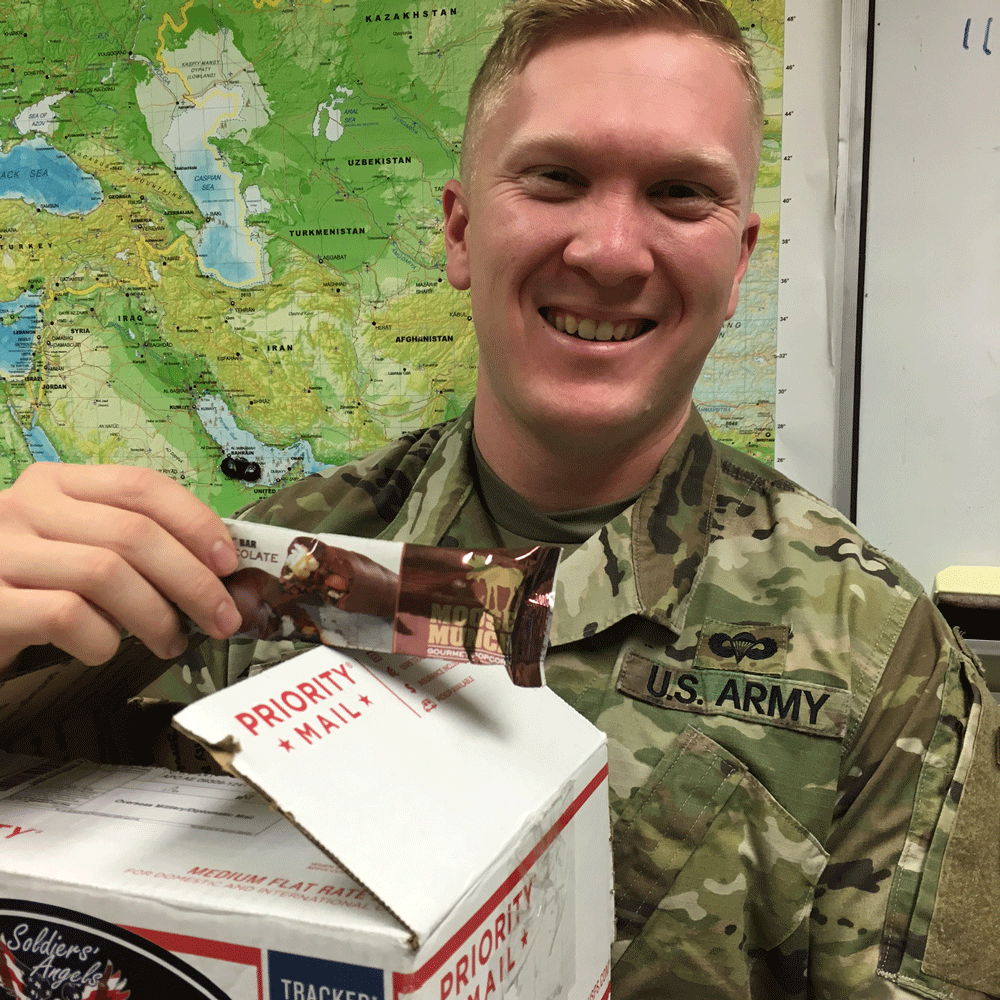 "I would like to say how grateful I am to all of the members associated with this program as it has been a fantastic morale booster for both my current deployment and my deployment back in 2015! Your team truly spreads joy during the hard times and provides a great opportunity of friendship for those of us who are limited on family communications. Between the letters and the care packages to share in the shop, we all feel a little more appreciated out here. For me, it has been the Angels that have given me the support I need to complete the mission and push forward each and every day! Thank you again, for everything that you and your fellow Angels do!" -Tiffanie
Who We Are and What We Do
The Deployed Adoptions Team (DAT) is a team of dedicated Angels who support male and female service members deployed overseas in support of combat or humanitarian missions. The DAT goal is to ensure that no service member feels alone throughout their deployment.
Deployed service members register with the Soldiers' Angels organization and then await selection by a DAT Angel. The DAT Angel will then send their service member at least one letter per week and one care package per month until the service member returns home. A DAT Angel can support up to three service members at a time. The Deployed Adoptions Team is composed of thousands of dedicated Angels who invest their own time and funds to support thousands of our valued service members annually.
How You Can Help
To join Soldiers' Angels and participate in the Deployed Adoptions Team click here to get started! If you're already an Angel, log in to your Angel account and join the team.
If you need more information, please use the contact form on this page.
Impact
You all made a big impact on my deployment. It was a breath of fresh air to see that random people who we didn't even know send care packages to us. It wasn't the package that made it amazing, it was the feeling I got when I received it from someone I didn't even know. – Matt
You can never imagine how important it is to know that you have people back home that support [us] and care about what we are doing. – CW2 Eric
Being away from home, family and friends is really hard. But when you receive mail and care packages, it truly brightens your day. – SSG Stephens
Angels are special and rare! They make differences in people's (Soldiers) lives and bring a smile quite often in times when they are needed the most. Even though they may never see that smile, that laugh or that feeling he gets in his heart, they continue to do the unbelievable. I know first hand, because you were my Angel and brought that joy and happiness to me! – James