Deployed During A Pandemic
February 15, 2021
As a Nation, we have all struggled with the realities of life during a pandemic. There have been restrictions on where we can go, what we can do safely, and how we meet in groups. How we work and how we handle things like weddings and birthdays or even vacation has all changed. And we worry. About our health, about our economy, about our community and our families. But these things are all compounded for service members who have been deployed overseas during this pandemic.
We wanted to share some of their experiences to shine a light on the hardships and challenges they have faced during it all, and why they need our support now more than ever. Below are some responses from service members we support currently on what's it's like to be deployed during a pandemic.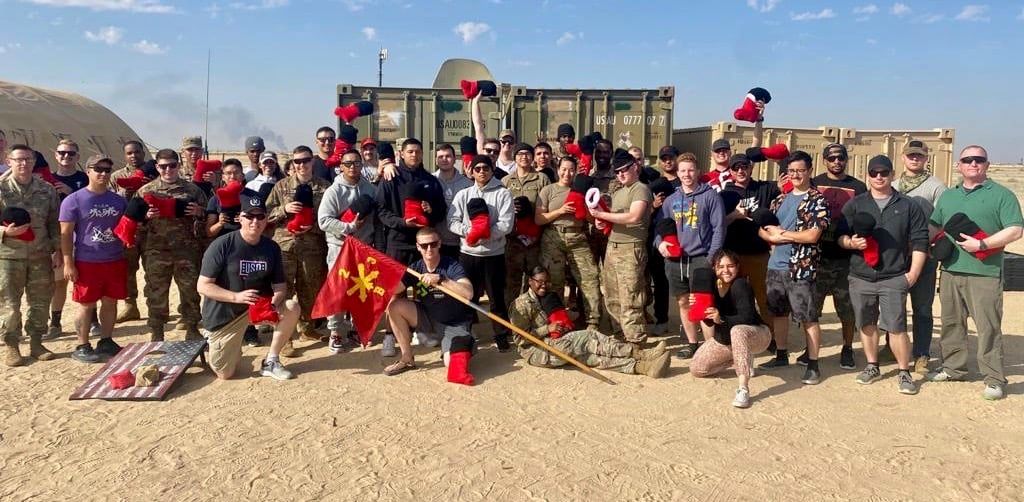 However, before we look at the personal experiences of our service members, we did want to address some concerned comments we have received on various social channels. We have shared photos that included volunteers not wearing masks as well as images of groups of service members– some masked and some without. This blog was written as a response to the flood of concerned comments those posts received.
We felt it was important to address those comments with important details for everyone's benefit:
Most importantly, Soldiers' Angels supports service members, veterans, wounded heroes, and military families. The personal political views of the individuals we support, including their personal views on wearing a mask, do not hinder our support.
Second most important, Soldiers' Angels is taking every precaution necessary to continue our support of the military and veteran community while also being safe, socially distant, and pandemic aware. Masks are mandatory by everyone (staff and volunteers) within our office space or at any of the events we host. If you see a photo posted of a volunteer or activity and they are not masked, the photo was almost certainly taken pre-COVID. We will do a better job to include that date information.
With those two points in mind, the third point is where we lose any sort of control on how activities are carried out, but since these images have raised so many questions and concerns, it's worth addressing.

Soldiers' Angels cannot control how/if our volunteers wear masks when they are performing volunteer activities in their own homes and not on Soldiers' Angels property.
Soldiers' Angels cannot control how/if service members deployed are wearing masks in photos, nor enforce any policies that have been put in place by the military.
Please don't let a photo that may have any one of many underlying contexts or may have been from pre-pandemic times dissuade you from supporting the deployed men and women who have never stopped during this pandemic.
"I trust the military members and their units to make good choices within the context of their specific situation. I highly doubt service members would assemble and take a group photo without some thought into whether they need masks or not," says Amy Palmer, President and CEO of Soldiers' Angels and an Air Force veteran herself. "Let's keep our focus on appreciating what they are doing for our country."
It's important to remember that "sheltering in place" was never an option for our service members, especially those deployed during this pandemic. Those aboard the USS Nimitz are a prime example of this. They have been away for a longer than normal 10-month deployment and finally called home earlier this February… That means they have been away from the US, away from their families, and away from this strange new world for the majority of the pandemic.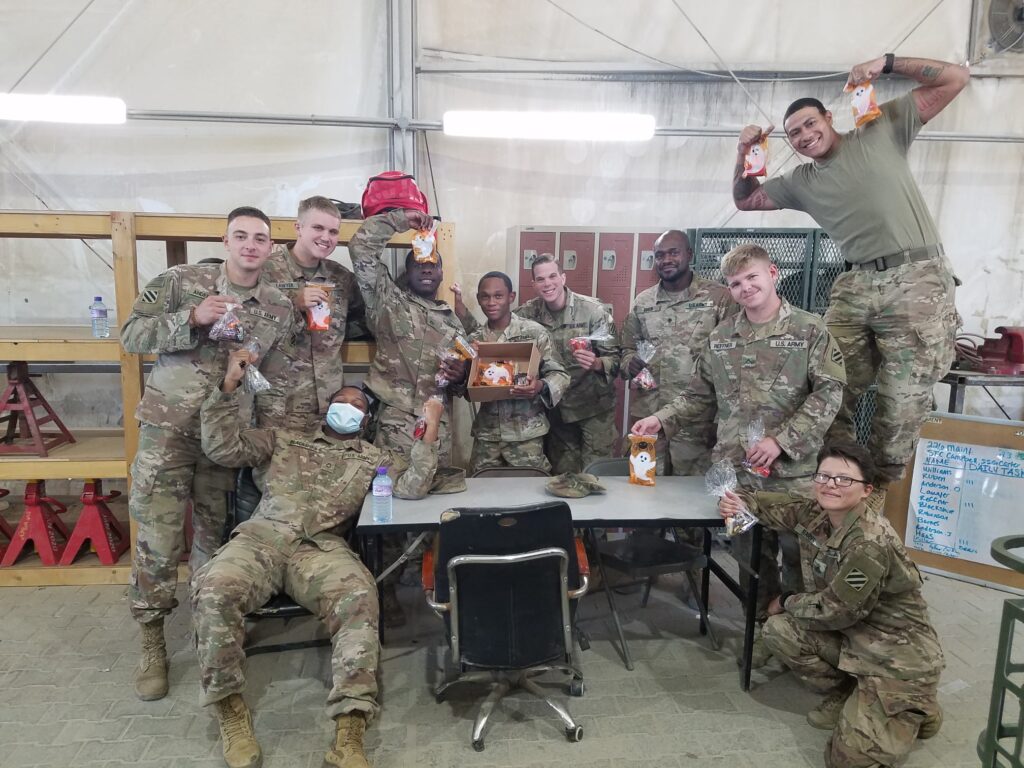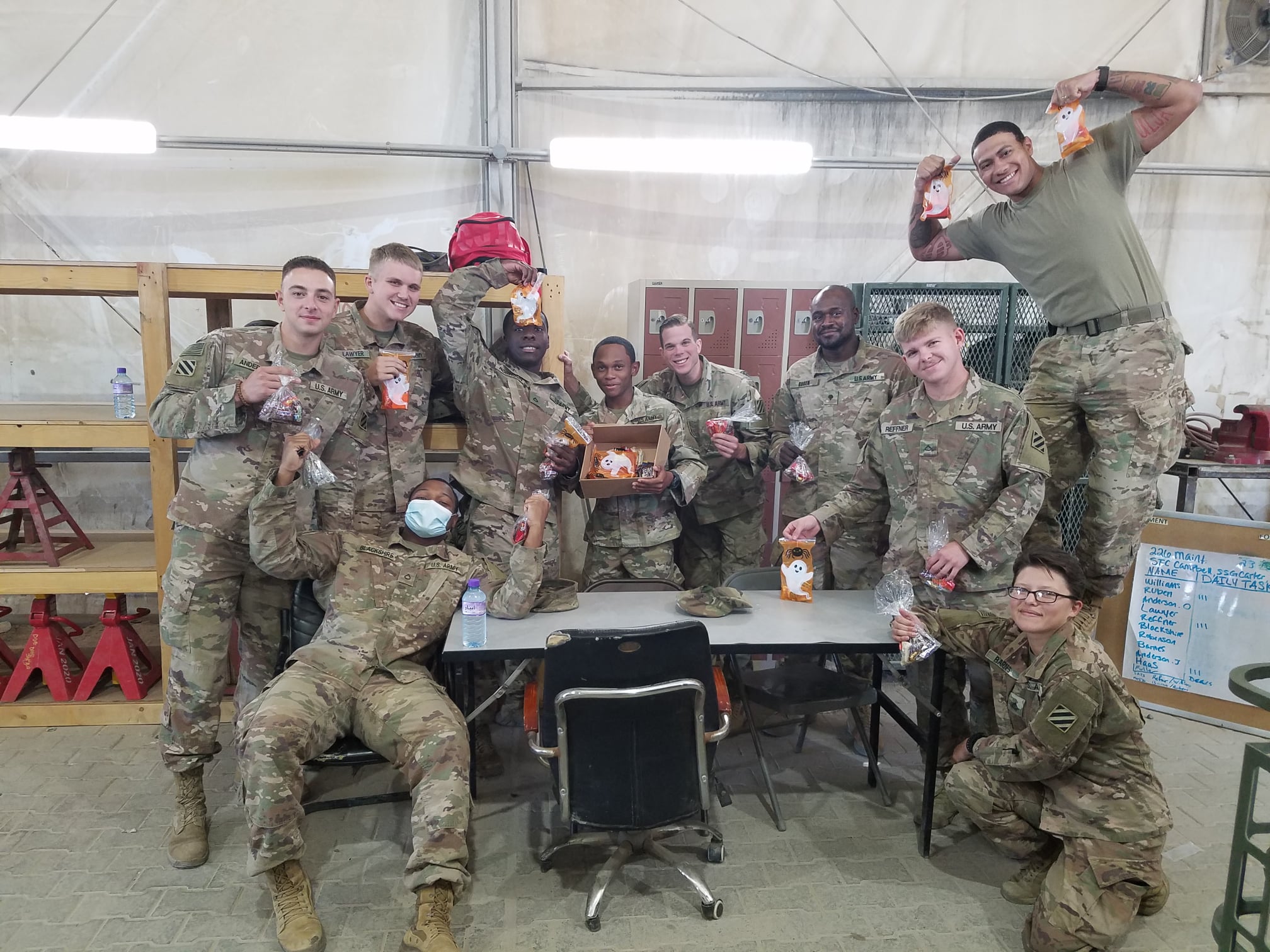 But their situation is not unique either. We're hearing more and more stories from units that are supporting hospitals, both military and civilian, units that worked mortuary duty in New York City, and units that are assisting in many other ways that may go beyond what they ever imagined they would do in their military service.
From all of those stories we are hearing there is one thing that is glaringly apparent… our service members need our support now more than ever.
A look at the process
Here's a look at how the deployment process works through the experience of one service member. Please keep in mind that he can only speak on behalf of the unit he is part of. Other units may have different policies and procedures.
Pre-Deployment
"A challenge we faced was traveling to different bases around the United States for our deployment training. These bases were located in different states and we had to adhere to the state mandates and local base mandates. Once we returned from the deployment training, we were tested and instructed to quarantine at home. We were tested again to be able to return to our home base to prepare for the deployment. I believe we were tested a total of 3 times before actually departing the United States. The receiving overseas base which we traveled to, required the service member to have a recent test result before being able to board a flight."
Deployment
"Once arriving at the receiving overseas base and/or deployed location, the service member is again tested and placed in quarantine until the test results are available. Once cleared, you are able to go about the deployment and mission. Masks, social distancing and most of the precautions like back home are enforced at the deployed location. For the most part, all of the service members are healthy and are at low risk of being infected by Covid."
Re-Deployment
"The most ideal situation is to be sent directly home from the deployed location. However, not every overseas deployed location can support that type of travel for many reasons. Most service members will travel to multiple overseas locations for logistical reasons. The service member must adhere to the local policies and precautions of the overseas base traveled to. Some bases may require to be tested again and or quarantined."
Post Deployment
"We will be tested again once we return to our home base. After, we will quarantine at our home residence for a period of time. In addition, many of us will choose to use our earned leave. Once we are cleared, we will return to the base in order to begin our post deployment process."
A little perspective from other deployed service members
Here are some additional experiences from service members who have been or are currently deployed during this pandemic.
Tabitha
"First I would like to say the Soldiers' Angels program is amazing. This is my fourth deployment and first time signing up for Soldiers' Angels. Each card and package I received I felt like I was receiving them from a friend not a random person. This deployment was tough not only because of COVID restrictions but also the loss of a family member and my boyfriend and I split up. My Angel wrote to me frequently with encouraging words, it helped me get through this difficult time.
As I get ready to redeploy there are concerns because we have to quarantine in our residence. Many of my Soldiers live in the barracks or many of us that live off post do not have family members in Texas. The Soldiers are redeploying with no toiletries such as toilet paper, hand soap, towels or linens to hold them over during that time. Due to the way we deploy we do not have a lot of space for extra items.
Once again I appreciate everything you and the Soldiers' Angels do. This is an amazing organization."
Jesse
"This tour is hard for us: we left our families from a pre-COVID world in January, and we are now going back to a world that will be unfamiliar to us in many aspects. We will not be able to freely visit our friends and families to reconnect as we reintegrate back to our former lives. However, we still look forward to returning to the land of the free. Especially for myself, I missed the birth of my first child for this deployment, so I am looking forward to meeting my daughter for the very first time. I want to thank you for the support you've given me and my fellow soldiers through the Soldiers' Angels organization."
Kirsten
"I am actually one of the sailors that has been extended on our deployment recently. I have not been home for a few months so I have not faced the challenges of covid-19 in a minute. I wish I would have known that we were going to be staying out here longer than expected. But other than that there isn't much information I was looking for. No we have not been quarantined. We have been on a ship in the middle of the ocean for a good time now so we think we are good not having to quarantine. I personally loved everything I got in my packages from Soldiers' Angels. Thank you for asking these questions and I hope I was of some help. Thank you for supporting me as well. I really appreciate it."
Chaplain Dave
"I will be redeploying mid-February. We had to quarantine 2 weeks in Kuwait and will have to quarantine at home 2 weeks after return. Your organization has been MORE than generous during this deployment for which I am truly grateful. The Seashol family adopted me and showered me with goodies, necessities, cards, letters, etc. Thank you again for all you do to help us with morale, especially during a deployment with all the COVID restrictions."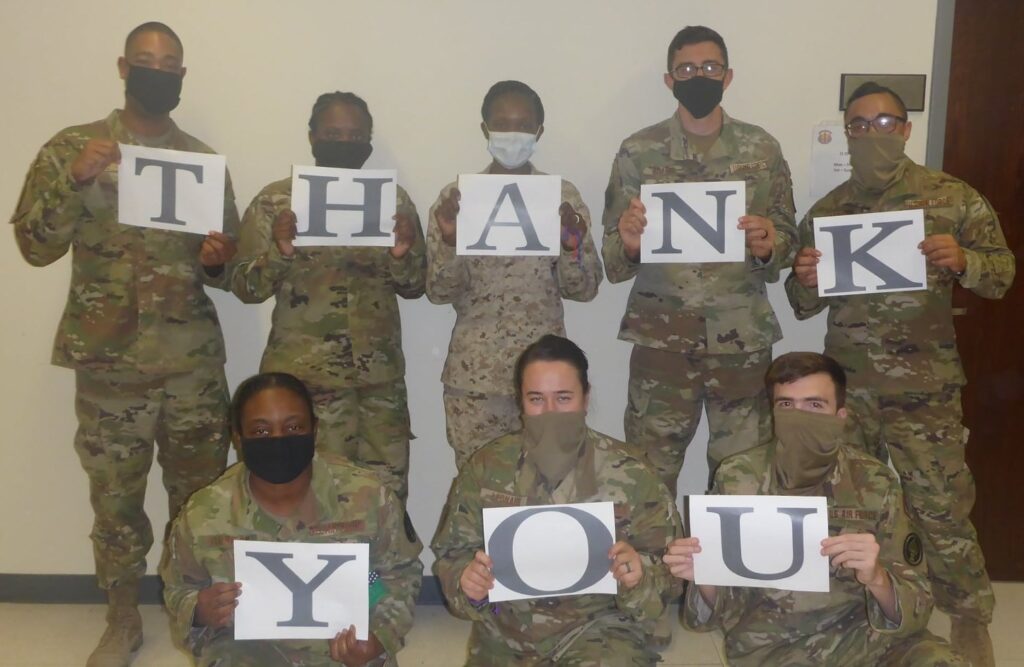 As you can see, the support is very much needed and appreciated. If you would like to help support a deployed service member this year, there are several ways you can do so. You can join one of our Angel Teams and send care packages, letters, or baked goods monthly or support one of our one-time opportunities making Valentines, sending socks, sending cards of support, etc.
---