Celebrating 15 Years of Support in 15 Hours
August 3, 2018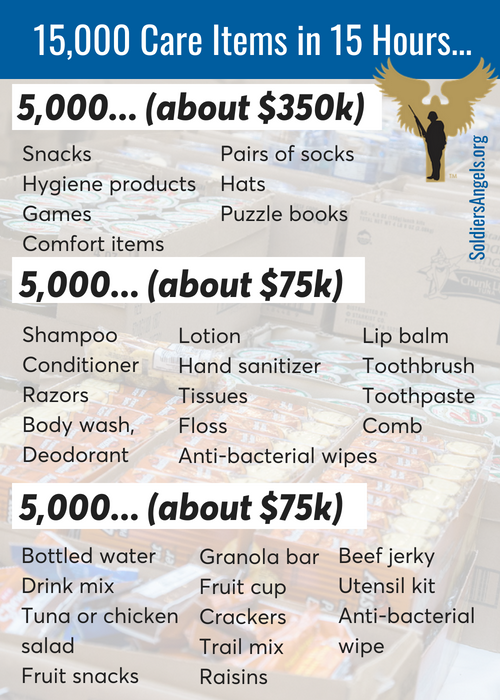 This year, Soldiers' Angels is celebrating 15 years of support for our deployed service members, wounded heroes, military families, and veterans of all eras. 15 years is a huge milestone, which is why we're celebrating it in a BIG WAY! On the Day of the Deployed (October 26, 2018), we're hosting an anniversary celebration in San Antonio, Texas.
Why the Day of the Deployed?
The Day of the Deployed is a national holiday founded by a Soldiers' Angels volunteer to honor all of the brave men and women who have been deployed and are sacrificing, or have sacrificed, their lives to fight for our country. It's also a day that acknowledges the families they are separated from. We founded this holiday to further support our mission of ensuring that No Soldier Goes Unloved. It's important to us that our deployed military service members and their families are supported.
What better way to celebrate our 15 year anniversary AND the Day of the Deployed then by coming together to pack 15,000 care items in 15 hours? We'll be packing 5,000 Care Packages for Deployed, 5,000 Hygiene Kits for Veterans at VA Hospitals, and 5,000 Box Lunches for homeless veterans and for VA Caseworkers to hand out to veteran patients who may not know where their next meal is coming from.
If you've been reading our blog, you know we've been highlighting exactly what goes into a care package, a hygiene kit, and a box lunch. Well, we've got a lot of things to collect and assemble! We'll be gathering volunteers, sponsors, donors, military service members, veterans, wounded heroes, military families, and civilians to help us do it all in 15 hours!
Event details
The event will take place at The Vista at Valero on the Valero Headquarters campus. We will pack 15,000 care items in 15 hours. Local businesses, groups, and individuals can register for a time slot to come and pack some items with us at the event!
Want to join us virtually? There are lots of ways you can help out (and we could really use your help)! You can:
As we highlighted in previous blog posts, each "care item" contains multiple supplies – which means we'll need lots of help collecting supplies and/or money for supplies. Each care package costs $70 and each hygiene kit and box lunch costs $15.
Help us celebrate in a big way and give back to those who have fought and sacrificed for our freedoms.
---