Walking The Camino de Santiago
June 22, 2023
The Camino de Santiago is a bucket list pilgrimage for many people. Also known as the "Way of St. James," this renowned pilgrimage of medieval origin has multiple paths and multiple starting points. The journey takes travelers to the Cathedral of Santiago de Compostela in Galicia in the northwest of Spain, which is the legendary resting place of Saint James. Read more about the history here.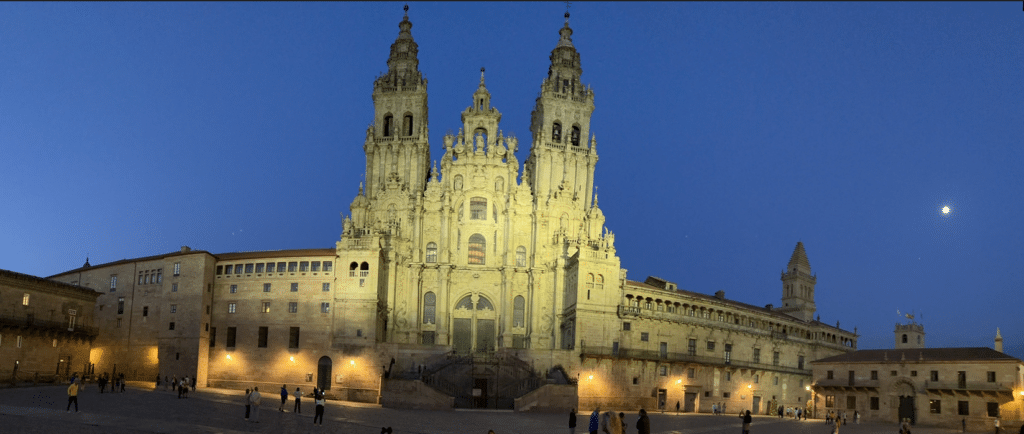 Thousands of people walk the Camino de Santiago every year for various reasons. This year, one of those people is Soldiers' Angels Board Member Maria Carlin.
"I'm walking the Camino de Santiago to take a spiritual journey for clarity and peace. Doing this for myself is rewarding, but raising money for an organization that means a lot to me is a bigger reward," says Maria.
Maria started her journey on May 26 with 10 women, 2 guides, and a busted ankle. Her goal was to walk enough miles and provide proof by getting her pilgrim passport stamped along the way to earn her Santiago de Compostela Certificate and raise $7,000 for Soldiers' Angels. She walked 90 miles over the course of 6 days.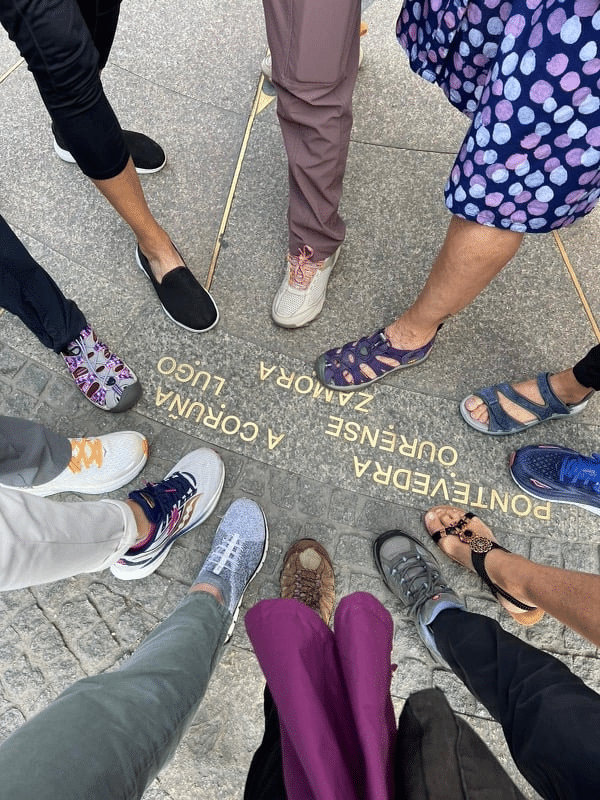 "So much good and bad has happened in the last few years that I wanted to make this pilgrimage to honor all of those we lost, as well as to be thankful for what we have and all that is good," she says.
Maria shared updates during her trip about what she was seeing and experiencing. One theme was the comradery that formed between the women on the journey with her and their guide. They all started out as strangers, but as they continued along the path, they grew closer. In addition to her traveling companions, Maria encountered others embarking on the pilgrimage and had some wonderful experiences meeting people in the towns and villages along the way.
In one of her updates, she writes:
"Today we had some very interesting experiences – walking into a village with a guitar player playing melancholy music, tasting wonderful octopus, beautiful churches, and many tough paths but a very rewarding day."
There were also roadside bagpipe players and villagers who offered free food to help encourage them along the way. Among the experience of meeting new people and experiencing kindness, there was the beauty of the path itself. Beautiful aromatic eucalyptus trees, colorful wildflowers, mystical views… One of the days, they walked in silence through the "Magic Forest."
"I will forever be thankful to our guide Anne when she asked us to walk thru the 'Magic Forest' in silence with a companion. This half hour or so walking in silence, listening to the frogs croaking, smelling the scents of eucalyptus trees, hearing the sounds of the rivers, our footsteps, the rustle of trees, our poles crunching on the ground made you focus on the now, be present, and it was a special magical time to really reflect and pray," says Maria.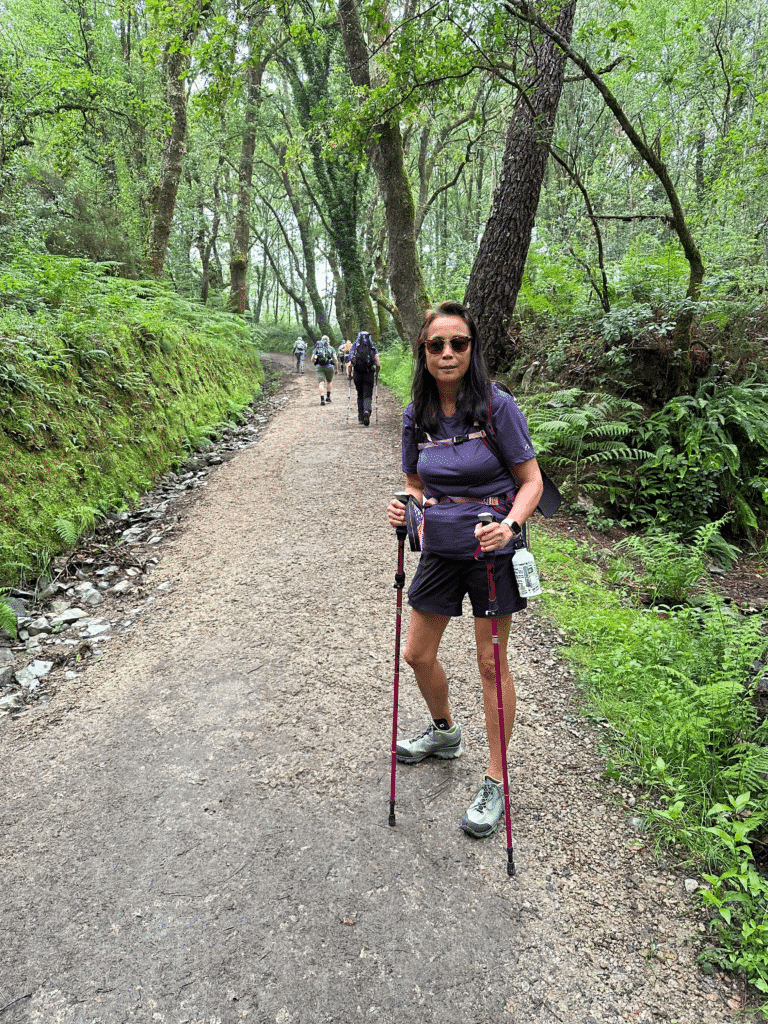 The journey was not without struggle. She faced the physical challenges of walking on an injured ankle only to get up every day and do it again.
"I continue to reflect on how what challenges you are experiencing here physically are really translating more on how life is. 'Wiggle waggle,' as Anne [their guide] would say about the path. I say the wiggle waggle of life is like the path to the Camino," she says.
Maria and her crew arrived at their destination on May 31st passing a crowd cheering them along as they approached the town and the Cathedral of Santiago de Compostela.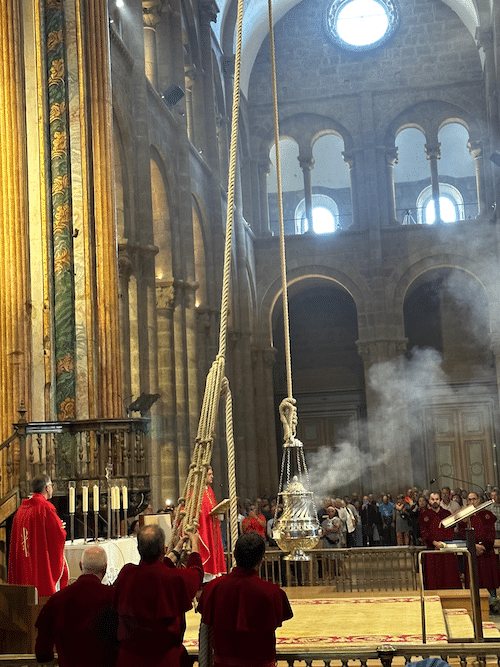 "The beauty of the Cathedral of Santiago de Compostela cannot be put into words. I've been to other well-known cathedrals, but this one definitely takes your breath away. Is it the size, is it the architecture, is it the pilgrimage, or is it the people around it, some laying down on the ground, some kneeling, that made it more majestic? The energy of it all makes you want to weep, cheer, and jump for joy. At night, listening and dancing to live music with hundreds of pilgrims in front of the Cathedral at City Hall was a magical experience. But seeing the inside of the cathedral, attending the mass, and watching the swaying of the botafumeiro – you can't help but feel blessed, and literally, no words can describe the experience. Thank you again to all of you that helped me reach my goal and all the support on this journey. I feel truly blessed and thankful."
We are so grateful that Maria included us on her pilgrimage, raising $7,741 for Soldiers' Angels! If you have a big challenge coming up and want to do it while raising money for Soldiers' Angels, learn more here.
---