America's Favorite Mom
May 11, 2018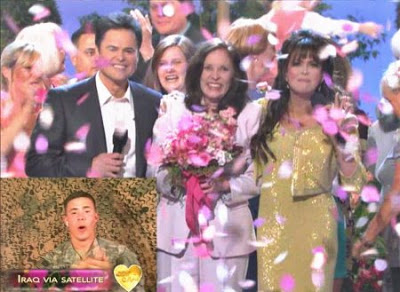 Back in 2008, our founder, Patti Patton-Bader got a surprise phone call from her son Brandon.
"Mom, I submitted your name for 'America's Favorite Mom'."
If you're a Mom, I'm sure you've gotten your share of "Best Mom" or "World's Greatest Mom" or other titles on everything from handmade cards to coffee mugs. But a National Competition for being a Mom? That's something special. Well, Patti was about to go on a very wild ride!
America's Favorite Mom was a contest created by Teleflora and NBC to celebrate the 100 year anniversary of Mother's Day. There were several categories, but Patti was up for "Military Mom". The contest started with with a call for nominations, and then winners were declared in each category.
The contest was based on online voting. One of the things that just blew Patti away was how much support she received from the Soldiers' Angels and military community.
"People started voting and voting and we won the month of March! About 4 weeks later, they came to film me at my house. They filmed for 8 hours! But it was fun. I am so honored to have so many people who believed and voted for me."
Patti was invited to go on the Today Show with the other finalists.
"I was up against two soldiers. I was horrified! How can I go up against two heroes who are deployed?"
Well, as you can guess, Patti won! She was awarded $250,000 – which she donated to Soldiers' Angels. She also won all new appliances from GE.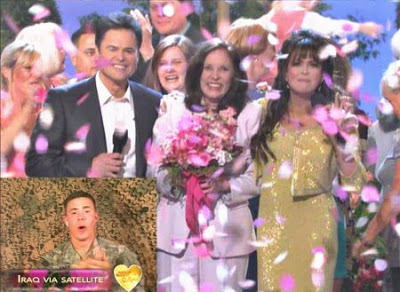 "ALL the appliances GE made, we got. I donated that to Homes for the Troops and they put it into a wounded heroes' home," Patti told us.
"They also donated a trip to New York but they wouldn't let me donate that. Winning was so fun and Donnie and Marie Osmond were so sweet! It was a very special experience."
Believe it or not, this was not Patti's Favorite Mother's Day
"The best Mother's Day experience was in 2004. A clothing design company in New York donated all of the clothing their models couldn't wear anymore. We asked the troops if they wanted to send their mother's something special.
Well, one of the service members chose a beautiful scarf for his mother. She had just had neck surgery, and the scarf covered it perfectly. She sent her son a note about how impressed she was that in the midst of war, he was able to get her such a beautiful scarf!
It really helped the moral."
And there you have it, folks, America's Favorite Mom!
Here's to all the Military Moms out there. Whether you serve our country, or you support someone who does, please know that you are a hero.
---