A Sweet Partnership: Soldiers' Angels and Sioux Honey
Thanks to a recent partnership with the Sioux Honey Association Co-Op, volunteers on the Soldiers' Angels Angel Baker Team are getting to experience first-hand how easy and tasty it can be to substitute honey into baking recipes. Meet some of our Angels and learn their tips about shipping treats long distances and preparing for the holiday baking season.
November 19, 2019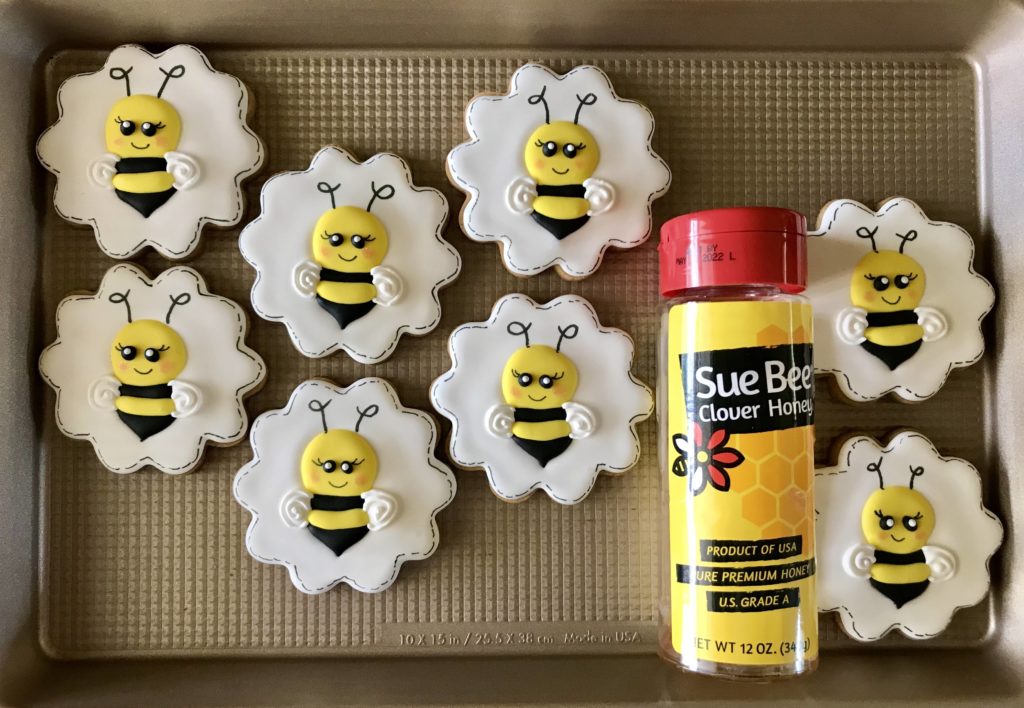 Angel volunteers on the Soldiers' Angels Angel Bakers Team will be the first to tell you that sugar and spice are not the only nice ways to create delicious baked goods— you can also use honey! Thanks to a recent partnership with Sioux Honey Association Co-Op, some Angel Baker volunteers (and the deployed service members they support) got a first-hand look at how sweet honey can be(e). 😉
Earlier this fall, Sioux Honey generously donated a case of Sue Bee honey to Soldiers' Angels so that our Angel Bakers could discover just how easy (and tasty!) it can be to substitute honey into their tried and true recipes. One lucky Angel Baker, Kitty Harmon, even had the opportunity to bake with one of the Sioux Honey beekeepers, Matt Beekman. The two joined forces in a California kitchen and prepared Sue Bee Pumpkin Muffins for deployed service members.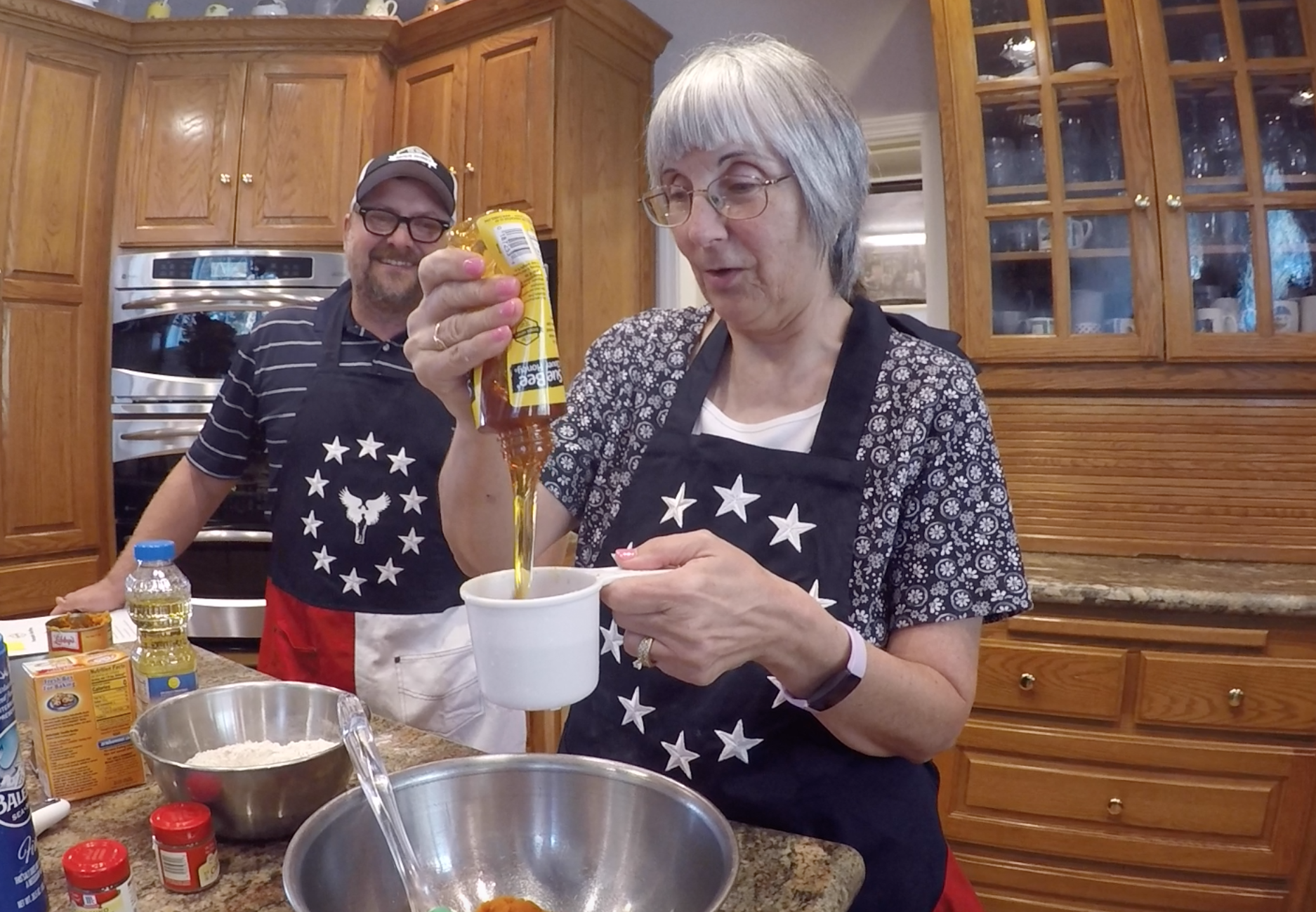 Angel Kitty has been a part of the Angel Bakers Team for about one year. After retiring, her love of baking inspired her to become an Angel Baker.
Angel Kitty was not the only Angel Baker lucky enough to be a part of the Sue Bee Honey baking tests— 10 Angels from across the country received bottles of honey to use in their own favorite treats.
In addition to the challenges of baking, members of the Angel Baker team also face the challenge of preserving their delicious treats so that they still taste fresh and delicious upon arrival at their final destination. The average shipping time for a package to reach the Middle East, where the majority of our combat deployed service members are located, is around two weeks!!
Continue reading to learn about other Angel Bakers who created treats using honey. And, since the season of baking has already begun… we also asked our expert home bakers for any tips they have on shipping baked goods or other Holiday baking tips.
Angel Shelly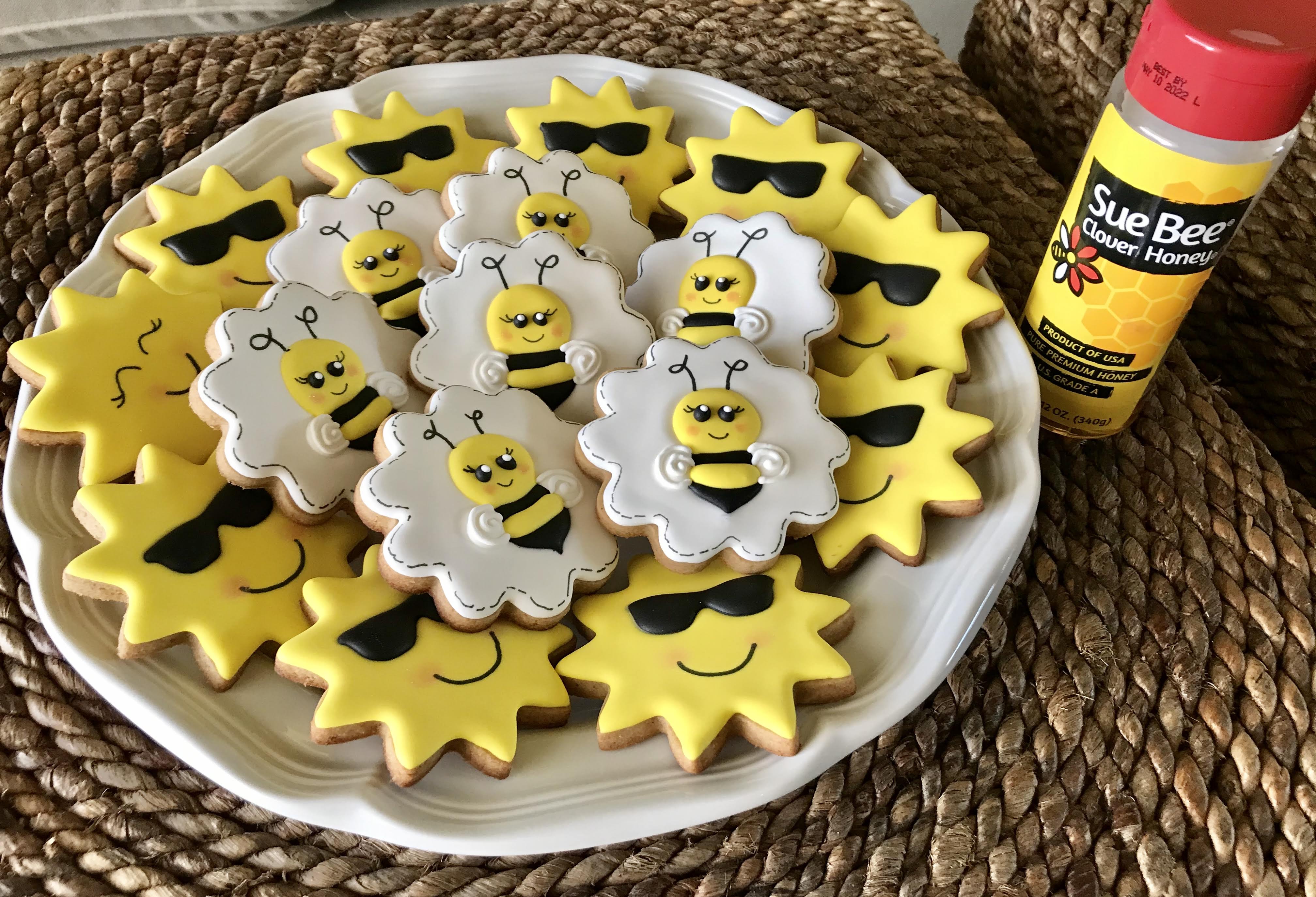 Angel Shelly, whose cookie artistry is absolutely stunning, kept the honey bee theme going with her beautiful sunshine and bee cookies! But Shelly didn't stop there— she also made some No Spread and No Chill Honey Graham Roll Out Sugar Cookies, and some Oatmeal Trail Mix Cookies, and some Honey Peanut Butter Cookies! Although they were not Sue Bee recipes, they sure do look delicious!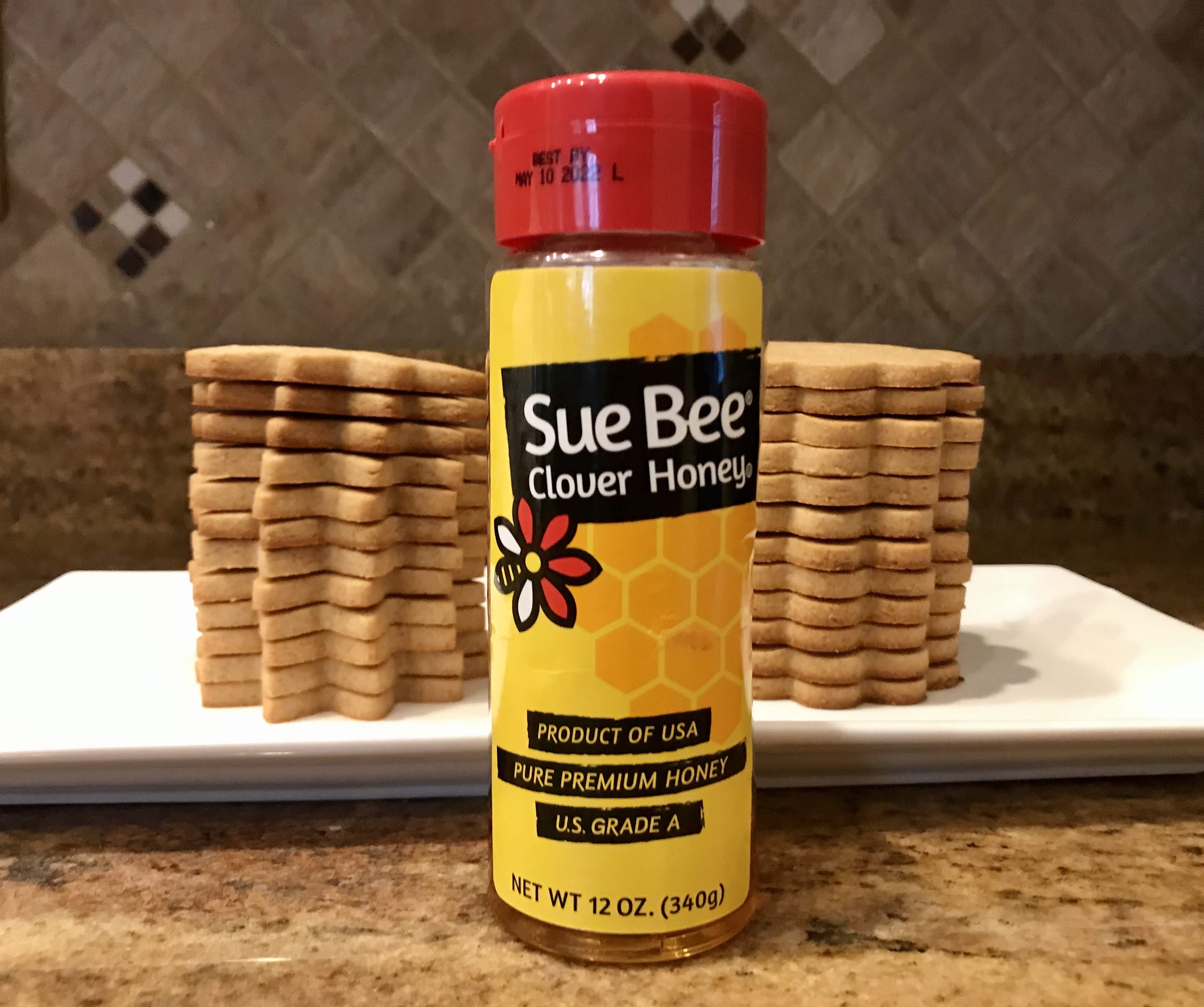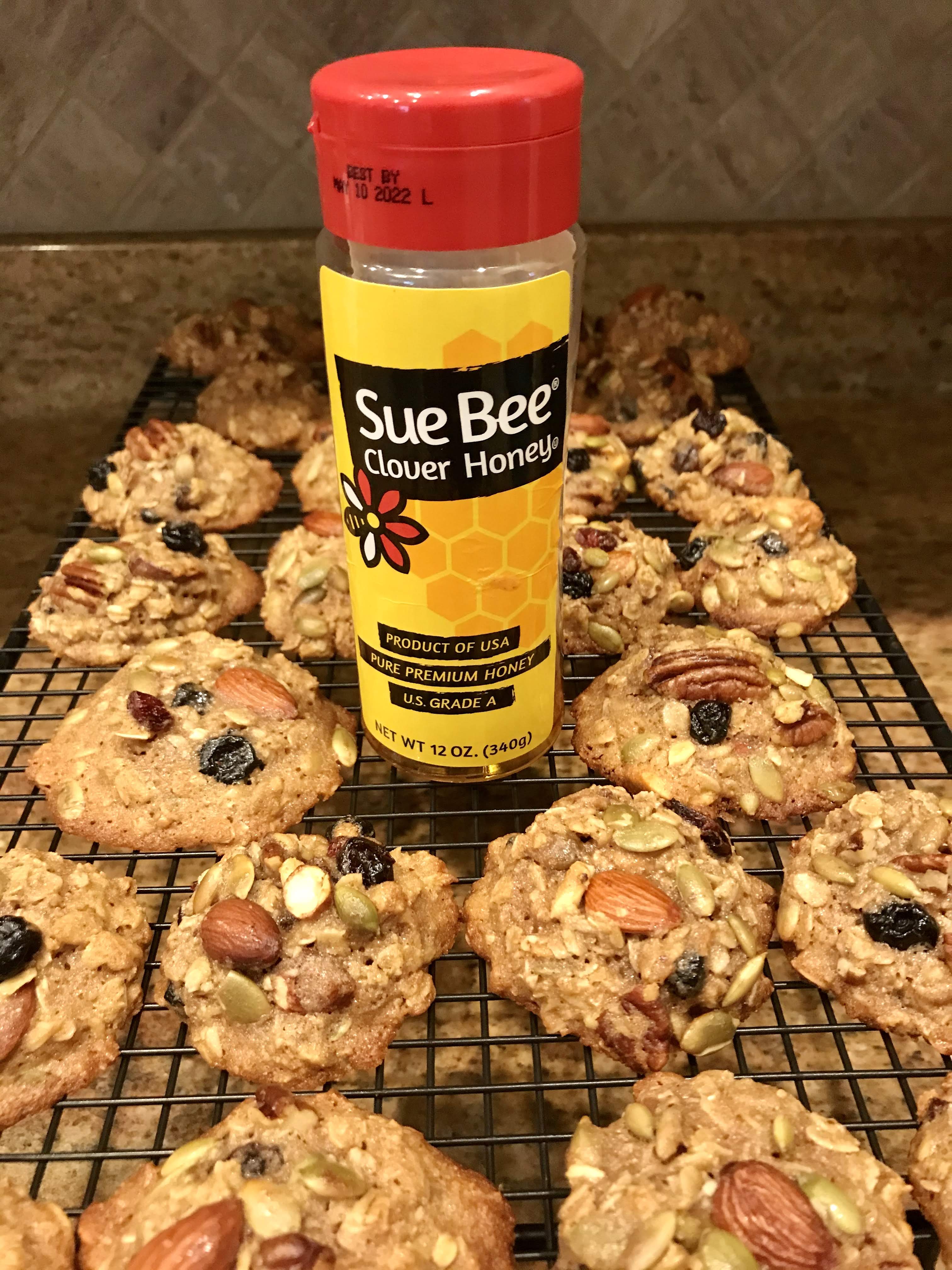 Shelly packed all of these delicious treats into two care packages along with a pan of brownies in each. Shelly was sure to note "always send brownies!"
In addition to baking on the Angel Baker Team, Shelly is also on the Deployed Adoptions Team and adopts a service member to support through the length of their deployment. She sends around 2-4 care packages per month and she is sure to include decorated cookies in themed boxes each time she prepares a care package!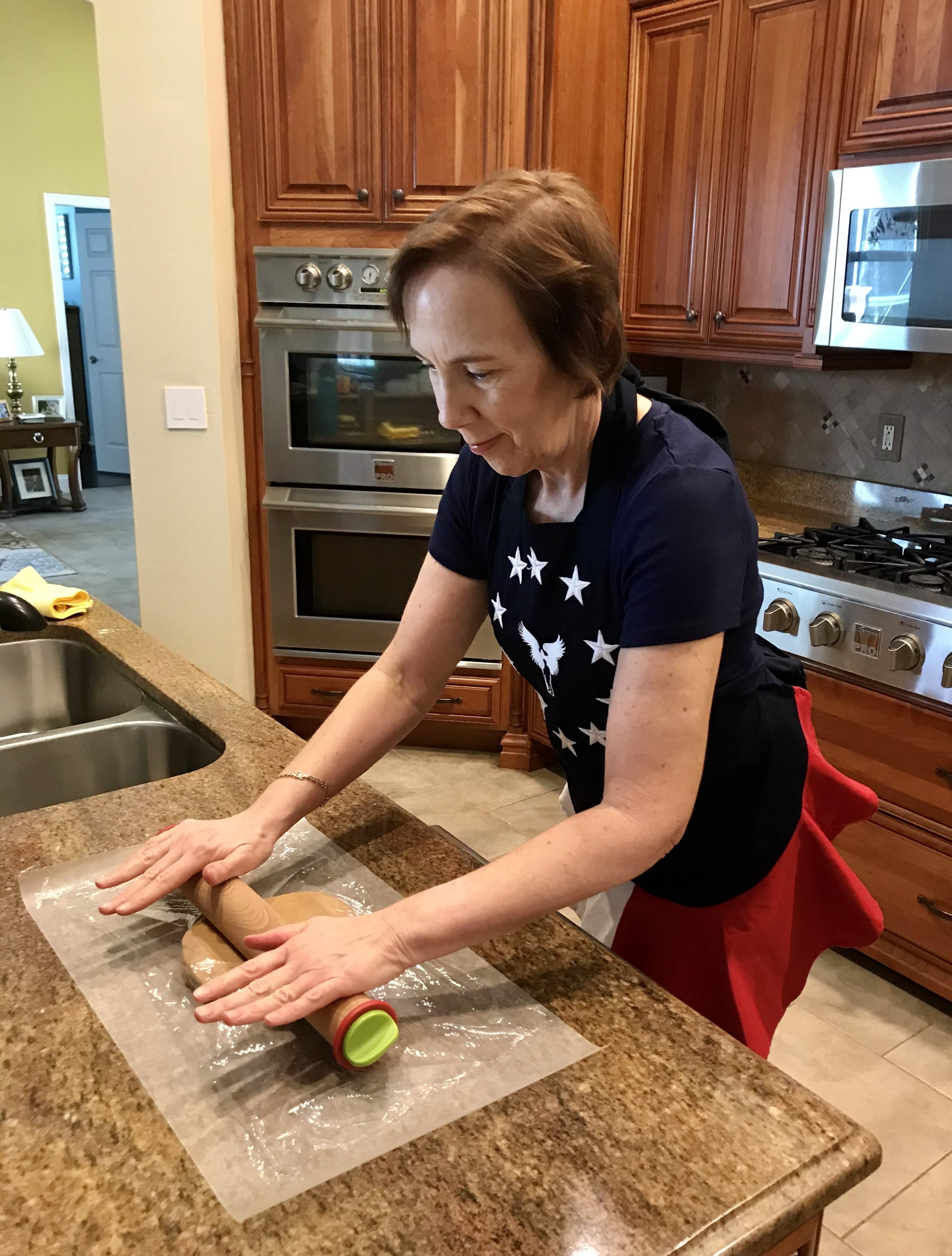 Shelly's shipping tips: "A vacuum sealer, such as a FoodSaver, is not mandatory, but it does help in extending the shelf life of baked goods. A key to keeping cookies intact is to fill the shipping box with no room for shaking inside. Pack those cookies as snugly as possible and pad any open spaces. Bar cookies, like brownies and blondies, ship well right in the pan, vacuum-sealed or in a sealed freezer-weight plastic bag."
Shelly's Holiday baking tips:
Ship early!
Strongly flavored baked goods, such as peppermint, may blend into the other cookies, so wrap well separately.
Holidays can leave everyone in a rush – make things easy on yourself by making and freezing dough in advance. Cookie doughs that freeze well and also ship well include chocolate chip, peanut butter, peanut blossoms (with the Hershey kisses), snickerdoodles, oatmeal raisin, and similar types. Place the container of frozen dough in the refrigerator to thaw the night before you plan to bake and it will be ready to go. Also, consider sending "decorate your own" cookies – plain sugar cookies, cans of icing, and holiday sprinkles.
Make the box extra festive with drink mix packets of hot chocolate, apple cider, and coffee.
Finally, a taste of home is especially important around the holidays – and I think holiday cookie traditions are one of the best ways to share that!
And for those that are shipping packages long distances, Shelly was kind enough to pick out some of Sue Bee's recipes that she thinks will work well for care packages: Honey Snack Mix; Honey Monster Munch Mix; Sue BeeÒ Honey Trail Mix; Salted Honey Caramel Popcorn; Santa's Honey Snack Mix; Honey Peanut Butter Cheerio Bars; Honey Oatmeal Drops; Pecan and Honey Cookies; Honey Pumpkin Monster Cookies; Honey Sugar Cookies; Honey Spice Cookies; Holiday Honey Cookies; Honey Lemon Cookies; Honey Gingerbread Cookies; Honey Peanut Butter Chocolate Oat Energy Bars
Angel Kaleena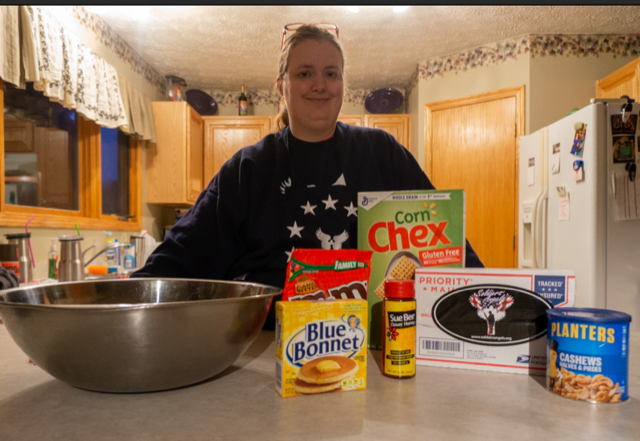 Angel Kaleena, who is also the Team Leader for the Soldiers' Angels Chaplain Support Team, made this batch of Honey Snack Mix for one of the many Chaplains supported by Soldiers' Angels. The mix was shipped to a Chaplain downrange for him to share with service members in his unit.
Kaleena used a whole box of Chex in her mix, which is what the recipe called for, but she was surprised how much it yielded. Initially looking at the recipe, she was afraid it wouldn't make that much and only the Chaplain would get to enjoy it… but after making it, she is sure that the Chaplain will be able to put it out and share with several people.
Since Kaleena supports Chaplains who oftentimes support hundreds of service members, we asked her how often she bakes for the Chaplains she supports: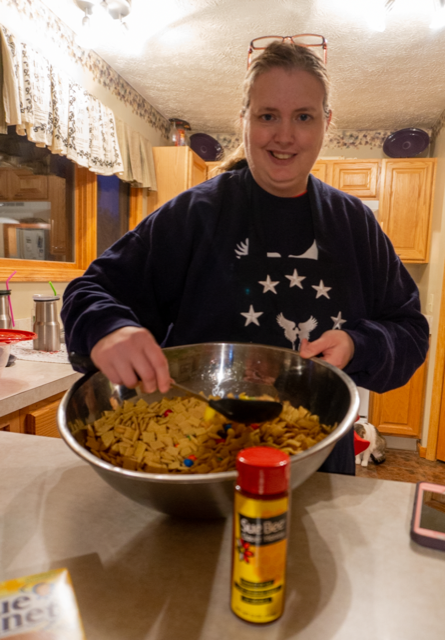 "I bake for the Chaplains on occasion. I love to send homemade goodies to my Chaplains to share. I love sending them unique stuff. I made a turkey out of rice crispy treats one time, a ton of cookies made with crushed up Halloween Candy, etc. This is probably the easiest recipe I sent."
Kaleena's shipping tips: (for the Honey Snack Mix) "I put it in a disposable pan with plastic wrap on it and into a baggie to let it sit overnight. Then vacuum seal the disposable pan and all. It was one of the aluminum ones, you can even get them at the dollar store."
Holiday baking tips: "Cookies, cookies and more cookies. Our troops love cookies. I vacuum seal mine and stuff candy around them to send so they don't end up there in a million little pieces. Candy, especially m&m's are great packing to keep them safe."
Angel Tracy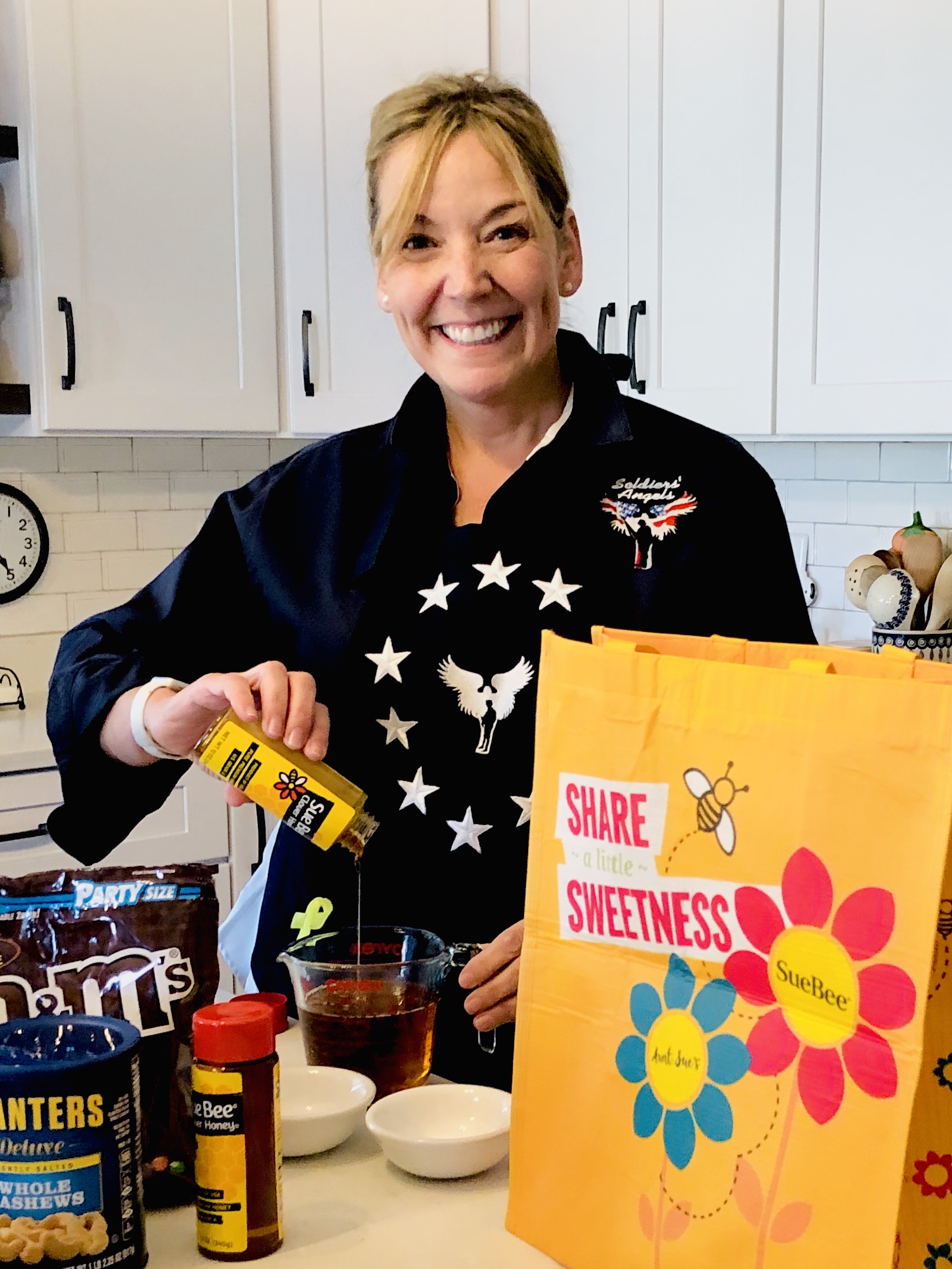 Angel Tracy, who is also the Soldiers' Angels Deployed Support Program Manager, also made some Honey Snack Mix. She made one batch for a service member supported by the Angel Bakers team, but has since made multiple additional batches as her family became addicted to the recipe! Tracy had her own holiday mix recipe that she used in past years, but now says "I will not be going back to my old recipe." Wow! Who's ready to go home and try making a batch?
Tracy's shipping tips: "I pack all my boxes with baked goods using peanuts in shells (if no allergy for the service member) as the packing material around my bags. Not only is it a great cushion for my baked goods, but it's edible."
Tracy's Holiday baking tips: "Have fun! Every little holiday treat our troops receive is special to them. They don't really care what you bake, but that you cared enough to bake."
Angel Jillian,

I am writing to express my gratitude for all you do for our heroes. Your selfless dedication and enthusiasm truly make a difference in the lives of those who serve and their families. Thank you so much for your unwavering commitment to serve with Soldiers' Angels.

Your hard work is an example of what it means to be an American hero.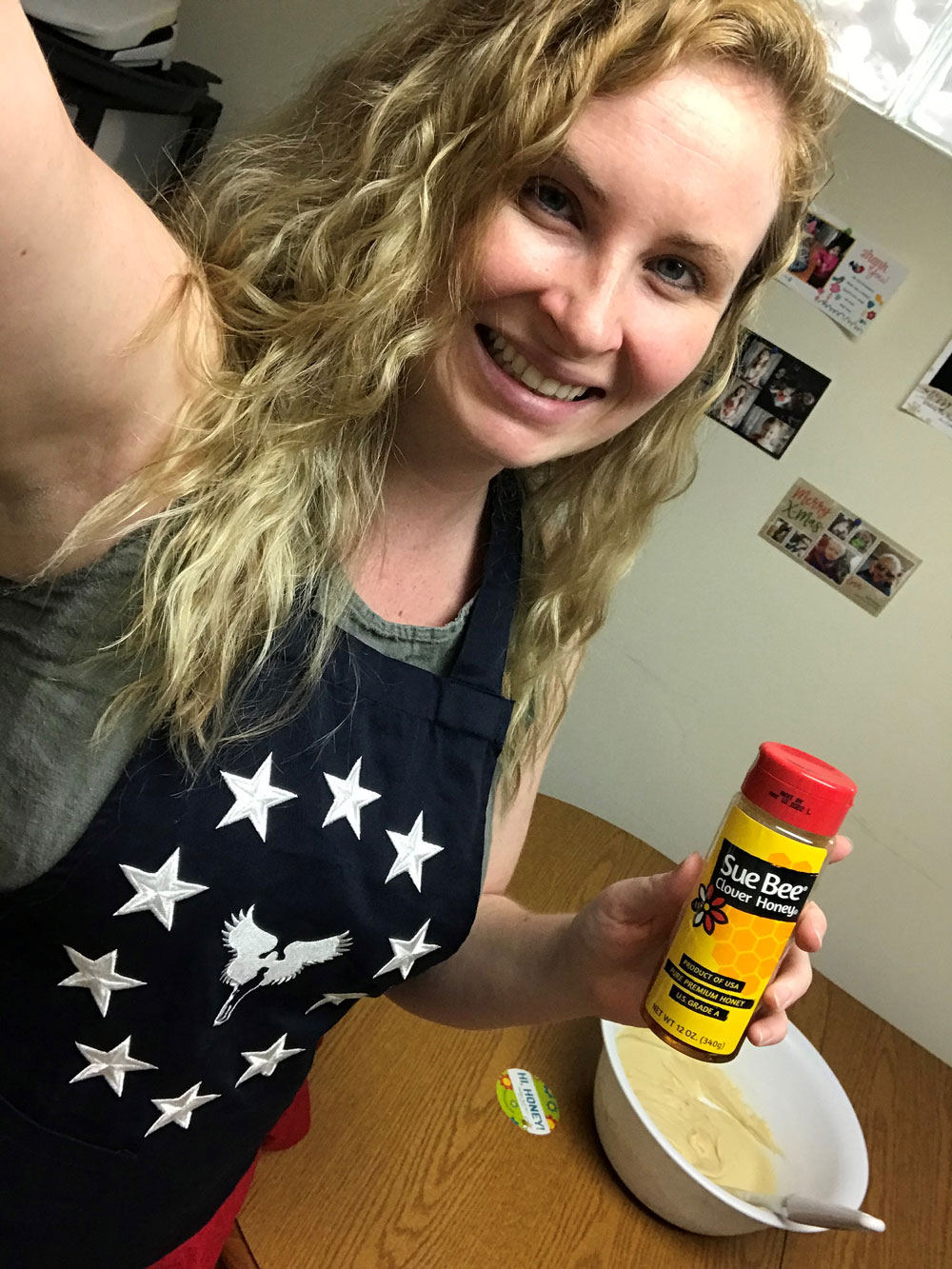 Angel Jillian made a sheet of cookies with Sue Bee Honey. She loved how they came out and thought the honey made them extra moist!
Jillian's shipping tips: "I bought a bunch of cookie tins from the dollar store online and ship my baked goods in there. I also individually wrap each item and take the air out. That way they will stay moist, dry and will not be crushed."
Jillian's Holiday baking tips: "Plan ahead! J"
Thank you to all of our incredible Angel Baker volunteers for doing what you do to make sure our troops get treated year-round! And a special thank you to those eager bakers on the team who participated in the great honey experiment!
Thank you so much to Sue Bee for their incredible support of our nation's heroes! In addition to shipping honey for our bakers to use, Sue Bee also provided honey to ship to deployed service members to enjoy!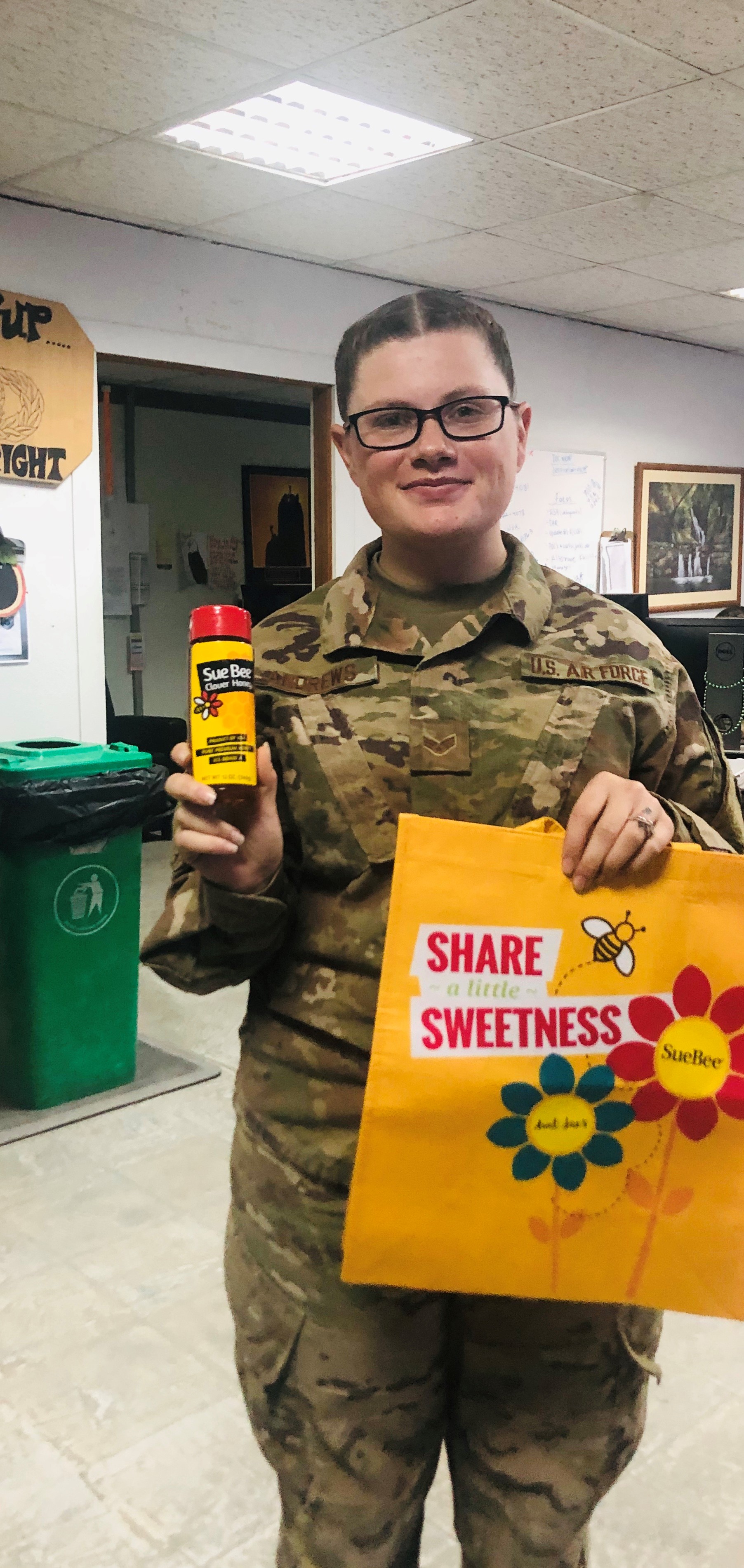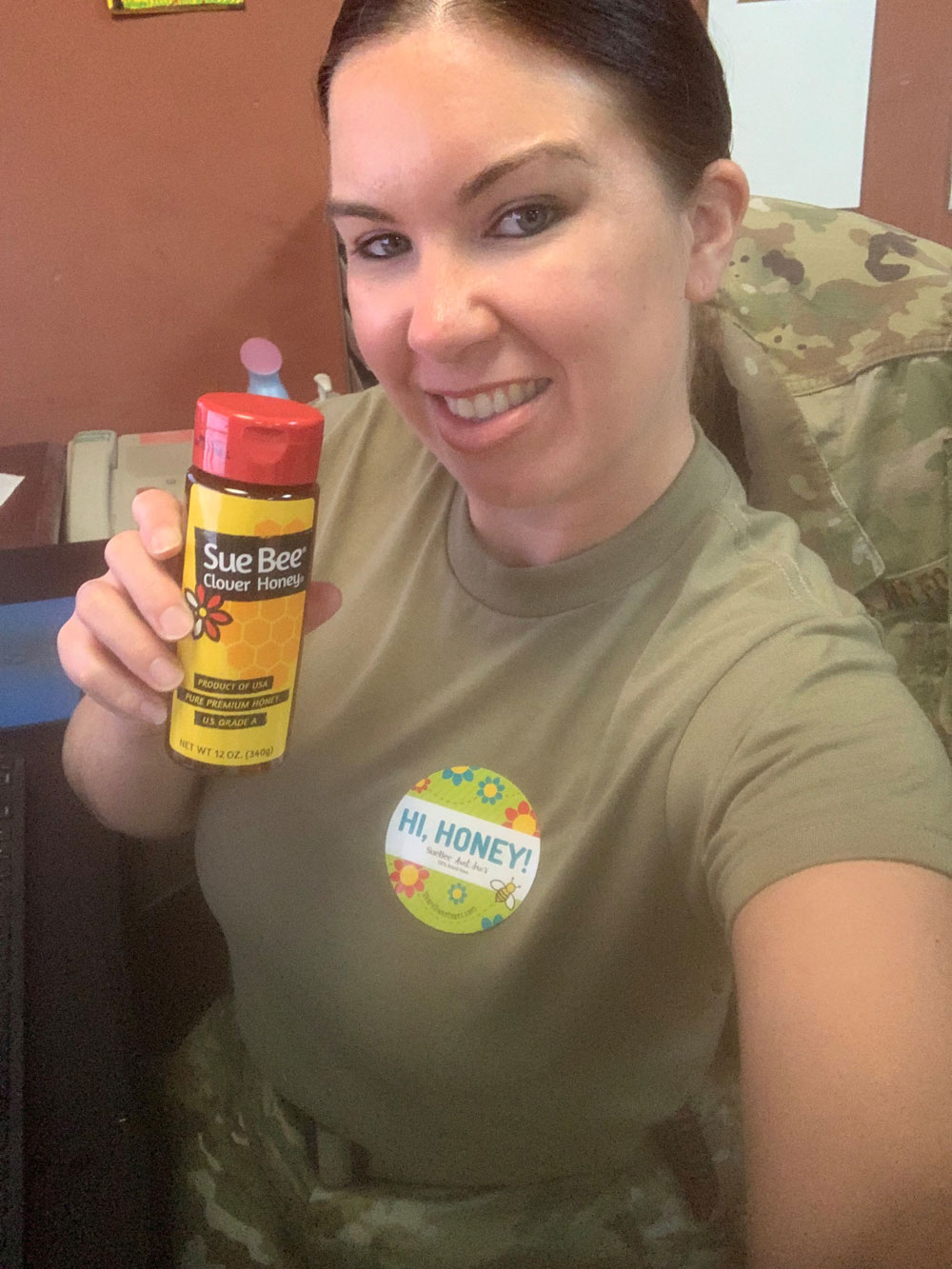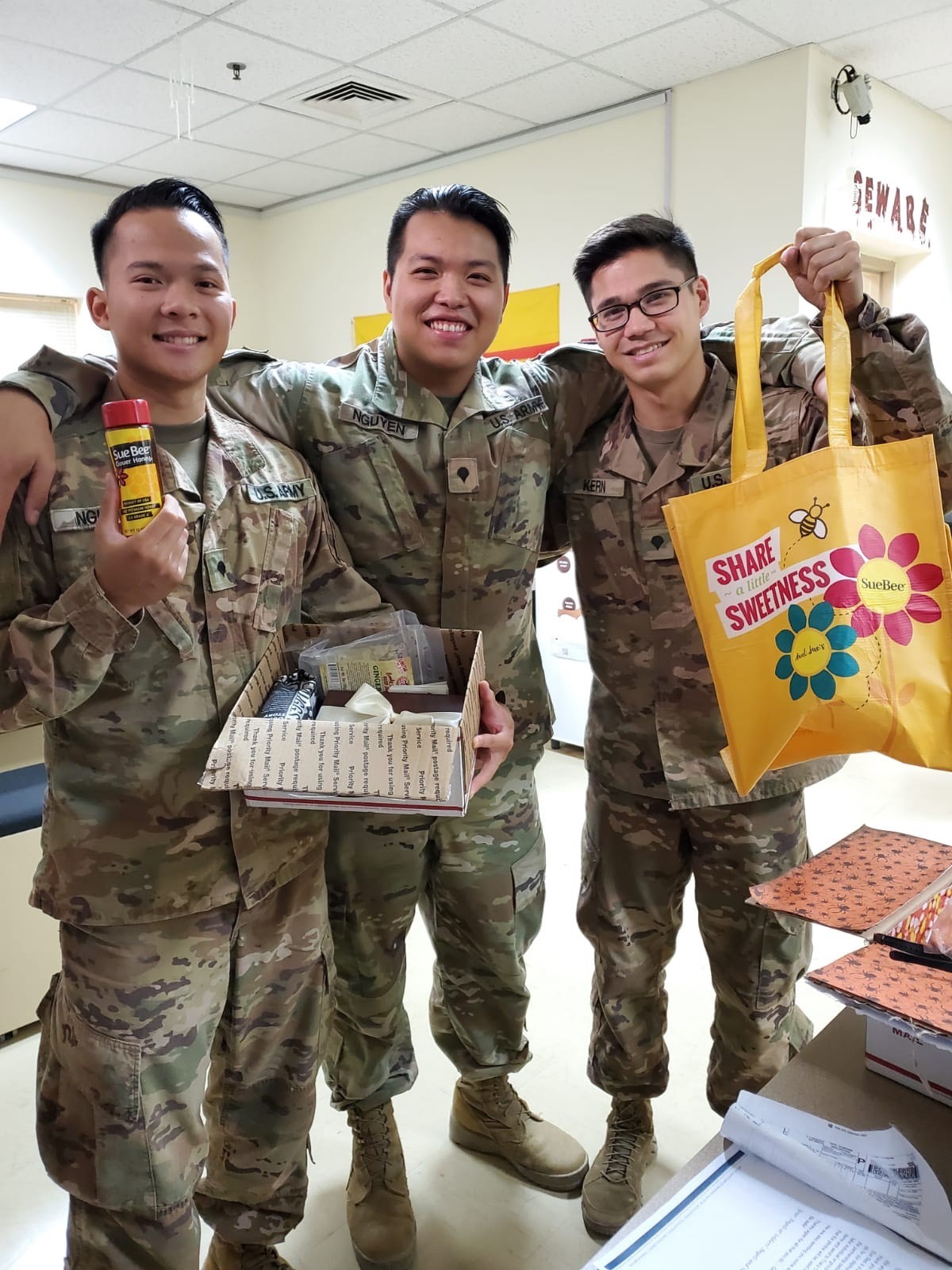 Are you ready to get baking? Are you ready to support our deployed troops? For a limited time, you can purchase a two-pack of Sue Bee Honey from the Sioux Honey website and $1 from your purchase will be donated back to Soldiers' Angels! How great is that? Get your Sue Bee Honey and support the troops here by using promo code ANGELS at checkout.
Also, for those of you with access to a commissary, you can also take advantage of the great offer above on base! Look for the Sue Honey/Soldiers' Angels displays!
---