What This 10-Year-Old Does with Thousands of Pounds of Candy
Libbie Stanton is not your average 5th grader. We are so inspired by the work she's done over the past four years.
December 19, 2019
For most 5th graders, picking out a great Halloween costume and planning their yearly Trick or Treating route is about the extent of their planning around Halloween. But not for Libbie Stanton. She has spent the last four Halloweens engaging her community in Vail, Colorado in our annual Treats for Troops campaign.
"It makes me feel good to know they are getting this candy and knowing they are not forgotten," Stanton told CBS Local.
It all started when she and her mom were visiting family in Florida. She saw a flyer for the program and decided it was a great idea. So, she brought the idea back to Vail and began collecting candy. Her first year, she collected 80 pounds. Her efforts caught the attention of the local news, who wanted to help her promote the initiative again.
Here's her interview on Good Morning Vail (her second year).
Her second year, she expanded the program with four drop off locations: The Welcome Centers in Lionshead and Vail Village, Vail Public Library, Vail Municipal Building, and Vail Mountain School. She collected 200 pounds!
Last year, she collected over 1,000 pounds of candy, and she was once again invited to be interviewed. Here's her interview with Vail Daily.
This year, we decided that we just had to meet this amazing 10-year-old and honor her with a Crystal Wing Award.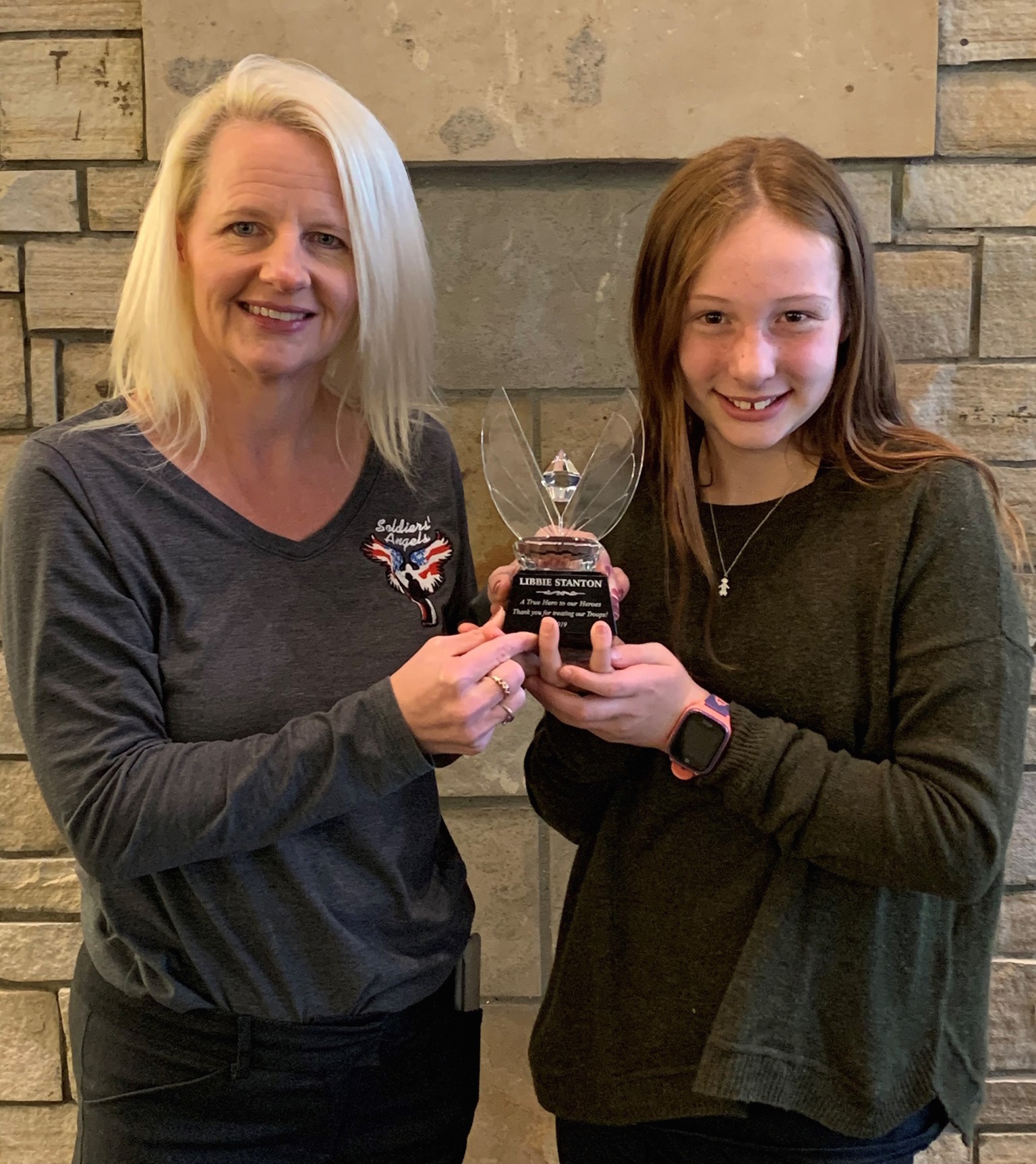 "Service members love candy when they're deployed. It's the little things that can lift spirits when these men and women are in the field, far from their friends and family. Libbie's commitment, at such a young age, should inspire Americans to think bigger in their charity work, and to continue to support our troops overseas. Soldiers' Angels is driven by tireless volunteers like Libbie, and we thank her, as well as her family, the Vail Mountain School community and the town of Vail for their support," Amy told Vail Daily.
Our CEO, Amy Palmer, hopped on a plane and ended up making a harrowing journey to give this amazing girl her special award! She landed in Colorado during a blizzard and had to rent a vehicle and drive through it to make sure Libbie got her award and was thanked for her efforts. The story is pretty great, and is just a testament to how hardworking and dedicated Amy is to thanking volunteers for their efforts. Here's the video of Amy telling the story.
Note: This was recorded during a Giving Tuesday Facebook Live. The story about Libbie begins at minute 5:37.
We are just in awe of how passionate and dedicated Libbie is at such a young age and can't wait to see what she does next!
---