The Story Behind the Day of the Deployed
October 18, 2019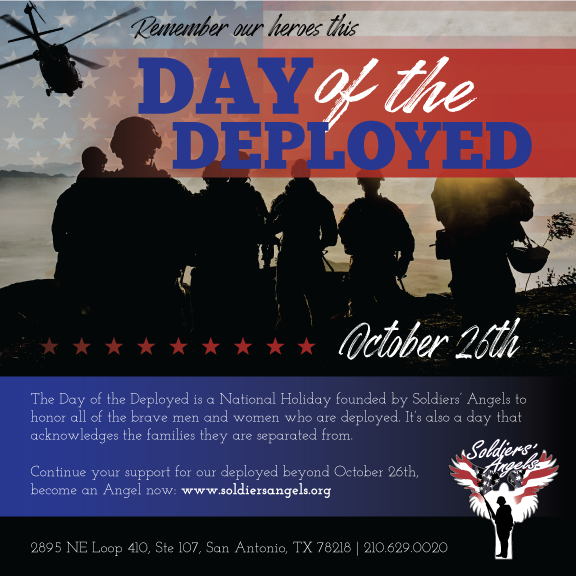 Did you know that Day of the Deployed was actually founded by Soldiers' Angels? Each year on October 26th, we honor the brave men and women who are deployed through this National holiday. Day of the Deployed was first launched in 2006 by then-Governor of North Dakota, John Hoeven, in support of Soldiers' Angels. The first units honored by this proclamation were: NDARNG 1-188th ADA SECFOR and JLENS deployed to Afghanistan.
The effort spread, and in 2010, 40 states had proclaimed a Day of the Deployed. In 2011, the U.S. Senate passed with 100% yes votes to make the day a National Day of Honor.
Here's a look at the proclamation in Texas and from the Senate.
How to Participate
On the Day of the Deployed (October 26) we honor the brave men and women who have been deployed and are sacrificing or have sacrificed their lives to fight for our country. It's also a day that acknowledges the families they are separated from. While there may be a celebration or initiative in your city or town, we invite anyone interested in honoring and supporting deployed service members and their families to become a Soldiers' Angel volunteer and join one of our deployed support teams.

Soldiers' Angels Deployed Support Programs
Our very first initiative as a military organization was to support deployed service members by sending care packages. We have since grown that effort to support deployed service members in a number of ways and have also expanded our support to wounded heroes, military families, and veterans of all eras. Here is a look specifically at our Deployed Support Programs, but we encourage you to also check out our other programs here when you have a chance!.
Angel Bakers
Our Angel Bakers Team supports a service member with one-time care package of baked goods. These angels love to bake and create all sorts of delicious treats for the troops. Our Angels send everything from brownies to lemon bars to specially decorated cookies for the holidays. Service members LOVE getting homemade goodies.
Cards Plus
Our Cards Plus Team supports the military community with cards of celebration and encouragement. Some team angels purchase cards and write special messages inside. Others go above and beyond to create beautiful handmade cards to express their gratitude, offer up support or congratulations.
Chaplain Support
Our founder, Patti Patton-Bader realized that Chaplains were an excellent way to provide support to units. Our Chaplain Support Team works with Chaplains who support our service members. Chaplains who are registered through Soldiers' Angels can request items related to their mission like letters, gifts, recreational activities, baked goods, and supplies. These things go a long way towards boosting morale for service members who need extra support in war zone areas. Many times, Chaplains ask for supplies to throw special events for units who could use a lift in spirits.
Deployed Adoptions
Our Deployed Adoptions Team supports a service member throughout their deployment with care packages. This team is an extremely creative and thoughtful one. As they get to know the service members they support, they'll send care packages of supplies unique to that service member. They often send themed care packages based on the season, holiday, or service member's favorite sports team. It's not all about what goes in the box either. Our angels take great care to decorate the inside of the box so that there's a fun surprise when they open it.
Ladies of Liberty
Our Ladies of Liberty Team supports female service members with a one-time care package. This team of all-female volunteers knows the unique needs of our shereos. Not only do they send health and hygiene items, but they also send pampering items so that our female service members feel appreciated and rejuvenated, even when they are in a combat environment.
Letter Writing
Mail call is something every service member looks forward to. Receiving a letter – from anyone – can lift spirits. Unfortunately, many of our service members don't get any from home. That's where our Letter Writing Team helps. Our Letter Writing Team supports service members with a one-time letter to ensure that "no soldier goes unloved" (our mission here at Soldiers' Angels). Letter Writers on this team can write as little as one letter per month but some write as many as 50 per month! It's a small and easy way to show your support.
Special Operations Forces
Our Special Operations Forces Team supports Special Operations and Special Forces service members throughout their deployment. Due to the nature of their military duties, this team requires an increased level of security and commitment. In order to serve on this team, Angel volunteers must serve on at least one other team for at least six months and be recommended by their team leader. Angels on this team support individual service members as well as "SOF" units by sending monthly care packages throughout the service members/units deployment.
As you can see, there are plenty of opportunities to show your support to deployed heroes through Soldiers' Angels!
---