Military Community Jennifer Cernoch
When Jennifer Cernoch was first diagnosed with terminal cancer in December, she made one decision right away: that she would continue to work full-time for the nonprofit Soldiers' Angels for as long as she could possibly work.
June 28, 2021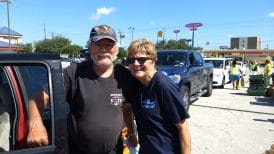 Throughout chemotherapy and radiation, Cernoch has continued to serve as Vice President of Development for Soldiers' Angels, a national nonprofit founded in 2003 by Patti Patton-Bader, the great-grandniece of General George Patton. The organization provides aid and resources to military members, veterans and their families. While in its early days, the organization focused on linking volunteers with deployed service members to whom they could send care packages overseas, the organization has steadily expanded its activities over the years.
Today, Soldiers' Angels provides many services on a national level for the military and veteran community such as helping military caregivers access telehealth, including psychiatric care; providing move-in kits for homeless veterans as they transition into housing; offering transportation services for veterans to VA appointments; distributing crafted items to patients at VA hospitals; holding virtual baby showers for spouses of deployed service members and wounded heroes; and much more. The organization also serves the growing low-income and homeless veteran community by holding monthly Veteran Food Distributions in six cities across America — including San Antonio.
---