Meals on Wheels, Soldiers' Angels partner to feed homebound veterans
June 10, 2020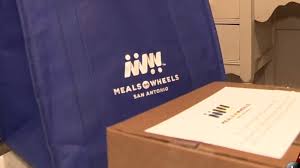 By: Stephanie Serna, Reporter; Eddie Latigo, Photojournalist – KSAT 12 News San Antonio | June 9, 2020:
Meals on Wheels is extending its services to more seniors and veterans in San Antonio.
Kristin Rivera, communication engagement director of Meals on Wheels San Antonio, said since the pandemic began, there is more need for meals and deliveries.
Meals on Wheels and Soldiers Angels are now teaming up to meet the need.
---