Kennay Farms Distilling holds tapping event for beer brewed for nonprofit
August 10, 2022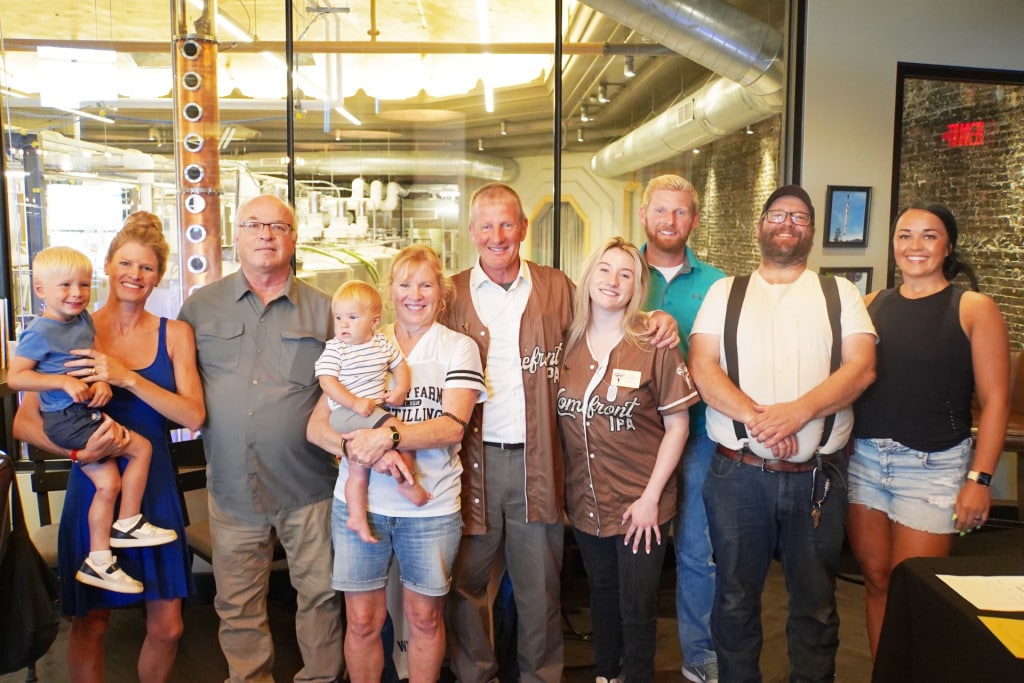 All proceeds from Homefront IPA support service members and veterans
ROCHELLE — On Friday, Kennay Farms Distilling hosted a tapping event for Homefront IPA, a beer brewed in collaboration with Hops for Heroes that supports military service members and veterans.
Hops for Heroes is a campaign by national nonprofit Soldiers' Angels that works with craft breweries of all sizes like Kennay Farms Distilling. 100 percent of proceeds from the beer will be donated to the nonprofit.
Kennay Farms was one of 14 breweries in the U.S. to participate and was sent the ingredients and recipe by Soldiers' Angels. Along with the first tapping of the beer, the Friday event also featured raffles and giveaways, guest appearances, and complimentary appetizers by Acres Bistro, Brewski's Bar & Grill and Flight Deck Bar & Grill.
Soldiers' Angels provided assistance to more than 982,000 service members, veterans, wounded heroes and their families in 2021 alone. Kennay Farms Distilling Owner Doris Kennay said Friday that the cause is near and dear to her family's hearts.
"We have several veterans in our family," Kennay said. "In our production area, we have a veterans wall where my dad and Rick's dad are shown along with several uncles and cousins and our nephew, Adam. We always like to honor them."
Homefront IPA will be available on tap at the distillery until supply runs out, and Kennay said she hopes the community will come out and try it to support the nonprofit. It is the first time that Kennay Farms has worked with a nonprofit on a collaboration.
"It was kind of getting our feet wet early on with the business and starting to be able to do more and more," Kennay said. "We're finally catching some momentum now that we're a year plus outside of COVID-19 and are gaining strength again. We want to do more of this in the future. At least once or twice a year to give back and do things that promote other organizations as well as ours."
Soldiers' Angels was established in 2003 by a relative of General George S. Patton. Patti Patton-Bader founded Soldiers' Angels when her oldest son, Staff Sergeant Brandon Varn, was deployed in Iraq.
For its first 10 years, Soldiers' Angels focused on supporting deployed service members. It now supports veterans and their families as well.
Care packages are sent to deployed service members. Work is done at VA hospitals including transportation for medical appointments and food vouchers are donated for VA cafeterias. Mobile food distribution and hygiene kit donations are also included in Soldiers' Angels programs.
Kennay said Friday that collaborations are important to the distillery, both with nationwide organizations like Soldiers' Angels and with their neighboring businesses in Rochelle that helped Friday with appetizers.
"A rising tide lifts all boats," Kennay said. "That's how we've always felt. When we came into the community we hoped our business would motivate other businesses and we feel like that's been happening downtown. We don't serve food here, but we have wonderful partners that do. I think we make really good spirits and craft beer and we bring in their food and it's a win-win for everyone. We want a winning community and want people that enjoy coming downtown and have more places than one to go to. It's really important that locals come and support their businesses downtown and throughout Rochelle."
---