Gunn Auto Group's Operation Book Drop, a Citywide Book Drive Benefitting Soldiers' Angels, Exceeds Expectations.
March 17, 2023
By: AutoSuccess Staff Writers | Auto Success • PUBLISHED: March 17, 2023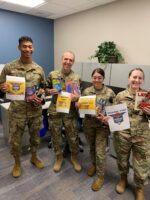 More than 25,000 books were collected and distributed to service members throughout the world.
ZOOM and TEAMS meetings have led to what is referred to as "digital fatigue." The last thing most people want to do when they get home is to watch TV or crank up their eReaders when they can settle in with a paper-paged book.
The Pew Research Center discovered that print books outsell digital formats by 4 to 1, and only 3 in 10 people would describe themselvesas "an eBook reader." Which may help to explain why the book drive was such a success.
San Antonians cleared out their bookshelves of oh-so-good and gently read books for Operation Book Drop, a citywide book drive for our military service members and reservists serving in combat zones around the world.
---