DeKalb commissioner sponsors food drive for veterans
January 25, 2023
By: Jay Phillips | The Champion Newspaper • PUBLISHED: January 25, 2023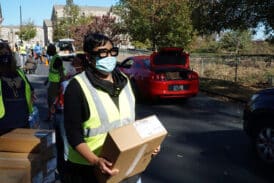 A food drive will be held for veterans on Jan. 27 from 9 a.m. until 2 p.m. at Atlanta VA Arcadia Clinic, 250 North Arcadia Ave., Decatur.
DeKalb County Commissioner Lorraine Cochran-Johnson allocated $10,000 in 2022 to the Atlanta Community Food Bank to support three Soldiers' Angels mobile food distributions for veterans, two of which took place in September and October 2022.
Each recipient at the third Soldiers' Angels event will receive a box containing approximately 75 pounds of food packed by volunteers and loaded into cars, pushcarts, or backpacks of registered veterans, according to a news release.
---