Luke Lin and Jennifer Greenfield win Support Our Troops 5K titles
October 23, 2023
By: Jeff Benjamin | www.silive.com • PUBLISHED: October 23rd, 2023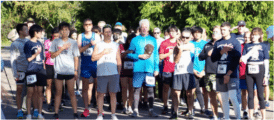 The youth runners dominated Sunday at Wolfe's Pond Park, as high schoolers Luke Lin and Jennifer Greenfield coasted to victories at the 3rd annual Support Our Troops 5K.
Lin cruised to victory over the field with a time of 18 minutes, 20 seconds, outdistancing Yixi Xu (19:30) and Simon Kuang (20:00).
Greenfield, who was victorious at the inaugural Columbus Day 5K also held at Wolfe's Pond Park, once again easily pulled away for her win, this time finishing in a time of 25 minutes, 14 seconds. Jenn Daly (26:36) and Christina Russo (27:01) finished in second and third place.
---