Planning to Donate Candy for Treats for Troops? Read this!
October 27, 2022
The spooky season is upon us! Here at Soldiers' Angels HQ we're just laying in wait to receive all of that excess Halloween candy. This year we have SO MANY official Treats for Troops collection sites* ready to take your candy and ship it to us. At the time this blog was written, we were at 622 collection sites across the country!! And that number is growing faster than we can keep up with!! That's nearly 3 times as many collection sites as we had back in 2019, which was our most successful Treats for Troops year yet!! I guess Halloween is officially back in 2022 after COVID!!
*Collection sites are businesses or organizations that have registered through Soldiers' Angels and agreed to let people drop off and donate candy at their location. These amazing supporters have also agreed to cover the shipping of all of that candy!
Wondering where to donate your candy? Here is a step-by-step guide (with video) on how to find a collection site and what to do if there's not one near you.
Step 1: Gather
Gather that extra candy up when you're ready. If you want to go a little extra, you can package it up in little candy bags. Using a treat bag or clear plastic baggie, place an assortment of candy in the baggie and secure it with a twist tie or decorative ribbon. This helps us with distribution!
Step 2: Search for a drop-off location
Head to our Treats for Troops Collection site map/database and search for a spot near you. In the search box, enter your location using city/state or zip code. The default radius is 25 miles but you can search a radius of up to 250 miles to find a site. The colored candy corns mean they are currently accepting donations. The grey candy corns mean that they are not yet accepting donations. These locations will show up in color when they are ready to take candy!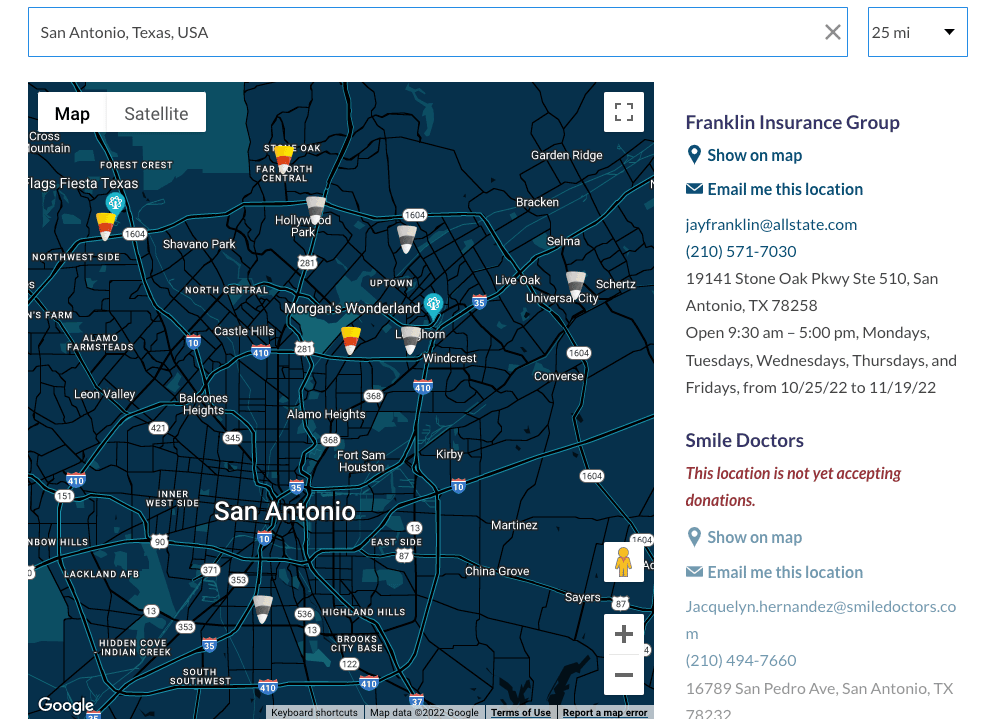 PLEASE NOTE: If you have a large group or club collecting candy, you need to register your own location as a collection site and then ship your candy to a designated location, which you will receive after you register. Collection Sites are intended to collect candy from individuals, not groups or organizations. A large donation from another group or organization can easily overwhelm the Collection Site, which is responsible for the cost of shipping the candy to a designated address.
Step 3: Donate Candy
Once you find the candy collection site nearest to you, head to that location to donate candy! That's it!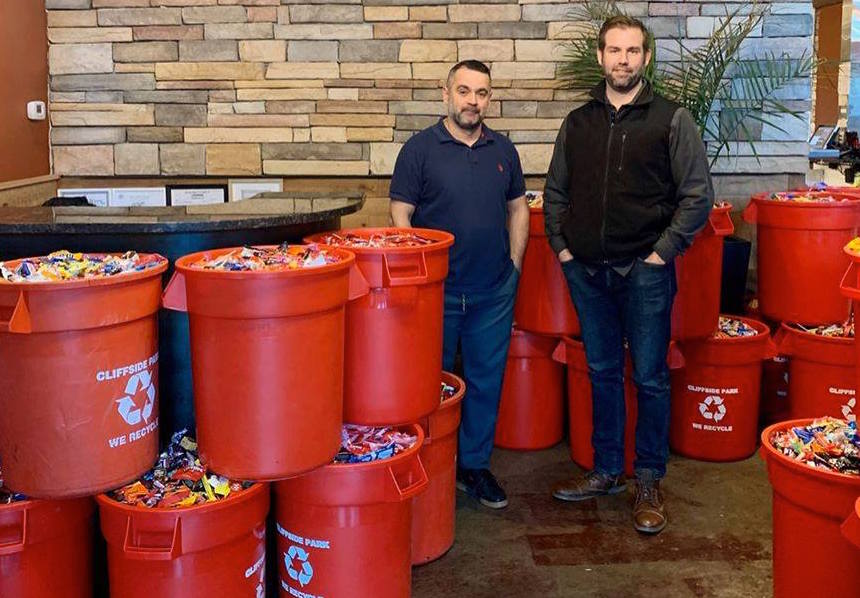 If there's not a site near you
If there is no collection site listed near you, then the only option is to ship your candy directly to Soldier' Angels headquarters: Soldiers' Angels Treats for Troops, 2895 NE Loop 410, Suite 107, San Antonio, Texas, 78218
Step by Step instructions
Here's a quick video to show how to find a collection site near you. Don't want to drop off candy? We also need donations to help cover the cost of shipping.
Still have questions? Read our FAQs here.
---