Books-A-Million "Coffee for our Troops"
October 6, 2015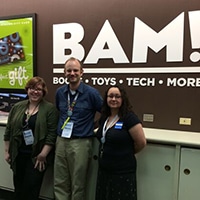 Books-A-Million and its customers will be showing their support for our troops and veterans with the return of their "Coffee for the Troops" campaign. From October 4-31 you can visit any Books-A-Million store and purchase a bag of Joe Muggs coffee for donation. Books-A-Million will also contribute 1 bag for every 5 customer purchases. The donated coffee will be given to Soldiers' Angels and we will distribute the coffee to our deployed troops as well as veterans at VA hospitals across the country.
This is the sixth Coffee for the Troops campaign that Books-A-Million has hosted and their donation totals have exceeded 180,000 bags of coffee! The goal for this campaign is to donate 50,000 bags.
Please be sure to stop by your local Books-A-Million between October 4-31 and donate your bag of Joe Muggs! Also, be sure to thank Books-A-Million while you are there! Coffee is one of the most requested items from deployed troops and VA hospitals. The continued support from Books-A-Million of the Coffee for the Troops campaign is highly appreciated by troops and veterans.
To find a Books-A-Million location near you, visit their website here.
---