Adopt-A-Family Frequently Asked Questions
September 7, 2018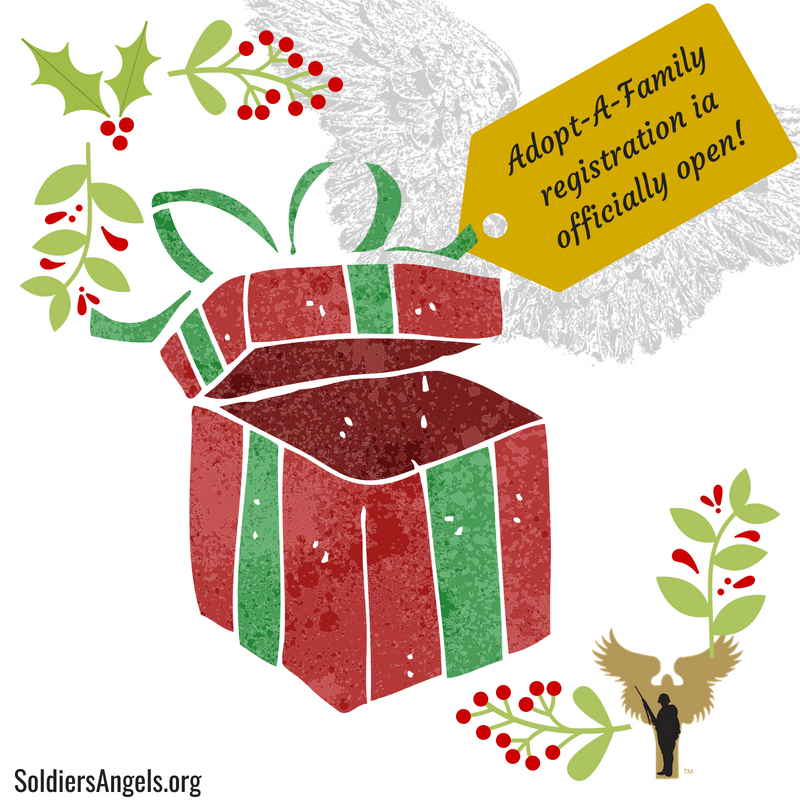 Applications are open for this year's Adopt-A-Family program and we are already getting a ton of questions and submissions! We know how much it means for military families to not stress about holiday gifts and meals. To help reduce confusion and questions, we put together this blog post with common questions.
How it Works
Military and veteran families sign up to be adopted by our Angel volunteers and business sponsors. Once adopted, the children in the family (under 18 years of age) receive gifts from their wish lists and the family receives a grocery gift card to help purchase a holiday dinner and trimmings.
Families who qualify must register with Soldiers' Angels and then fill out the necessary documentation for the Adopt-A-Family program.
Who Qualifies?
The program is open to families of deployed service members, families of Post 9-11 wounded, ill and injured service members and veteran families enrolled in the HUD/VASH program.
To be eligible for this program as a family of a deployed service member, the service member must be: Registered currently with Soldiers' Angels for deployed support, E1 through E6, AND not be scheduled to return from deployment prior to December 1, 2018.

To be eligible for this program as a family of a Post 9-11 wounded, ill or injured service member, the service member must have proof of disability and proof of Post 9-11 military service.

To be eligible for this program as a veteran family enrolled in HUD/VASH, the veteran must first apply. The application will then be sent to the caseworker and, once approved, will be directed to Soldiers' Angels.
The following families are eligible based on financial need:
Deployed Service Members who are located in an area that is supported by Soldiers' Angels and registered with Soldiers' Angels. Ranks E1 through E6 only.

Honorably discharged Post-911 Wounded, Ill and Injured service members and their families.

HUD/VASH veteran families that are referred by their HUD/VASH caseworker. The veteran must apply through their caseworker and must have received an honorable discharge. The HUD/VASH families will initiate their application. The application will then be sent to a caseworker and, once approved, will be directed to Soldiers' Angels

All families must have a biological or step-child under 18 years of age living at home.

All families will be placed on a priority placement list. Families who have not participated in the Adopt-A-Family Program in the past and those with the greatest need will have priority.
We get a lot questions about various deployments so one thing to note is that we only support combat and humanitarian deployed.
What documents are required for registration?
For Deployed Service Members: Deployment orders, LES and proof of all income are required.

For Post 9-11 Wounded, Ill or Injured Service members: Proof of wound, illness or injury, VA ID or Military ID, DD214 – Member 4; and proof of all income.

If you make any changes to your application or profile, it is your responsibility to notify the Adopt-A-Family Team through email.
One tip: The application asks you to "explain in detail why you are in need of holiday assistance through the Adopt-A-Family program." Be sure to include all information to give us a better understanding of why you need the assistance. Simply stating, "I want to participate" or "to get gifts" is not acceptable. Priority is given to families in greatest need, as determined solely by Soldiers' Angels and your narrative in this section helps us to further assess need.
When will we hear back about Adopt A Family?
The Soldiers' Angels Adopt-A-Family Team is small and works very hard to review and process applications as soon as possible. You will receive an email from our Team with one of the following: additional information needed to process your application; application is approved if all documents and requirements are met; or disapproved if the service member does not meet the eligibility criteria for the program. We will do our best to get an email to you in a timely manner. Due to the volume of emails that we will be receiving, we will not be able to respond to repeated emails asking about the status of an application. If you have any immediate questions, please send an email to [email protected].
An acceptance email will be followed by an email from your sponsor to get additional information.
Will the sponsor provide enough toys and food to meet all of my holiday needs?
This program is not meant to provide for your family's entire holiday support, but to serve as a token of appreciation from the community. The gift card is meant to assist with your holiday meal but not provide everything for your meal.
Where do I turn for holiday help if I am not accepted or don't qualify?
There are many organizations that help families during the holidays. Check out this resource for details.
Have more questions? We have an extended FAQ on our website here.
---