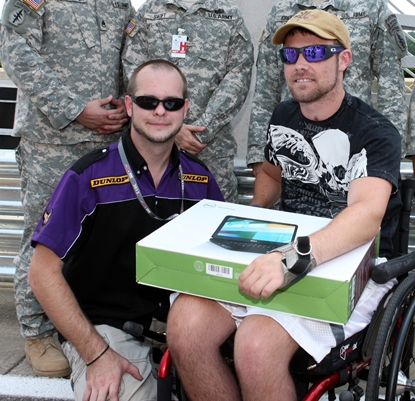 "…It is comforting to know there are people who care so much. After a year of surgeries, treatment and therapy, it can be discouraging. Although I am a trained attorney, due to TBI, it is unclear what my future will be. The computer will help with my therapy and my transition back to civilian work." – Captain V, U.S. Army Reserves
Who We Are and What We Do
Valor-IT helps provide voice-controlled/adaptive laptop computers and other necessary technology to support veterans recovering from hand wounds and other severe injuries. The Valor-IT program runs through our VA Medical Center support programs. Approved devices will be sent to the appropriate VA Medical Center and distributed to the veterans by the VA staff.
Items supplied include:
Voice-controlled laptops, which are operated by speaking into a microphone or using other adaptive technologies. They allow wounded veterans to maintain connections with the rest of the world during recovery.
iPads & Personal GPS – Portable computers like iPads and handheld GPS devices build self-confidence and independence by compensating for short-term memory loss and organizational challenges related to severe TBI and severe PTSD.
To be eligible you must be a Post 9-11 wounded, ill and injured veteran and must have injuries which require computer and electronics accommodations.
To apply for Valor-IT, please click here to complete the online application. Before approval, you will be required to provide proof of service, proof of injury, and a letter from the VA case manager validating the need for the disability accommodations.
If you have questions about this program, please use the contact form on this page.
How You Can Help
A new laptop computer with the necessary software to accomodate a wounded warrior's disabilities costs the organization about $800 when purchased using our special discounts. Please consider donating to sponsor a wounded warrior.
If you need more information, please use the contact form on this page.
Contact Soldiers' Angels VA Hospital Support
Impact
He received it yesterday, fully loaded with a receipt from Best Buy. He was extremely pleased and could not believe that it is brand new with all the bells and whistles – he actually started crying and thanked us over and over. – Bobby Hayden, OEF/OIF Patient Services Advocate