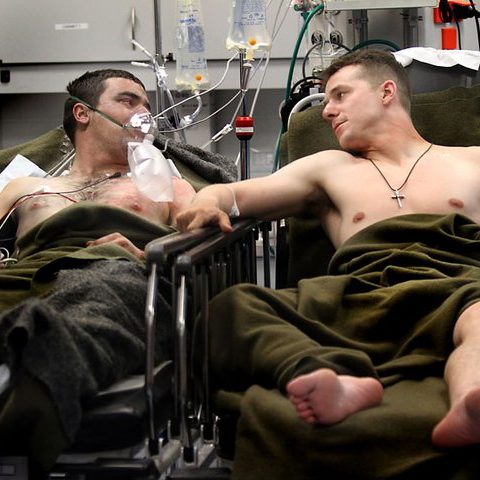 "My son was in Germany after he was injured by an IED in Iraq. I would like to say Thank You to the Soldiers' Angels for being there for him. I appreciate so much what you did for him…I have now joined the Soldiers' Angels to help others as my son was helped." – Susan
Who We Are and What We Do
Soldiers' Angels Germany is a group of volunteers—military and civilian—living in Germany. Our mission is to support wounded and ill soldiers being treated at the Landstuhl Regional Medical Center (LRMC) facilities. Injured and ill soldiers deployed to Afghanistan and Iraq are normally extracted by a medevac helicopter to a U.S. Army Combat Support Hospital (CSH) at a forward field operating base (FOB). If needed, the patients are then transported to a level II military treatment facility (MTF). The closest Level II MFT is LRMC in Germany.
At LRMC, Soldiers' Angels Germany swings into action, providing handmade blankets, calling cards, clothing and personal care items, reassuring stateside families, supporting the medical personnel who treat the patients, and sometimes just sitting by the bedside of someone who needs a caring presence or a listening ear.
We also support recovering soldiers who stay in the out-patient barracks as they undergo treatment and evaluation for less serious injuries or illnesses before being sent on to a US medical facility or returning to a combat zone. This kind of support includes handmade blankets and other everyday items, as well as stocking the group kitchen in the barracks.
In 2010, Soldiers' Angels Germany provided over 300 on-site volunteer days, 1500 off-site volunteer hours, and distributed approximately $300,000 in donations at LRMC. Donations included phone cards, clothing, Blankets of Hope, snacks, get well cards, and much more. Latest donation needs are updated here.
How You Can Help
For the latest information and to learn how to help this vital work, please see the Soldiers' Angels Germany blog. To join Soldiers' Angels and participate in this team click here to get started! If you're already an Angel, log in to your Angel account and join the team.
If you need more information, please use the contact form on this page.
Impact
"My brother, Cpl. Justin Jones, has felt your kindness since arriving in Germany at Landstuhl. A wonderful lady named Maryann spoke with my parents before Justin arrived and she was there to greet him when he got to the hospital. It was like an extension of our family, and the comfort of knowing that she would be there was a peace we hadn't felt since he was injured. He is doing well and will be stateside soon, and his sings y'all's praises to everyone. Thank you all so very much you are truly angels. God Bless." – Candice
"I just wanted to thank you and your Angels again (and again) for what you do every day to care for, uplift and honor our wounded and their families. On my visit to Landstuhl (I stopped there twice this year to visit our wounded and thank the staff), I was so humbled by your caring attitudes and selfless service. I just wanted to say thanks. Of my enduring memories of my life as a Soldier, there is little doubt that the way we care for and protect each other will be top of the list, and in amongst those memories will be the countless Samaritans like you and your Angels." – CSM Mellinger
"It was an incredible act of love, but to MaryAnn, it is just what she does. She puts the same love into organizing the stock room or folding sweatshirts. She is not the only Angel. She is not the only one who cares…Personally, I am awed. MaryAnn and the Angels of Landstuhl do things that I could never do on an ongoing basis. To me, they are legend. Truly amazing."
"God bless you and all your angels – you helped get me through one of the worst experiences any mother should ever have to go through. You provided information when there wasn't any and sent angels to my son when I couldn't get to him." – Anonymous mother