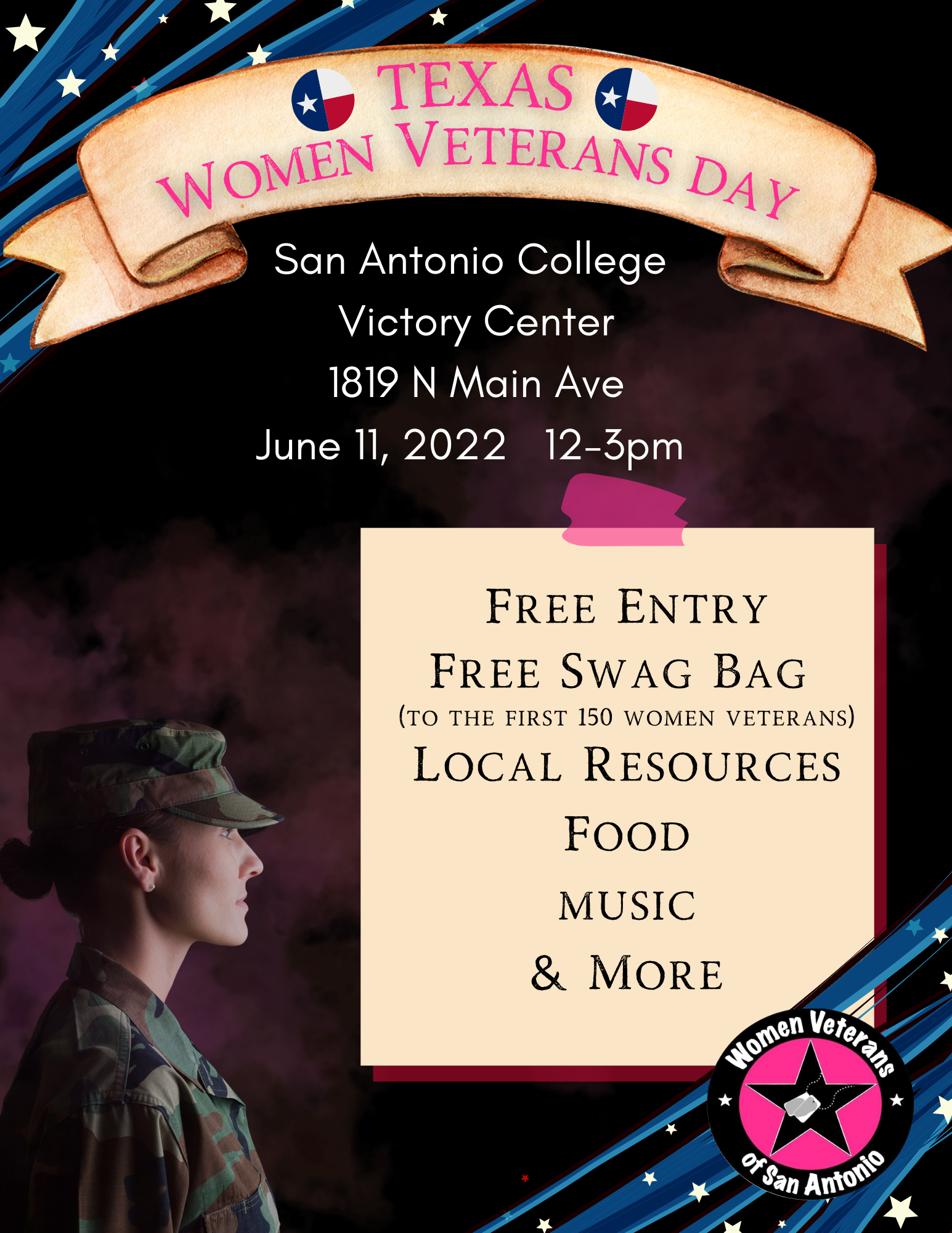 In recognition of Texas Women Veterans Day, the Women Veterans of San Antonio will be hosting a celebration event on 11 June (Saturday) in honor of all Women Veterans across San Antonio! Soldiers' Angels will be in attendance with an informational table. Stop by the Soldiers' Anegls table at the event to learn more about how you can volunteer and what service we offer. There will be many great resources available at the event with information specifically for Women Veterans.
12:10 pm: Color Guard, Nat'l Anthem, Opening Remarks, Presentation of Women's Veteran Day Proclamation sponsored by District four and presented by Councilwoman Dr. Rocha Garcia
3:00pm: Tear Down
DJ Lady J will be there to provide the party! We will have lunches sponsored by San Antonio College Victory Center! There will also be raffle prizes drawn throughout the event!
And so far this is the list of confirmed vet resources that will be in attendance:
Grace After Fire
San Antonio Lambda Chapter Kappa Epsilon Psi military Sorority
Vets Like Her
FourBlock
Texas Veterans Network
Pink Berets
Navy Fed
Alpha Gamma Xi Military Sorority
VA Women Veterans Program
San Antonio Coalition for Veterans and Families
Bexar county veteran services Office
Reserve Component Transition Assistance Advisor Program
Lucy Adame-Clark/Bexar County Clerk's Office
UTSA
Jacqueline Smith Foundation
WellMed
Lisa Carrington Firmin
Final Salute, Inc
PTSD Foundation of America
JBSA Workforce and transition alliance/DoD SkillBridge/Career Skills Program (CSP)
San Antonio Legal Services Association (SALSA)
Wellness for Warriors
San Antonio College Victory Center
National Veterans Outreach/GI Forum
Texas RioGrande Legal Aid, Inc
VITALS and the M2VA
Vital-Veterans Integration to Academic Leadership
VAREP (Veterans Association of Real Estate Professionals)
Texas Veterans Land Board
Friendship Is The New Pretty 2, INC
Wounded Warrior Project
Humana
Noble Group Realty
Paws for purple hearts
Soldier's Angels
W.I.N.G.S " Women Inspiring the Next Generations"
VETERAN AFFAIRS ETS SPONSORSHIP PROGRAM
Women Marine Association TX-3
Lift Foundation
Hope Arose