Soldiers' Angels staff is working tirelessly amid the COVID-19 pandemic to provide aid and comfort to deployed service members, their families, and veterans in need. We strongly believe that it is our responsibility to ensure that No Soldier Goes Unloved, No Soldier Walks Alone, No Soldier is Forgotten, Until They All Come Home.
Learn about Soldiers' Angels COVID-19 Response Programs Here
In addition, Soldiers' Angels is working diligently to create and/or adjust our volunteer opportunities to fit the new landscape of this current Coronavirus pandemic. We understand the difficulties of being stuck at home and limiting your contact with others. And we also understand first-hand how difficult it can be for companies of all sizes to maneuver the challenges of working remotely. However, these new challenges don't mean you, your families, or your employees can't still volunteer!! Soldiers' Angels has been a virtual-focused volunteer organization for the past 17 years! Join our Team of Virtual Angels and provide support to service members and veterans through this crisis and beyond OR take a look at our virtual opportunities that do not require you to join a team or make a long-term commitment.
Join a Virtual Team
Soldiers' Angels has a number of virtual "Teams" that were already a large part of our core Programs. Below, we have highlighted a few of those Teams in particular because they require very little supplies or require supplies that are easy to acquire through home delivery, such as Amazon.
These opportunities are part of Soldiers' Angels core programs and your support will continue through the COVID-19 crisis and beyond. You would need to join Soldiers' Angels as a Team Angel first, which does require a monthly donation of $1. Once you are an Angel, you can join any one of our 12 virtual teams. Learn more here.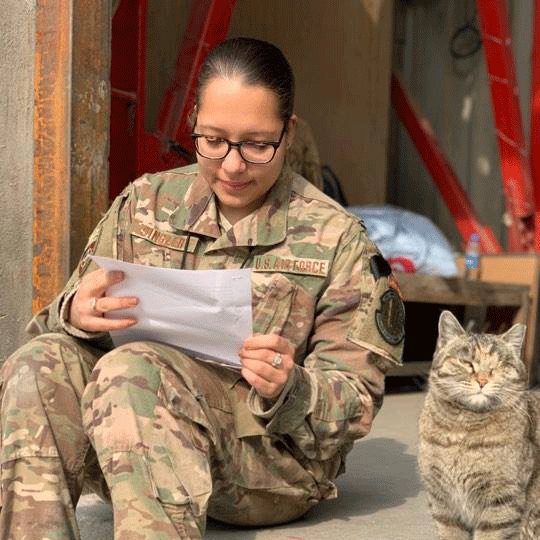 Mail call overseas is a big deal for service members who could use a lift in spirits. Service members love getting mail no matter who it's from. Letter writing is a lost art form and the perfect activity for boosting communication skills.
Want to write letters? Join the Soldiers' Angels Letter Writing Team and get into writing mode.
Check out our Letter Writing Supplies Idea List on Amazon!
Soldiers' Angels also has some branded stationery products that make a great choice for writing to service members and helping them become aware of Soldiers' Angels at the same time! Take a look at our notepads, pens, stickers, cards, and "Thank You For Your Service" cards here!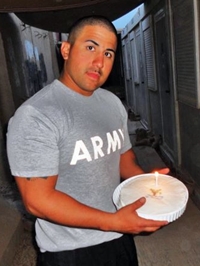 Baking is a time-honored family tradition. But who needs all that sugar around when you're cooped up inside? Why not spend time baking and send it to service members who could use a taste of home? The Soldiers' Angels Angel Bakers Team supports service members by sending a monthly one-time care package of homemade goodies. Cookies, brownies, cakes, and other delicious treats are always a welcomed surprise.
Check out our Angel Baker Supplies Idea List on Amazon!
Don't forget your Soldiers' Angels apron before you start baking! You'll be the envy of all the other Angel Bakers!! Women's Apron Men's Apron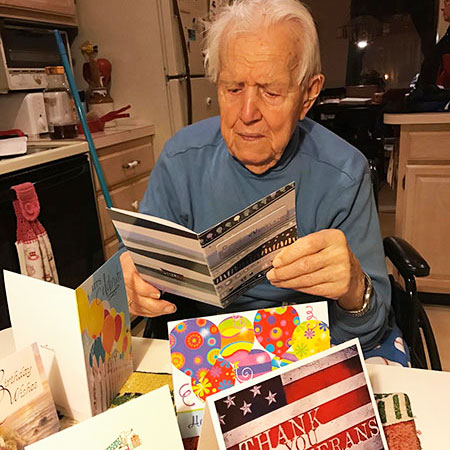 Greeting cards are a fantastic way to let others know you are thinking of them, especially during uncertain times like this. The Soldiers' Angels Cards Plus Team sends a wide range of cards to deployed service members, veterans, and military families throughout the year. In a time of such uncertainty, these cards are likely to have an even greater impact on those who receive them.
Unique Virtual Opportunities
(Without Joining a Team)
These opportunities are still virtual, but you will not be expected to join a team or continue your support. You can provide as much or as little support to any of these opportunities and it does not require the $1 monthly donation like the Virtual Teams above.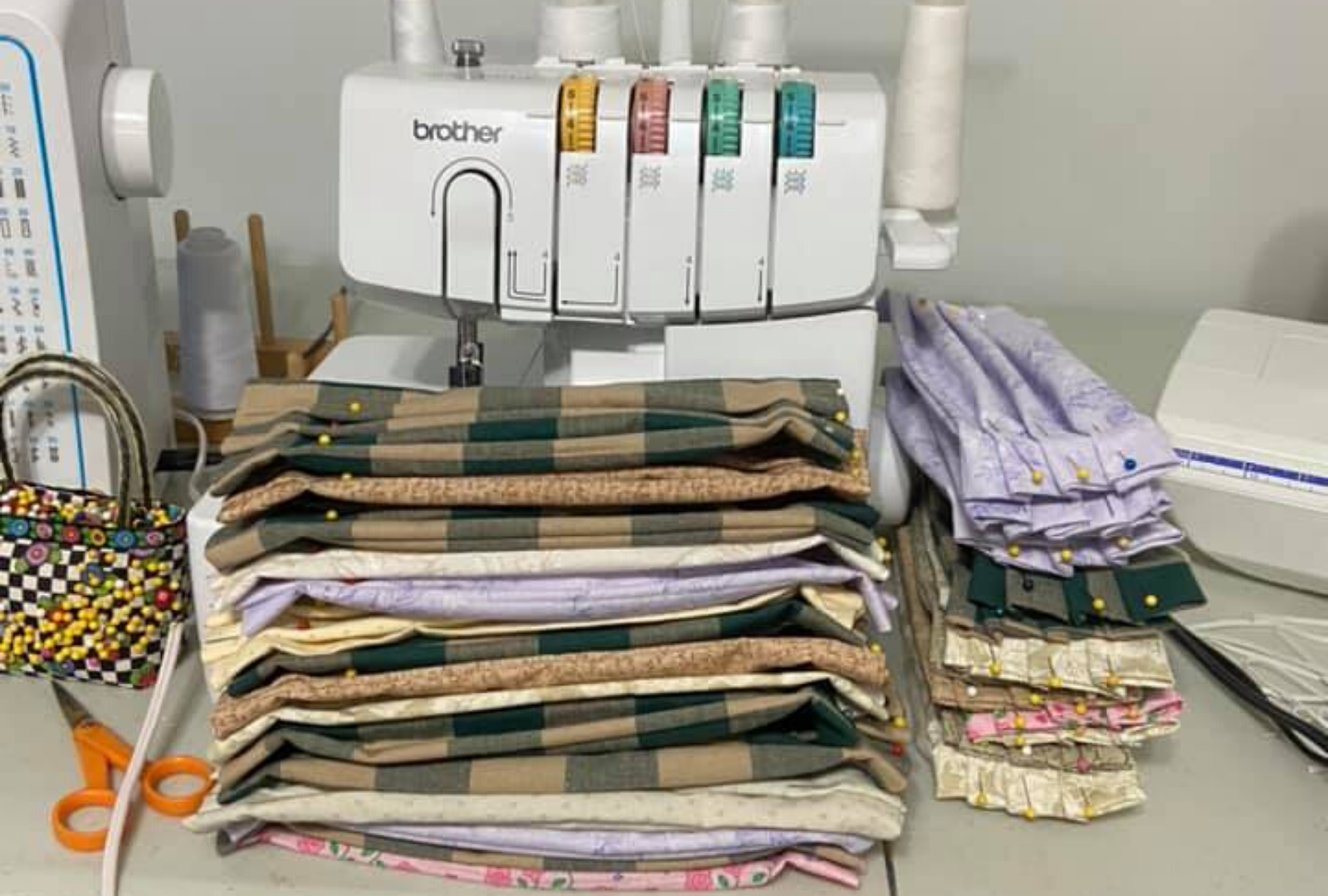 Have a sewing machine and basic sewing skills? Urgent help is needed to help supply VA Hospitals with masks. As medical supplies continue to run on low supply, healthcare workers are now requesting homemade masks to help protect against COVID-19. We are now accepting donations of masks from anyone, regardless if you are registered as an Angel or not. If you are not currently an Angel, please send your completed masks to Soldiers' Angels via the address below. If you are a Team Angel, please reach out to your Team Leader before sending your masks.
Send masks to: Soldiers' Angels 2895 NE Loop 410, Suite 107 San Antonio, Texas 78218
Here's a video providing instructions for the preferred type of mask that includes a pocket for the insertion of a filter: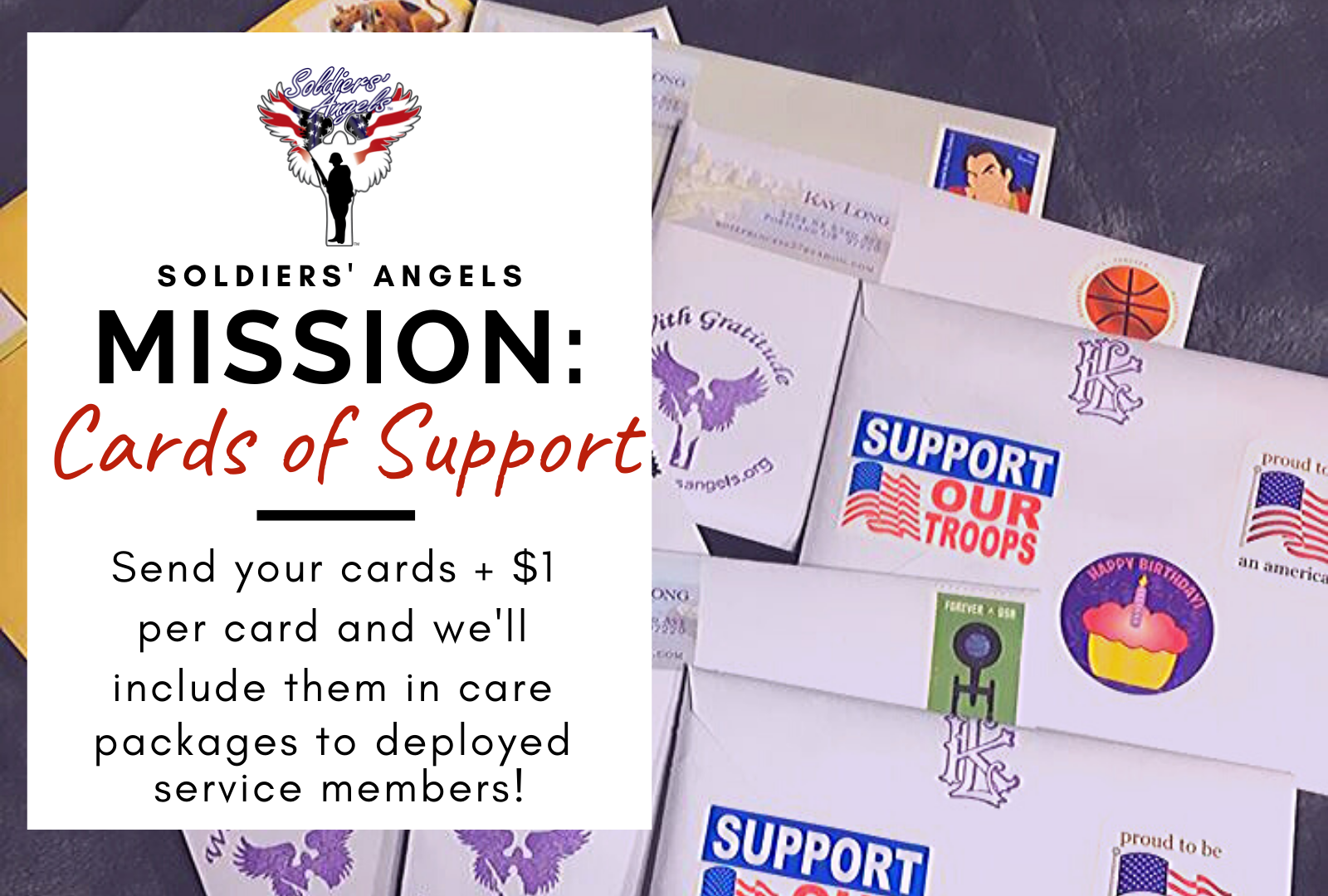 Stuck at home in self-quarantine or shelter-in-place orders? Don't let boredom set in-- pick up a pen and greeting card and write a note of support for deployed service members and veterans! After you write your cards, simply include $1 per car card and mail the cards to our headquarters in San Antonio. The cards will be included in care packages that are shipped to deployed service members around the world and will also be sent in bulk to VA's and veteran-focused assisted living facilities. The $1 will go towards one of the many Soldiers' Angels programs providing COVID-19 relief and support.
Mail your cards and $1 per card to:Soldiers' Angels 2895 NE Loop 410, Suite 107 San Antonio, Texas 78218
Need some supplies? We created an Amazon Idea List to get you started on your card-writing journey. Check it out here.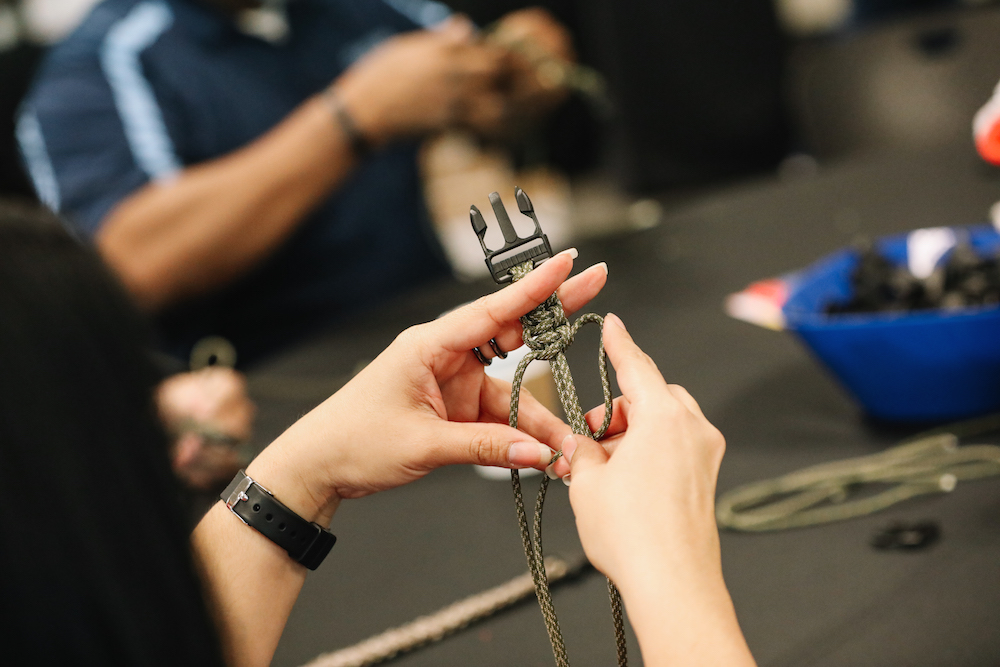 A para-cord bracelet may seem like a small item to include in a care package, but service members love them! Not only are they useful survival items, but creating a para-cord bracelet requires a personal touch and an item that a service member could carry with them at all times. Personal items like this have a tremendous impact on morale and often become cherished by the recipient.
Please Note: Since these bracelets are going to deployed service members, the bracelets must be made from MIL-SPEC cording in the colors black, olive green, tan, or camo only.
All the supplies you need in the correct color and specifications can be found on Amazon! Here's an Amazon Idea List to get you started.
For instructions on how to make Para-cord bracelets, click here.
Mail your completed Para-cord bracelets to:Soldiers' Angels 2895 NE Loop 410, Suite 107 San Antonio, Texas 78218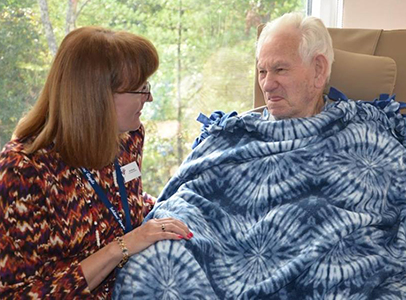 Nothing says I appreciate you like a warm, cozy blanket. Our Sewing & Crafting Team makes No-Sew Blankets all the time for deployed service members, veteran patients, and military families who are expecting. We constantly get thank you notes from recipients who tell us how much they treasure the handmade gift they were given. No-Sew Blankets are easy to make and are a fun activity. Check out instructions here.
Check out our No-Sew Blanket Supplies Idea List on Amazon!
In-Kind and Cash Donations
We need your support more than ever!
If you don't have the time to volunteer, we could still use your support through donations of cash or in-kind items! With an increased need for care packages as well as providing support to units supporting COVID operations, we are in need of snack and hygiene items more than ever!!
We have created an Amazon Wish List of snack and hygiene items most-needed to support deployed service members as well as activated guard and reserve units. You can purchase items directly from our Wish List and they will be delivered to our headquarters office in San Antonio to be included in care packages. Check it out here
Cash donations are always needed, especially at a time like this when our resources are stretched thin supporting additional needs. Soldiers' Angels maintains a 97% efficiency rating, which means that $0.97 of every dollar donated goes back to our programs supporting deployed service members, veterans, and military families.
Donate Now